August Alsina Confirms His 'Relationship' With Jada Pinkett Smith, Reveals He Got Will's 'Blessing'
​
Jun 30 | by Natasha
​ ​ ​ ​
Queen Latifah's face in the background (above) was and still is all of us. August Alsina just confirmed his own tea about his and Jada Pinkett Smith's relationship, and he also confirmed the longtime rumor about Will & Jada's "open relationship".
Welp. Can't say we saw this coming on a random Tuesday night. But, in 2020, literally anything is possible.
For several years now, it's been rumored that Will and Jada's marriage is actually an open relationship.
Jada alluded to it back in 2013 when she hinted that she and her husband of over two decades trust each other enough where Will can do whatever he wants. She then clarified her statement posting:
"Here is how I will change my statement...Will and I BOTH can do WHATEVER we want, because we TRUST each other to do so. This does NOT mean we have an open relationship...this means we have a GROWN one."
Hmph.
A couple years later, singer August Alsina seemed to suddenly be attached at the hip with the whole Smith family, mainly Jada.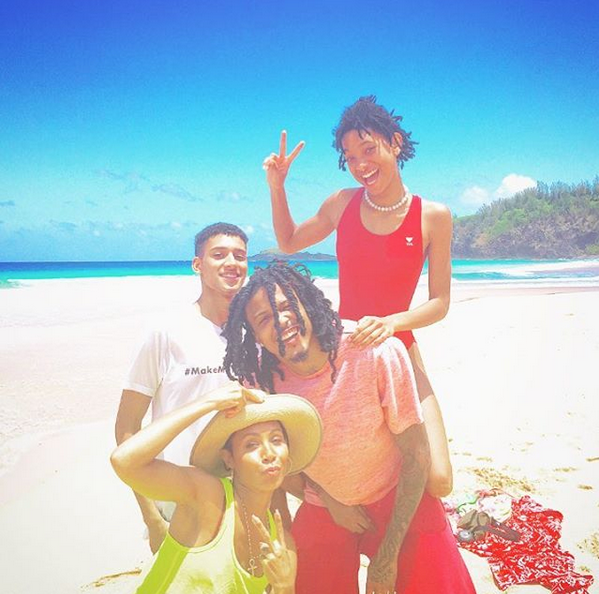 They would pose it up together on family vacays to Hawaii and share the pics on social media. Jada and August were getting cozy at tennis matches and things, and even hitting the BET Awards red carpet together in 2017 (pictured above).
August credited Jada with helping him with his Percocet addiction (which they discussed during his appearance on Red Table Talk). But, it also appears there was some truth to rumors that he and Jada were having an affair...or a relationship outside of Will & Jada's open marriage.
August recently sat down with Angela Yee to talk about life and his new 27-track album he just dropped, The Product III: stateofEMERGEncy. And, of course, the convo turned to the hot actress and mom. August got emotional, and revealed he had never loved someone so much or experienced such love with someone that he did with Jada.
"I totally gave myself to that relationship for years of my life, and I truly and really, really deeply love and have a ton of love for her. I devoted myself to it, I gave my full self to it—so much so to the point that I can die right now and be OK with knowing that I truly gave myself to somebody."
He also revealed that he lost jobs and money over people thinking he was having an affair with Jada.
"I really loved a person, I experienced that and I know what that feels like—and some people never get that in this lifetime. I know that I am completely blessed and this conversation is difficult because it is so much, that it would be hard for people to understand but—once it starts to affect me and my livelihood—I have to speak up about my truth."
What folks didn't know is that August actually had "a sit down" with Will who, according to August, gave him and Jada his "blessing" for them to engage in a relationship. August said this occured when Jada and Will had shifted into a "life partnership."
"I actually sat down with Will [Smith] and had a conversation due to the transformation from their marriage to life partnership… He gave me his blessing."
Oh?!
Check it at the 16 minute mark below:
Last April, August did a remake of Kehlani's "Nunya" hit. On the song, August sings about wanting more from his girlfriend, and wants her to make him a priority. One line goes, "You're just an actress putting on a show," and a GIF of Jada Pinkett appears on the screen.
It sent tongues wagging, and the fact he included what appears to be his and Jada's text messages didn't help. In another part of the video, you see a text between August and a woman by the name of Koren - which is Jada's real life middle name.
It seems their relationship - and what may have been the end of it around that time - hit August hard.
In the sit down interview, August also opens up about the loss of his sister, raising her three kids as his own, his rare autoimmune disease, and more.
Photos: Getty/IG
​ ​
​ ​ ​