Atlanta Officer FIRED After Fatally Shooting Black Man At Wendy's + Restaurant Burned Down, ATL Police Chief Resigns
​
Jun 14 | by _YBF
​ ​ ​ ​
The shooting death of a black man at the hands of police has reignited fiery protests in Atlanta. The Atlanta police chief announced her resignation after the fatal shooting. Details inside…
2020 just continues to get worse.
An Atlanta police officer has been fired and another put on administrative leave after the fatal shooting of an Atlanta man at a Wendy's Friday night. The fatal killing reignited fiery protests and the resignation of the city's police chief.
A video of a man being gunned down by police in Atlanta has gone viral with folks demanding charges be brought up against the now-fired police officer. The victim has reportedly been identified as 27-year-old Rayshard Brooks.
27 y/o Rayshard Brooks was killed last night by APD after an altercation stemming from a complaint that he was sleep in a Wendy's drive-thru.

Videos circulating online appear to show him running away when the cops shot him from behind. He later died at the hospital. #SayHisName pic.twitter.com/vpP1mxlbdK

— Everything Georgia (@GAFollowers) June 13, 2020
According to reports, police officers responded to a Wendy's restaurant at 10:33 pm Friday night after receiving a complaint that a man was asleep inside a parked car in the drive-thru. Officers gave him a sobriety test and Rayshard reportedly failed. That's when officers attempted to place him into custody and a struggle ensued, according to the Georgia Bureau of Investigation.
There's video footage of the altercation captured on a witness' phone and surveillance video from the restaurant. In the clip, you see Rayshard in a struggle with the police officers. At one point, he grabs the officer's stun gun to keep from being shot with it. He then tried to flee the scene. However, he didn't get far. It's reported Rayshard turned around and pointed the taser at the officer and that's when he was shot and killed.
"Video appears to show to the naked eye Brooks running away four, five, six, seven parking spaces before he appears to turn around and point a Taser at an officer. At that point the officer retrieves his weapon from his holster and discharges it, striking Brooks. This account has been corroborated by witness interviews," said GBI Director Vic Reynolds.
Below are clips of the incident. WARNING – the footage could be triggering:
Burn this bih down. I said what I said. #DefundThePolice #AnArrestShouldntBeADeathSentence #TakeAwayTheirGuns #BLACKLIVESMATTER

Posted by Niecee Cook on Friday, June 12, 2020
Police also released bodycam and dashcam footage of the killing. When the officers first interacted with Rayshard everything seemed cool until things escalated. Check it:
And here's surveillance video from the restaurant's cameras:
Rayshard was taken to the hospital where he died after emergency surgery. He was a father of three daughters and had been celebrating his 8-year-old daughter's birthday earlier in the day, according to his family's lawyer. The Georgia Bureau of Investigation says that they have been called in to investigate the shooting. The Fulton County District Attorney's Office has also launched its own investigation.
The two officers involved in the shooting have been identified as David Bronsan and Garret Rolfe. Officer Bronsan has now been placed on administrative duty and Officer Rolfe has been FIRED.
Officer Devin Bronsan has been placed on administrative duty in the officer-involved shooting of #RayshardBrooks, Atlanta PD confirms. He has been on the job since September 2018.#AtlantaShooting pic.twitter.com/Fw8z10qcsN

— Stephanie Wash (@WashNews) June 14, 2020
David Bronsan worked for the APD since 2018 and Garrett Rolfe worked for them since 2013.
Hours after the shooting, Atlanta Police Chief Erika Shields submitted her resignation to Mayor Keisha Lance Bottoms after leading the department for almost four years.
"Chief Erika Shields has been a solid member of APD for over two decades, and has a deep and abiding love for the people of Atlanta," Bottoms said in a statement. "And because of her desire that Atlanta be a model of what meaningful reform should look like across this country Chief Shields has offered to immediately step aside as Police Chief so that the city may move forward with urgency and rebuilding the trust so desperately needed throughout our communities."
Atlanta Mayor Keisha Lance Bottoms calls for the "immediate termination" of the police officer who shot and killed Rayshard Brooks last night. She also announced that Atlanta's Police, Chief Ericka Shields, voluntarily stepped down. pic.twitter.com/aN6c7tlEUh

— Ana Cabrera (@AnaCabrera) June 13, 2020
Her resignation comes after six police officers were booked on excessive force charges for tasering two college students while enforcing the citywide curfew.
The attorney's for the family of Rayshard Brooks spoke out following his death during an officer-involved shooting.
Rayshard's killing reignited raging protests in Atlanta that were first launched after the killing of George Floyd. The Wendy's where Rayshard was killed was burned down to the ground:
Fire at Wendy's on University Ave in southwest Atlanta raging. A night to remember in Atlanta: Rayshard Brooks shot by an officer, the chief of Atlanta police resigned, and protesters stormed the interstate. Now, fire. #AtlantaShooting #AtlantaProtest pic.twitter.com/Fgjq7jhDiZ

— Ric Garni (@RICGARNI) June 14, 2020
The Wendy's where #RayshardBrooks was fatally shot in the parking lot last night is now in flames. Photos from Ben Gray pic.twitter.com/dfvibL5JcC

— Jennifer Brett (@Jennifer__Brett) June 14, 2020
And there's video footage of who started the fire below:
Atlanta protestor captures video of an alleged "White person" igniting fire inside @Wendys restaurant where #RayshardBrooks was fatally shot by @Atlanta_Police @CBS46 pic.twitter.com/MY9mUtHtKo

— shon gables cbs46 (@shongables) June 15, 2020
Crime Stoppers of Greater Atlanta is offering a reward for information on the person who started the fire at the Wendy's restaurant.
Fox5Atlanta reports:
Brooks's death prompted protests as early as 7 a.m. with the most unrest being seen between 8 p.m and 11 p.m. as someone set fire to the Wendy's and protesters blocked the Downtown Connector for about 45 minutes. Early Sunday morning, Atlanta police deployed tear gas on some protesters after they tried to break the windows of a convenience store a little before 1:30 a.m.

Fulton County District Attorney Paul Howard is asking anyone who witnessed the incident to call the tip line at 404-612-4903 or email information, photos, and more to Donald.Hannah@fultoncountyga.gov.
After the shooting...
Rapper T.I. stepped out to protest in the streets of Atlanta.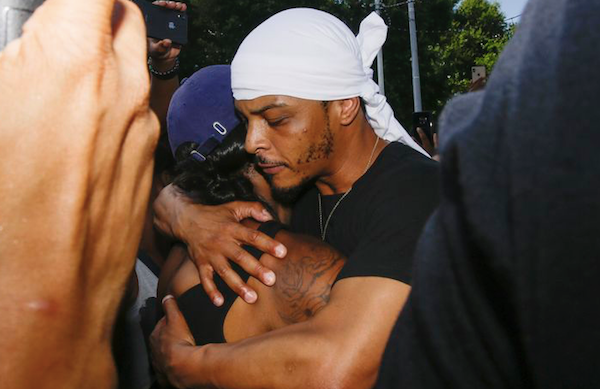 When will this end? Resisting arrest shouldn't cost you your life. Period.
EXTRAS:
1. Protesters in Richmond, Virginia captured video of a RPD officer driving his SUV through a crowd after they blocked him in. It's said two people were hit, but aren't suffering major injuries.
Video here: pic.twitter.com/BGuOqLI46K

— #socialjusticenerd (@BreRVA) June 14, 2020
March was peaceful:
This march was extremely peaceful. It went down Broad and into Scott's Editon and through the Fan back to Lee. There were people celebrating from their houses. This was completely unprovoked.

— #socialjusticenerd (@BreRVA) June 14, 2020
Photo: Brynn Anderson/AP
​ ​
​ ​ ​