[UPDATE] Twitter Wants To CANCEL Trina Over George Floyd Protest Comments – 'Keep These Animals Off The Streets & Lock Them Up!' + Trina Clarifies Her Statements
​
Jun 03 | by _YBF
​ ​ ​ ​
Twitter wants rapper Trina canceled over comments she made about the raging protests that have been going on demanding justice for George Floyd. She said the police "needs to get these animals off the streets," referring to the people looting and rioting. Hear what she said and more inside…
[UPDATE]:
After receiving tons of backlash, Trina clarified her statements about the looters destroying Miami. Hear what she said above.
---------------------------------------------------------------------------------
Cancel culture strikes again.
Rapper Trina is currently receiving backlash for comments she made this morning regarding the George Floyd protests that have been going down in Miami. People have been protesting to demand justice for George who was killed by a white police officer who kneeled on the back of his neck for nearly 9 minutes. It was all caught on video and sparked outrage across the nation.
While reporting on the latest updates in the George Floyd case on her radio show "Trick N' Trina Morning Show" with her longtime collaborator/co-host Trick Daddy, the "Love & Hip Hop: Miami" star got fired up about the rioting and looting that has been going on. Trina was discussing Miami's citywide curfew (put in place by Miami Mayor Carlos Gimenez in response to the protests) and that's when she aired out her frustrations about the vandalism and damage to stores in her beloved city.
"They need to make the curfew from 6pm to 6am. That's how I feel," she said about the protests. "Keep everybody off the streets, these animals off the streets that are running around in Miami Dade County are acting like they have escaped from a zoo. Lock them up at 5pm so the streets can be nice and clean. That's how I feel," she added.
Trick chimed in and said that it's not ALL protesters who are rioting and looting. The Miami rapper then tried to explain to Trina that people are tired of police killing unarmed black people, so some of them have resulted to looting. He also noted people have been out of work due to the pandemic and have fallen on desperate times.
The Baddest B*tch wasn't feeling it.
"I don't approve of it, period. I don't approve of it, period. Cause you don't want nobody burning down Sunday's," she rifled off. "Let's be very clear. And you have insurance and you don't want that."
The looting hits home for Trina as her close friend's store was wrecked. She said her friend was already struggling to stay afloat due to the Coronavirus pandemic. The looting was too much for her business to survive.
Trick then turned the conversation to the Black Lives Matter movement and that only set the "Diamond Princess" rapper off more. She mentioned her younger brother being killed by another black man.
"The Black lives that matter, right? The same Black lives that are taken by the hands of other black people, those matter, too, huh?," she asked. "It's no exception. A life is a life. Period, period. A life is a life. No matter how it was took. Whether it was a car accident, whether it was from a police, whether it was from the hands of another black man. A life was taken. Simple.""
Trick pointed out the injustice when it comes to cops and black people, mentioning how black people shouldn't have to be afraid of police when they have been pulled over for something as small as a traffic violation.
"I'm never scared. I have my license and registration and insurance. I'm not scared. I know my rights," Trina responded.
Take a listen below:
Now, Twitter is canceling Trina:
It's very easy to cancel a person you don't listen to tbh....
Trina not even the baddest bitch anymore...her wig stay on her forehead pic.twitter.com/Y5ZUcSey11

— We Ascending (@KW33NSOHI9H) June 3, 2020
Dang Trina. I guess you really don't know NANN. Nuh uh.

— Kevín (@KevOnStage) June 3, 2020
Trina talking to Trick Daddy about the protests. pic.twitter.com/9u1WomHwh5

— After5ivePod (@After5ivePod) June 3, 2020
it sucks that I gotta cancel Trina but bby you brung this on ya self. pic.twitter.com/dfamlhcHPR

— Ciara (@ciarasquads) June 3, 2020
I promise y'all most celebs agree with Trina. That's why they haven't made a single statement since the protests started.

Put an end to celebrity culture. Stop idolizing other human beings that most likely look down on you for idolizing them.

— Mansa Mike (@RealMikeM) June 3, 2020
The worst thing about the whole Trina situation is that Trick Daddy really tried to save her but sis went out of her way to cancel herself.

— Muva Umar (@VanessaULTRA) June 3, 2020
Damn. I gotta cancel Trina. My heart hurts. I need a minute.

— Ex-Trina Stan Account In Mourning (@jaesofamous) June 3, 2020
As Trina was trending on Twitter, former "Love & Hip Hop: Hollywood" star Masika Kalysha sought out Trina's longtime rap rival, Khia, to come check her over her comments. Lordt. And then, ish went ALL the way left. Peep their heated exchange below: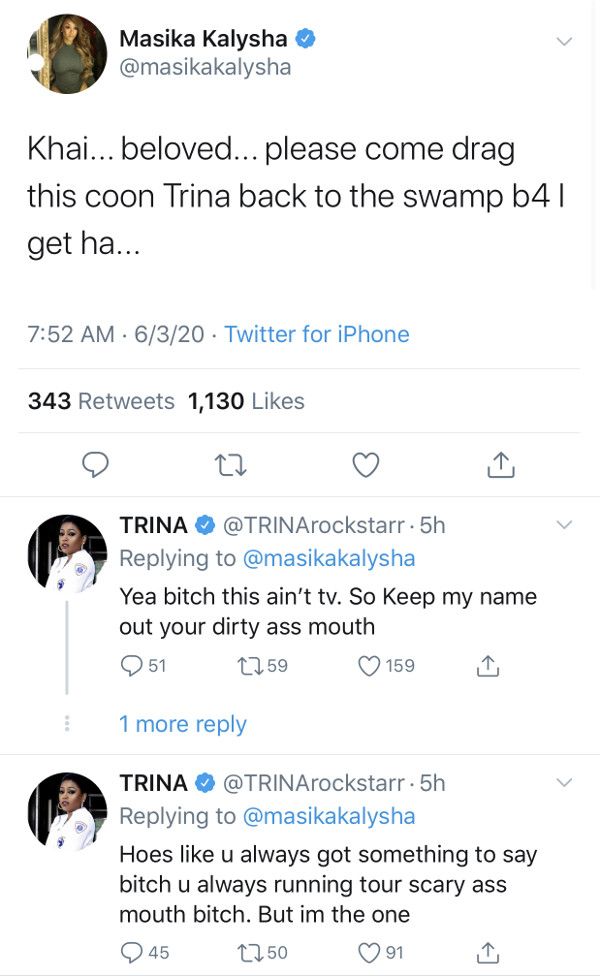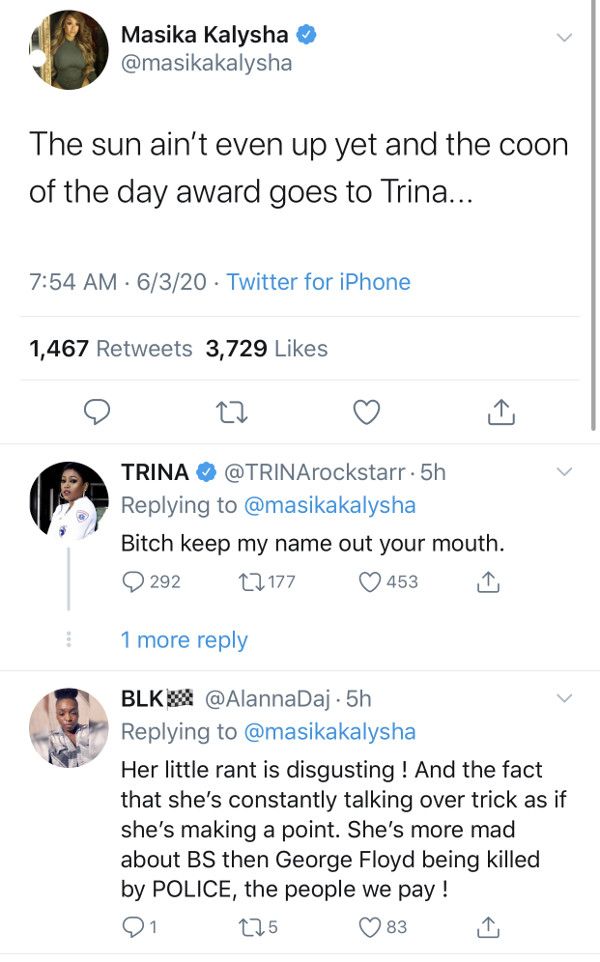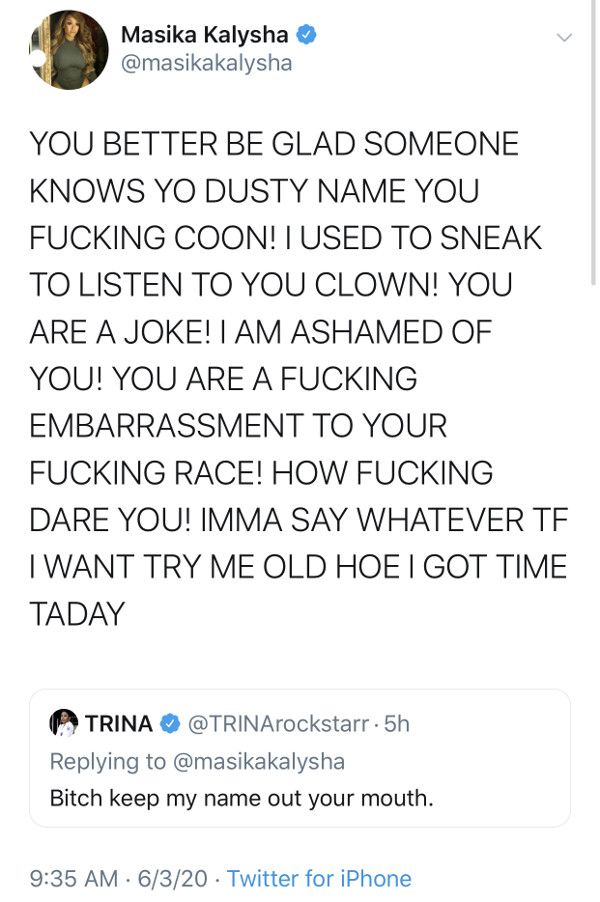 TRRINNNAAAAAAA heeey auntie. Quick question... hate to bother you. I know you have such a busy career to tend to but can you help me beloved? Can you tell me which picture has the animals in it? https://t.co/chiCiZNdEM pic.twitter.com/5eppucE3EE

— Masika Kalysha (@masikakalysha) June 3, 2020
PULL UP ok I's a comin! Let me book this flight so I can fight yo dumb ass...WAIT TRINA YOU'RE ACTING LIKE AN ANIMAL!! don't you dare quote Rihanna, an actual activist who PULLS UP!! Girl the word clout wasn't even invented when u were relevant take yo afternoon nap https://t.co/p270SOvdI1

— Masika Kalysha (@masikakalysha) June 3, 2020
A duck diet bag... hmm never heard of that dish but I really do enjoy a nicely prepared duck confit thank you! Are you treating? Postmates? I'll dm the address https://t.co/9mlB9JzAqn

— Masika Kalysha (@masikakalysha) June 3, 2020
Run it? This old ass crumb tryna race me barefoot ill-equipped outta shape & unfit. No match. Yo poor thumbs justa shakin tryin thinka some whitty to say. THE WHOLE WORLD IS DRAGGIN U Y U IN LOVE WIT ME? U NEED ATTENTION! GET OFF MY CLIT & ADDRESS THE MILLIONS OF PPL U LET DOWN https://t.co/bvc5EnIKOn

— Masika Kalysha (@masikakalysha) June 3, 2020
U WILL ADDRESS THE PPL & U WILL ADDRESS ME HOE! U OWE ME & EVERYONE ELSE AN APPOLOGY FOR THAT SHIT U DEFECATED OUT THEM BLACK ASS LIPS. How u wrong but prideful?! I used to look up to u! U inspired my 1st single! I am ashamed that I thought u were someone to aspire to be like smh https://t.co/9mlB9JzAqn

— Masika Kalysha (@masikakalysha) June 3, 2020
Can. Did. Am. https://t.co/xEU0xY8KcJ

— Masika Kalysha (@masikakalysha) June 3, 2020
It's always a barren hoe... https://t.co/7tW1t5QWSo

— Masika Kalysha (@masikakalysha) June 3, 2020
That escalted extra quickly. Whew, lawd. A mess.
Photo: Trina's IG
​ ​
​ ​ ​