Khia DRAGS Shekinah Jo For Filth After Her 'Save Gucci' Comments Amid Protests + Shekinah POPS BACK - 'She Drags Every Woman Of Color'
​
Jun 03 | by _YBF
​ ​ ​ ​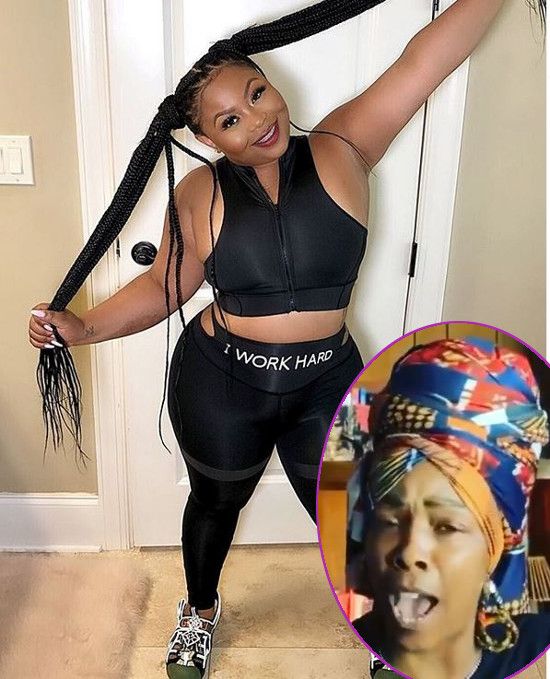 Khia and Shekinah Jo are going at it over Shekinah's comments she made about saving the Gucci store during the protests. After Khia called her out, Shekinah pops back. Everything inside...
"Love & Hip Hop: Atlanta" star Shekinah Jo has been receiving backlash for comments she made about the Gucci store amid the George Floyd protests. During an Instagram Live, Shekinah began sharing her thoughts about people looting the Gucci store at Atlanta's Lenox Mall. She was upset that people were looting and destroying the store in retaliation of George's killing.
"Gucci ain't did sh*t to y'all," she said while crying. "Y'all can say whatever y'all wanna say…they racist…whatever, I don't wanna hear that sh*t. They ain't did sh*t to y'all. Lenox Mall ain't did nothing to you."
Hmm…did she forget this Gucci sweater that caused outrage and controversy last year? Celebs like T.I. – who is Shekinah's best friend's husband – burned their Gucci clothes and announced they were boycotting the Italian fashion house over the seemingly racist sweater.
Today Gucci released their Balaclava Knit Top. Sigh. Really @Gucci? Really? pic.twitter.com/ETWKFhHVEB

— K E I S H (@MikeishaDache) February 6, 2019
Listen, people are fed up. And the fashion industry hasn't changed as much as it should and it's had plenty of time to do so. Yes, there's some people looting just to loot. There's others who destroy property as a way to escalate protests and bring attention to matters not being tended to with peaceful marches, semi-boycotts and apologies from brands that are just lip service. People are fed up. Rightfully so.
People called Shekinah out for her insensitive comments and artist Tory Lanez brought it up during one his Instagram Live sessions. As he was speaking, Shekinah hopped in his comments and said she was NOT crying over the Gucci store being destroyed. Check it:
I've never heard of this Shekinah lady until yesterday but hunny this is funny. Tory Lanez dragged her real quick. pic.twitter.com/1gt6uwuAEf

— Megan's Knees on my wishlist (@Anamenobodygot) May 31, 2020
Tory then added her to the chat so they could discuss and share their opinion on the George Floyd Protests and so Shekinah could explain what she meant when she made those Gucci comments. Peep their chat below:
Rapper Khia addressed Shekinah's Gucci comments during her latest "Gag Order" episode and she read her for filth. Check it:
Khia went IN on Shekinah omg I am crying pic.twitter.com/kvDgRjrdYZ

— KB. (@KevinBobby) June 2, 2020
Shekinah got wind of Khia's comments and she popped back, saying Khia loves coming for black women and yet people still haven't canceled her yet.
Watch her response below:
Whew, lawd.
Photos: Shekinah's IG/Khia's YouTube
​ ​
​ ​ ​