#BlackOutTuesday Started As A Dope Idea Until The Wrong Hashtag Began To Hurt #BlackLivesMatter Content
​
Jun 02 | by _YBF
​ ​ ​ ​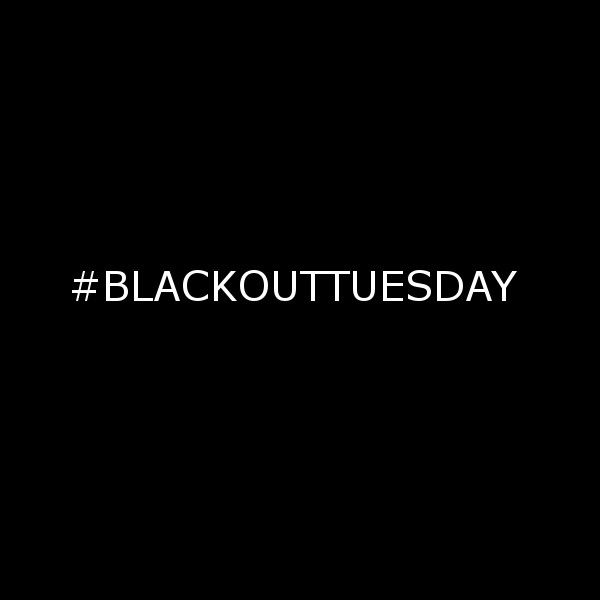 #BlackOutTuesday was supposed to be a day where the music industry would get put on pause. However, the wrong hashtag caused blockage of #BlackLivesMatter content amid the George Floyd protests. More inside...
In the wake of protests that have been sweeping the nation, a social media protest was shared by celebs in an effort to show solidarity in the demand for justice of George Floyd – the Minneapolis man killed by a white police officer. However, the execution was off.
Atlantic Records exec Jamila Thomas and Platoon's Brianna Agyemang – two black women in the music industry – came up with the idea for everyone in the music industry to "take the day off." Their vision was for artists to share useful information and connect with their fans, dubbed #TheShowMustBePaused, amid the George Floyd protests.
"We are tired and can't change things alone," Brianna Agyemang wrote on Instagram. "This is a call to action for those of us who work in music/entertainment/show business to pause on Tuesday, June 2nd because the show can't just go on as our people are being hunted and killed. Use this time on Tuesday to come together and figure out how we can hold our partners, colleagues and companies alike, accountable to come up with and execute a plan that actively supports and protects the VERY CULTURE that it profits from."
Entertainers and radio stations didn't hesitate to join in on the movement.
BET set a series of special programs for #BlackOutTuesday to "address systemic racism, the violence faced by Black people in America and the solutions to help move the country forward."
this is also a helpful guide for the black out tuesday idea pic.twitter.com/wqM3Xkkmwq

— N. (@deanmichaeI) June 2, 2020
BET said it "is utilizing its platforms to support the critical need for change in America, as evidenced by the careless murder of George Floyd and the tragic history of systemic and lethal racism and inequality in this country."
The programming specials during the month of June will "provide information, insights and strategies that spark meaningful dialogue and help provide solutions to eradicate the racial inequities plaguing our society."
Several record labels also stood in solidarity. Def Jam Recordings shared how they were doing their part:
"Today, and throughout the week, we are honoring the wishes of our artists who have asked that we pause in the release, marketing and promotion of their music. Others are rushing to make their voices heard, and we intend to amplify them," the record label said in a press release.

"We have joined together with the other Universal Music Group labels and companies in a joint task force - lead by our interim CEO Jeff Harleston - and today that task force strategizes on how we will continue to respond."
Interscope will not release any new music for the rest of the week, Spotify added an eight-minute, 36-second moment of silence to all playlists in honor of George Floyd, and Live Nation canceled events and closed offices.
The Empire State Building is going dark tonight.
Some how the verbiage got mixed up on social media and the movement turned into people posting black, blank squares on their timelines, using the #BlackLivesMatter hashtag. Celebrities were doing it too. It quickly caught on and went viral.
Once #BlackOutTuesday started to clog up the #BlackLivesMatter hashtag, folks quickly asked people to use the correct hashtag due to blocking important content:
It has come to my attention that many allies are using #BlackLivesMatter hashtag w black image on insta. We know that's it no intent to harm but to be frank, this essentially does harm the message. We use hashtag to keep ppl updated. PLS stop using the hashtag for black images!! pic.twitter.com/eG2fPaybNW

— Kenidra4Humanity BLACK LIVES MATTER (@KenidraRWoods_) June 2, 2020
Lil Nas X noticed it and made his fans aware:
i know y'all mean well but... bro saying stop posting for a day is the worst idea ever

— nope (@LilNasX) June 2, 2020
this is not helping us. bro who the hell thought of this?? ppl need to see what's going on https://t.co/fN492qsxaa

— nope (@LilNasX) June 2, 2020
Writer Anthony James Williams also spoke out:
stop posting black squares under the #BlackLivesMatter hashtag on Instagram. it is intentionally and unintentionally hiding critical information we are using on the ground and online. pic.twitter.com/EIS44aDXXd

— y'all don't read the room (@anthoknees) June 2, 2020
Black Out Tuesday posts are ineffective. People can't see useful content about the Black Lives Matter protests when they click the hashtag on instagram because of the over flow of blank black pictures. pic.twitter.com/x3SQiTwWX6

— SADÉ (@sadeyoncee) June 2, 2020
People then began to take the hashtag out of their posts.
Tons of celebs joined in on the #BlackOutTuesday movement, including Rihanna, Oprah, Will Smith, Jada Pinkett Smith and more:
​ ​
​ ​ ​