Twitter Puts 'Glorified Violence' Warning On Trump's Minneapolis Tweet & He's Big Mad About It + His Executive Order That Could Punish Social Media Companies
​
May 29 | by _YBF
​ ​ ​ ​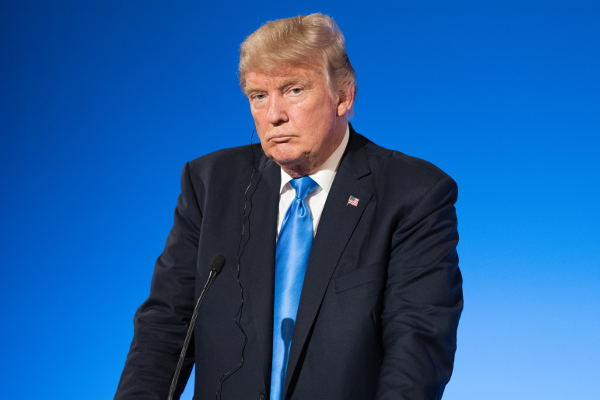 Twitter is monitoring Trump's tweets and he's not happy about it. He just signed a new executive order to weaken social media companies. Everything inside…
Trump is finally getting checked for his reckless tweets and he's not happy about it.
This morning, he posted tweets in response to protestors in Minneapolis. His first tweet said:
"I can't stand back & watch this happen to a great American City, Minneapolis. A total lack of leadership. Either the very weak Radical Left Mayor, Jacob Frey, get his act together and bring the City under control, or I will send in the National Guard & get the job done right....."
Twitter stepped in and censored his second tweet, which read:
" ....These THUGS are dishonoring the memory of George Floyd, and I won't let that happen. Just spoke to Governor Tim Walz and told him that the Military is with him all the way. Any difficulty and we will assume control but, when the looting starts, the shooting starts. Thank you!"
Twitter censored Trump's tweet, revealing it violated the company's "glorifying violence." The company allowed the tweets to stay on the platform because it "has determined that it may be in the public's interest for the Tweet to remain accessible."
The White House's official Twitter account retweeted Trump's tweets as well. Check it: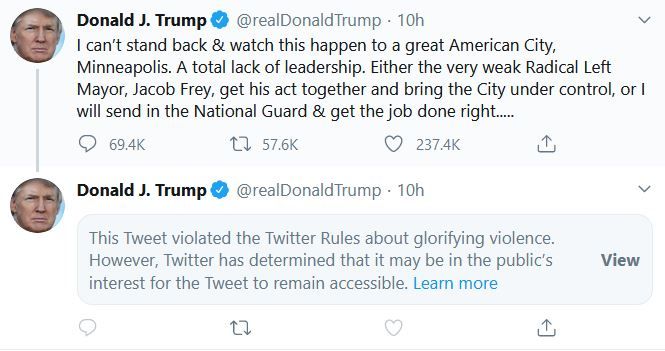 The White House even defended Trump's tweets.
"The President did not glorify violence. He clearly condemned it," the White House tweeted. "@Jack and Twitter's biased, bad-faith "fact-checkers" have made it clear: Twitter is a publisher, not a platform."
Maybe they don't understand the meaning of condemn. You calling for the KILLING of people committing property damage is not condeming violence.
Before his Minneapolis tweets, Trump said Twitter was doing "nothing about all of the lies & propaganda being put out by China or the Radical Left Democrat Party."
He's pissed because Twitter fact-checked his tweet that said mail-in voting leads to fraud:
That promoted Trump to sign an executive order to limit the broad legal protections enjoyed by social media companies. This comes two day
"We're here today to defend free speech from one of the gravest dangers it has faced in American history, frankly," Trump said from the Oval Office. "A small handful of powerful social media monopolies control the vast portion of all private and public communications in the United States."
Peep the clips below:
President @realDonaldTrump just took executive action to fight online censorship by tech corporations, including social media platforms. pic.twitter.com/W4r7vLw958

— The White House (@WhiteHouse) May 28, 2020
"Today, I am signing an Executive Order to protect and uphold the free speech and rights of the American people." pic.twitter.com/agTIJ2KR6C

— The White House (@WhiteHouse) May 28, 2020
President @realDonaldTrump is directing the Attorney General to work with states to enforce their laws against deceptive business practices.

"The states have broad and powerful authority to regulate in this arena." pic.twitter.com/N0jxMYAh1i

— The White House (@WhiteHouse) May 28, 2020
The Trump Administration is making sure your taxpayer dollars don't go to social media giants that unfairly repress free speech. pic.twitter.com/L3FiJ0eG5L

— The White House (@WhiteHouse) May 28, 2020
Trump hopes the order will eventually set the stage for new regulations on social media platforms like Twitter and Facebook.
.@Facebook CEO Mark Zuckerberg is today criticizing Twitter. "We have a different policy than Twitter on this. I believe strongly that Facebook shouldn't be the arbiter of truth of everything that people say online." Did Twitter criticize Obama for his "you can keep your Dr."?

— Donald J. Trump (@realDonaldTrump) May 29, 2020
Earlier this month, when armed protesters rolled up on the Michigan statehouse demanding Gov. Gretchen Whitmer lift coronavirus lockdown, Trump called them "very good people."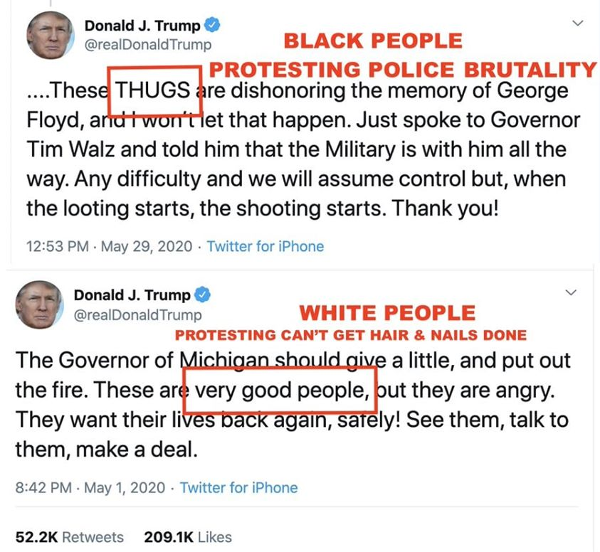 THIS guy...
About those Minneapolis THUGS Trump were referencing in his tweets:
Photo: Frederic Legrand - COMEO/Shutterstock.com
​ ​
​ ​ ​