PROTESTS CONTINUE: Minneapolis Police Department Set On FIRE After George Floyd's Killing, One Suspicious Violent Protestor May Be A Saboteur + CNN Crew Arrested & Released
​
May 29 | by _YBF
​ ​ ​ ​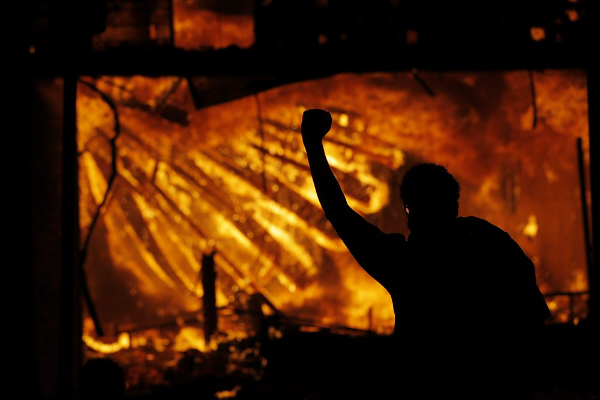 For the third straight day, people in Minneapolis have been protesting in a call of action to have the four police officers who killed George Floyd brought up on murder charges. Pics and videos of last night's events inside…
BREAKING: The third precinct police station is on fire. Rioters have taken over pic.twitter.com/AJg4jDr9Tz

— Max Nesterak (@maxnesterak) May 29, 2020
Protestors got inside the 3rd Precinct Minneapolis Police Station and set it ablaze. It's the police station where the four police officers who were fired for the death of George Floyd were stationed before they were fired.
Former police officer Derek Chauvin and three other former officers - Thomas Lane, Tou Thao and J. Alexander Kueng – were fired a day after George Floyd was murdered. While in handcuffs, Derek pressed his knee into the back of George's neck for an entire nine minutes, which resulted in George's death. The incident was caught on video, shared on social media, and instantly went viral.
Raging protests have been going on in Minneapolis as a call to action to have the four former police officers brought up on murder charges.
See pics of videos of the police station on fire below:
Police precinct set on fire on the third day of demonstrations as the so-called Twin Cities of Minneapolis and St. Paul seethed over the shocking police killing of a handcuffed black man

Full story: https://t.co/yHUQtOUGHp

Kerem Yucel pic.twitter.com/PRc8OM8rpR

— AFP news agency (@AFP) May 29, 2020
This is avsolutely insane. #GeorgeFloyd riots in Minneapolis. pic.twitter.com/l3Hvs6F0jh

— Ryan Faircloth (@RyanFaircloth) May 29, 2020
Below is more video footage of yesterday's protests:
This demonstration has swelled in size. There are tens of thousands of people here now. pic.twitter.com/nnuEcYOPrB

— Max Nesterak (@maxnesterak) May 29, 2020
Chants of: "Say his name!" pic.twitter.com/rf6Qj0FDvp

— Ricardo Lopez (@rljourno) May 29, 2020
Moment of silence for #GeorgeFloyd pic.twitter.com/UDt9XthWK4

— Ricardo Lopez (@rljourno) May 29, 2020
CNN's @OmarJimenez and the rest of the crew have been released from police custody in Minneapolis. https://t.co/PLXbH9ad3x

— Twitter Moments (@TwitterMoments) May 29, 2020
Things are escalating in downtown Minneapolis. MPD in riot gear and using tear gas. Some protestors shooting off fireworks extremely close to the ground.#GeorgeFloyd #WCCO pic.twitter.com/NxJhxElqAl

— Marielle Mohs (@MarielleMohs) May 29, 2020
Also, there's a clip going viral of a man dressed in tactical gear - believed to be white - who was spotted breaking windows at a Minneapolis AutoZone. The store was later vandalized and burned, along with a Wendy's restaurant and an under-construction affordable housing complex. For some reason, people believe he's a white police officer on the Minneapolis Police Department. Some believe the alleged police officer or agent provocateur is trying to rile up protests and fuel a riot.
Check it:
Here it is!!! It's in this one!! Watch I have it queued up to start right as the camera guy hears the smashing noises

Watch what happened at 13:31 in @SvensonBrad's broadcast.https://t.co/VNbxQ9x96j

— Misty Graves (@MistyGComics) May 28, 2020
Even Minnesota Attorney General Keith Ellison is questioning the alleged protester.
This man doesn't look like any civil rights protestor I have ever seen. Looks like a provocateur. Can anyone ID him? "Suspicious Man Breaks Window & Starts Minneapolis Riots" - YouTube https://t.co/e1lNAabWcb

— Keith Ellison (@keithellison) May 28, 2020
"This man doesn't look like any civil rights protestor I have ever seen. Looks like a provocateur," Keith Ellison tweeted.
Now, the Minnesota National Guard has moved in:
The in-processing of soldiers and airmen onto State Active Duty continued throughout the night, with nearly 500 soldiers and airmen in position to support rotating missions by morning.

— MN National Guard (@MNNationalGuard) May 29, 2020
Governor Tim Walz signed Executive Order 20-64 yesterday at 4 p.m., activating the Minnesota National Guard to provide safety and protection to the people of Minneapolis, Saint Paul, and the surrounding communities.

— MN National Guard (@MNNationalGuard) May 29, 2020
Early this morning, a black CNN journalist and his crew were arrested. Omar Jimenez was handcuffed and led away by police while reporting live from Minneapolis. According to a reporter from the New York Times, police said Omar and his producer were arrested because they were asked to move and did not.
Minnesota police arrest CNN reporter and camera crew as they report from protests in Minneapolis https://t.co/IY0H1Lc77E pic.twitter.com/s9XmwVfabP

— New Day (@NewDay) May 29, 2020
In the course of clearing the streets and restoring order at Lake Street and Snelling Avenue, four people were arrested by State Patrol troopers, including three members of a CNN crew. The three were released once they were confirmed to be members of the media.

— MN State Patrol (@MnDPS_MSP) May 29, 2020
They have since been released and are back reporting on the protests.
And we're back pic.twitter.com/dkYHYxe0u7

— Omar Jimenez (@OmarJimenez) May 29, 2020
Tim Walz - Governor of Minnesota - said the arrests were unacceptable and apologized:
CNN president Jeff Zucker spoke with the Governor of Minnesota Tim Walz after the arrest of the CNN crew.

Walz said he "deeply apologizes" and described the arrests as "unacceptable."

— Donie O'Sullivan (@donie) May 29, 2020
And get this...
Apparently, George Floyd and former officer Derek Chauvin knew each other.
Photo: Julio Cortez via AP Photo
​ ​
​ ​ ​