The 'Looter' Situation In MINNEAPOLIS - Here's The Whole Story About What Really Happened
​
May 28 | by _YBF
​ ​ ​ ​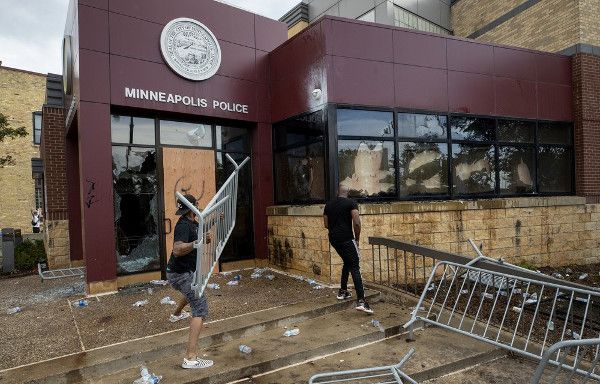 Folks are sick and tired of being sick and tired! So, they're reacting to the murder of George Floyd in Minneapolis. Yes, there's looting going on, but here's why it's happening…
Tensions are boiling over calling for four former police officers to be charged for murder in the death of George Floyd. Cop Derek Chauvin sunk his knee in the back of George's neck, which ultimately ended in his untimely death. The incident was recorded and posted to social media. It instantly went viral.
Folks are outraged the men haven't been charged with murder since we all know had the races been reversed, the situation would have gone a totally different way. So, people have been wreaking havoc in the streets as they demand for justice in the killing of George Floyd.
Protestors are likely going to be called a lot of different things today (rioters, looters, criminals). I want you to know on behalf of the families impacted by police violence— we call you brave. You are opposing the deadliest police culture in the industrialized world. pic.twitter.com/yGJrdhSQmL

— S. Lee Merritt, Esq. (@MeritLaw) May 28, 2020
It started with destroying the city's 3rd Precinct station where the former four officers were stationed.
This is blocks from my home. My neighborhood grocer, Target, small businesses, a charter school, an apartment complex, etc. photo taken by Amy Bloss, 5 am CST

Posted by Jamez L Smith on Thursday, May 28, 2020
People started looting a local Target, but what the media hasn't told you is that the looting began after the store refused to sell people milk to people who were doused with tear gas by police as they were protesting.
Looting needs no justification, but the Target famously getting looted apparently not only openly supported the police (not shocked) but openly refused to sell milk to tear gassed protesters. So, shut the fuck up about looting, but also extra shut the fuck up about Target

— The butterflies are drinking the caiman's tears (@Buddha6883) May 28, 2020
Peep the clips below:
Inside of Target by the 3rd precinct in #Minneapolis pic.twitter.com/s7v4qktWfC

— Nicholas Winslow (@NKwinslow) May 28, 2020
homegirl really thought she was about to get a nobel prize for protecting that target pic.twitter.com/38OvWC2V0n

— selma (@twtselma) May 28, 2020
These guys say they support the protests but not the looting. Showed up to help this tobacco store owner stop people from breaking in pic.twitter.com/x2FMQiQwVK

— Max Nesterak (@maxnesterak) May 28, 2020
The Target was eventually burned to the ground:
People in Minneapolis celebrating after burning down a target pic.twitter.com/CFxqoJX7ec

— (@iiflores_) May 28, 2020
Fires erupted at several business throughout the night.
Firefighters have been working hard to stop the fires with police in tow. A Minneapolis firefighter went on "Sway In The Morning" and said the police have to escort them to burning buildings and protect them because people are firing bullets at the fire trucks.
Sadly, a person lost their life during the rebellions. The AP reports:
Police spokesman John Elder said officers responding to a reported stabbing near the protests found a man lying on the sidewalk with what turned out to be a bullet wound. The man was pronounced dead at a local hospital. Elder said a suspect was in custody but said the facts leading up to the shooting were "still being sorted out."
Tragic.
Mayor Jacob Frey tweeted:
Please, Minneapolis, we cannot let tragedy beget more tragedy.

The area along Lake has become unsafe. We are asking for your help in keeping the peace tonight. https://t.co/kRZuWGJY29

— Mayor Jacob Frey (@MayorFrey) May 28, 2020
The fact that some people are more outraged over looting then murder by police is...telling. Human beings have limits. When you constantly disrespect and devalue their lives, their anger can and will turn to rage, and they can and will disrespect and devalue things in return.
Photo: Carlos Gonzalez/Star Tribune via AP
​ ​
​ ​ ​