Cop Derek Chauvin's Reported Past is Rife With Questionable Race Centered Actions Before The Killing Of George Floyd + New Bodycam Footage Released
​
May 28 | by _YBF
​ ​ ​ ​
Minneapolis police officer Derek Chauvin reportedly has a history of terrorizing the black community, killing unarmed black men before he murdered George Floyd a few days ago. Deets on his questionable race centered actions, plus new bodycam footage of George Floyd's murder inside…
Maybe, just MAYBE, if someone on the Minneapolis Police Department investigated police officer Derek Chauvin's checkered past when it came to killing alleged suspects, George Floyd might still be here today.
New bodycam footage, which doesn't really add anything new but is the first official release from the Minnesota Police Department, of the moments before George was murdered was just released:
As you know, former police officer Derek Chauvin and three other former officers - Thomas Lane, Tou Thao and J. Alexander Kueng – were fired a day after George Floyd was murdered. While in handcuffs, Derek pressed his knee into the back of George's neck for an entire nine minutes, which resulted in George's death. The incident was caught on video, shared on social media, and instantly went viral.
Turns out, the 44-year-old former police officer has been the subject of complaints throughout his two-decade career. He joined the Minneapolis Police Academy in October 2001 and has been terrorizing people of color ever since. In the past, he reportedly has been involved in several use-of-force incidents and at least one lawsuit related to an allegation of violations of a prisoner's federal constitutional rights.
NBC News has the details:
In 2006, Chauvin was one of six officers from the Third Precinct who responded to a stabbing at a Minneapolis home. Police said Wayne Reyes stabbed his friend and his girlfriend and then threatened to kill all of them with a shotgun.

Police pursued Reyes, who fled in his truck. He got out of the vehicle with a shotgun, and "several officers fired multiple shots," killing Reyes, police said in a report.

All of the officers, including Chauvin, were put on paid leave during an investigation, which is standard protocol. It is unclear what happened with the investigation, and Minneapolis police did not immediately respond to a request for Chauvin's service record.

The same year, Chauvin and seven others were named in an unrelated federal lawsuit filed by an inmate at the Minnesota Correctional Facility at Lino Lakes. Further information was not immediately available; records show that the case was dismissed without prejudice in 2007.

In 2008, Chauvin and a second officer were called to a residence for a domestic disturbance. According to police, Ira Latrell Toles, 21, was holed up in a bathroom and tried to escape when Chauvin got inside. When Toles refused to obey Chauvin's order to get down, police said, a struggle began and Toles grabbed for Chauvin's weapon.

Chauvin fired twice, hitting Toles in the abdomen, the Pioneer Press newspaper of St. Paul reported. Toles was taken to the hospital and survived.

Police did not respond to a request for information about the outcome of the investigation.

The newspaper said that earlier in 2008, Chauvin was awarded a department medal of valor for "his response in an incident involving a man armed with a gun." Chauvin was recognized again in 2009 by the police department.
There's more…
In 2011, Chauvin was again placed on temporary leave after he responded to the scene of a shooting.

Police said that Leroy Martinez, 23, drew his gun near a playground at the Little Earth of United Tribes public housing complex and that an officer shot him after he refused to drop the gun and listen to commands. Chauvin and other officers arrived at the scene, and while none of them fired their weapons, they were all placed on a standard three-day administrative leave as part of the investigation.

Chauvin has also been the subject of complaints listed in the city's Office of Police Conduct database. Details of those cases were unavailable after they were closed and listed as "non-public." They resulted in no discipline.
Since the incident, Derek has lawyered up. Tom Kelly is representing him.
Some of former officer Tou Thao's past has come to light as well. He allegedly was sued for excessive use of force after he punched a handcuffed suspect so hard he broke their teeth.
Officer Derek Chauvin was investigated in shootings in 2006, 2008, & 2011.

Tou Thao was successfully sued for $25k for punching a handcuffed suspect so hard his teeth BROKE.

He was not only still allowed on patrol, someone partnered him with Chauvin.#JusticeForGeorgeFloyd pic.twitter.com/ERYsWceVo2

— Dr Louise Raw (@LouiseRawAuthor) May 27, 2020
The Star Tribune reports:
In 2017, Lamar Ferguson sued Thao and another officer, Robert Thunder, for excessive use of force. According to the lawsuit, Ferguson and a woman who was eight months pregnant were walking home when Thao and Thunder stopped and searched them without cause. The officers handcuffed Ferguson, and Thao threw him to the ground and began punching him, while Thunder kicked him, according to the allegations. The officers took Ferguson to the hospital for medical treatment. Afterward, they escorted Ferguson to jail wearing only his underwear and T-shirt, rejecting hospital staff's requests that he be allowed to fully dress, according to the complaint.
You can read the full report here.
Tensions have been rising in Minneapolis with protests and riots. Last night, people began to assemble outside of Derek's home to protest and it looks like the whole police department came out to protect him:
Derek Chauvin (Officer who killed George Floyd) has his own security at home. Not even an officer anymore and still got the whole police force protecting him. pic.twitter.com/ge1HE2G8SY

— enigma (@keemzjamyle) May 28, 2020
According to people outside of Derek's home, he tried to order pizza several times, but once the delivery drivers found out who they were delivering food to, they changed their minds.
Protesters have laid siege to the Minneapolis police officer's home who killed George Floyd. This cop needs to be arrested for murder immediately.#JusticeForGeorgeFloyd #JusticeForGeorge @OccupyDemocrats pic.twitter.com/efFv31lo9g

— CreatCburst (@creatcburst) May 28, 2020
A black police officer in New Jersey weighed in on the situation:
NYPD detective Dmaine Freeland also weighed in. He called Derek his "enemy" because he dishonored the badge. Check it below:
The person who recorded George Floyd's murder was a 17-year-old female. She has been receiving backlash online for not jumping in to help George, so she hopped on Facebook to respond.
"I am a minor ! 17 years old , of course I'm not about to fight off a cop I'm SCARED wtf," she wrote. "If it wasn't for me 4 cops would've still had their jobs , causing other problems. My video went world wide for everyone to see and know !! Instead of bashing me , THANK ME! Because that could've been one of your loved ones and you would want to see the truth as well."
We agree with her, as we're not sure what people expecting a teen girl to do to take on 4 male police officers by herself. Read her full reaction below: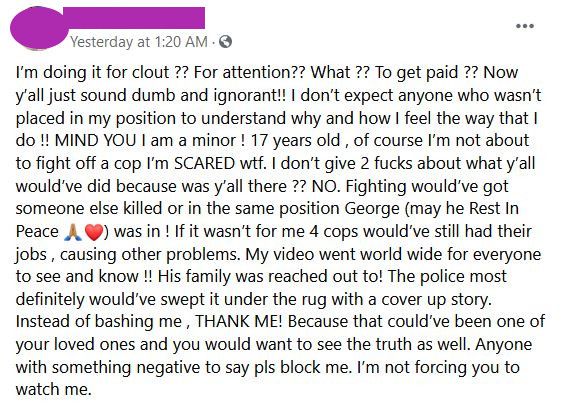 The girl's mother spoke to TMZ about her daughter's video:
Darnella's mother tells us her daughter was simply out making a store run, and never should have experienced this, including the nasty aftermath. She's concerned going forward because she says Darnella already suffers from social anxiety.

However, Mom believes her daughter was where she needed to be -- in order to capture the tragic event and share it with the world. To that point, without Darnella's video, we might not know what really happened.
We applaud this young lady for her act of bravery because she's right. Had she not recorded the incident, these four cops would still be out here terrorizing people of color.
By the way, a Change.org petition - calling for the arrest of the four officers involved in the death of George Floyd - crossed one million signatures as the fastest growing petition on the site to date and poised to be the biggest petition of 2020. You can sign it HERE.
Photo: Screenshot from Ben Crump's Twitter Video
​ ​
​ ​ ​