Excuse Us? Christian Cooper DEFENDS 'Central Park Karen' Who Weaponized Her White Tears Against Him – 'Her Life Shouldn't Be Torn Apart'
​
May 27 | by _YBF
​ ​ ​ ​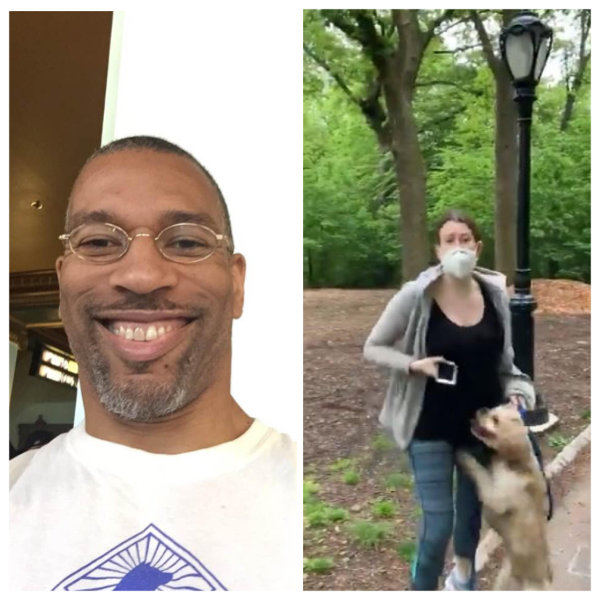 So, Christan Cooper - the man who recorded a white woman that called the police on him and LIED about him threatening her - is speaking out. And he says although what she did was wrong (that def could have costed him his life), her life shouldn't be torn apart. Oh. More inside…
"Central Park Karen" has been trending on Twitter for the last few days after a video of a white woman calling the police on a black man went viral.
On Memorial Day, Christian Cooper was out bird watching in the Bramble section of Central Park when a white woman – named Amy Cooper (of no relation) – walked through the park with her dog, who did not have a leash on. There are rules that dogs must be leashed.
After politely asking Amy to put a leash on her dog, she instantly got defensive and decided to call the police on Christian. Then, she lied about their interaction.
Christian – who is Harvard-educated New York senior biomedical editor – broke down their conversation right before he started recording the woman on his cellphone. Here's what transpired:
Christian's sister - Melody Cooper - shared the video on her Twitter account and it instantly went viral. It currently has over 42 million views.
Oh, when Karens take a walk with their dogs off leash in the famous Bramble in NY's Central Park, where it is clearly posted on signs that dogs MUST be leashed at all times, and someone like my brother (an avid birder) politely asks her to put her dog on the leash. pic.twitter.com/3YnzuATsDm

— Melody Cooper (@melodyMcooper) May 25, 2020
"There's a man, an African-American, he's recording and threatening me and my dog," Amy told the police in the video. "There is an African-American man in Central Park. He is recording me and threatening myself and my dog." The poor dog was getting tossed around as she was on the phone with 9-1-1.
Once the video went viral, people have been dragging Amy, dubbing her "Central Park Karen." It didn't take long for the Internet to find out where she worked and she was fired from her job as Vice President of investment firm, Templeton Franklin.
Following our internal review of the incident in Central Park yesterday, we have made the decision to terminate the employee involved, effective immediately. We do not tolerate racism of any kind at Franklin Templeton.

— Franklin Templeton (@FTI_Global) May 26, 2020
"Following our internal review of the incident in Central Park yesterday, we have made the decision to terminate the employee involved, effective immediately. We do not tolerate racism of any kind at Franklin Templeton," the company wrote.
Also, the dog rescue where Amy adopted the dog a few years ago announced she "voluntarily surrendered" the dog back to them after the incident. Thankfully.
As you can imagine, people have been going OFF on social media about "Central Park Karen" because her racist actions could have cost this man his LIFE.
Like they always do after getting caught, Amy spoke to CNN, claiming she's not racist.
"I'm not a racist. I did not mean to harm that man in any way…I think I was just scared," she explained. "When you're alone in the Ramble, you don't know what's happening. It's not excusable, it's not defensible."
By the way, it's reported Amy Cooper is a liberal. Go figure.
The New York City Commission on Human Rights has announced it is launching an investigation into the case involving Amy and Christian.
"At a time when the devastating impacts of racism in Black communities have been made so painfully clear — from racial disparities in COVID-19 outcomes, to harassment of essential workers on the frontlines — it is appalling to see these types of ugly threats directed at one New Yorker by another," said Sapna Raj, deputy commissioner of the Law Enforcement Bureau at the Commission on Human Rights.

"Efforts to intimidate Black people by threatening to call law enforcement draw on a long, violent and painful history, and they are unacceptable. We encourage Ms. Cooper to cooperate with the Commission and meaningfully engage in a process to address the harm that she has caused," Raj added in a statement.
Intense debates about Christian and Amy's encounter have been taking over social media since the video was posting. Making false accusations to the police about black people can LITERALLY cost a black person their life (i.e. George Floyd), so it's understandable why people were outraged over how she put this man's life in grave danger.
However, Christian doesn't seem to be taking it as hard as some people on Twitter. He feels sympathy for Amy and said her life shouldn't be torn apart for a "racist mistake."
"Any of us can make — not necessarily a racist mistake, but a mistake," Christian told The NY Times. "And to get that kind of tidal wave in such a compressed period of time, it's got to hurt. It's got to hurt."

"I'm not excusing the racism," he said. "But I don't know if her life needed to be torn apart."
He opened his mouth to speak further and then stopped himself. He had been about to say the phrase, "that poor woman," he later acknowledged, but he could not bring himself to complete the thought.

"She went racial. There are certain dark societal impulses that she, as a white woman facing in a conflict with a black man, that she thought she could marshal to her advantage," he said.
The 57-year-old avid bird watcher said he didn't want to give her any power, so he kept his cool.
"I didn't want to kowtow to that, I didn't want to give it any power," he added. "I am pretty adamant about not being a participant in my own dehumanization."

"I am one of the few male African-Americans who birds the Ramble regularly," he said. "And I have always been aware that if I am crawling around behind a shrub trying to catch a glimpse of that rare bird, holding a metal object in my hands, I will be perceived differently than a white man if police come across that scene."
Sir....
IF the police had shown up, this situation could have ended totally differently. Thoughts?
Photo: Christian's FB
​ ​
​ ​ ​