The Police Tried To Shut Down Beenie Man vs. Bounty Killer's Verzuz Battle – 'The Police Are Here, But We're Not Stopping'
​
May 25 | by _YBF
​ ​ ​ ​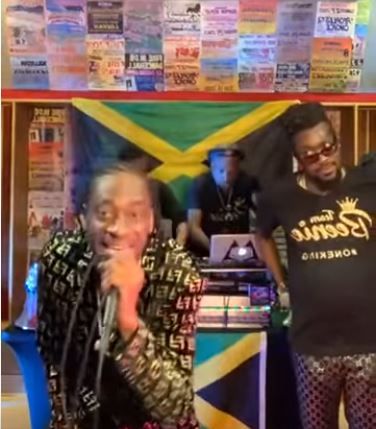 Not even the police could stop Beenie Man and Bounty Killer's Verzuz Battle. Watch what happened when law enforcement showed up and more inside….
All the dancehall lovers were on cloud 9 last night as dancehall reggae kings Beenie Man and Bounty Killer put on a show for their Verzuz Live Battle. There were no issues with getting them both on IG Live as they performed the battle in the same location. And even with them being in the same location, sometimes the WiFi connection on islands can be hit or miss. But, that wasn't an issue.
However, the police def tried to shut it down. Yep, the cops walked in during the battle and tried to shut them down, but Beenie said it's NOT happening!
"Can we not do this right now? We've got 500,000 people watching us right now. Do you want to be that guy?," Beenie Man asked the police. "People, the police are here, but we're not stopping. We're not stopping," he said.
Watch it below:
The police showed up at the Beenie vs Bounty Killer #Verzuz and look at how Beenie handled the situation. This is the most Jamaican shit I've seen all day pic.twitter.com/QRUFEyycKi

— A little bit broke (@ella_LOCO) May 24, 2020
Ha!
Beenie launched the battle with "Matie" which was a special tribute to the late Bobby Digital. Beenie collaborated with the legendary producer - who passed away on May 21st - on countless songs throughout his career. After dropping his frist track, Bounty hit back with his song, "Just a Killa."
At one point, Verzuz co-creator Swizz Beatz had to join in and remind Beenie and Bounty of the rules. They can't play a song longer than 90 seconds due to copyright:
Holy crap, the Instagram copyright rules did hit the Bounty Killer vs Beenie Man Verzuz battle stream. Swizz Beatz says they can't play no more than 90 seconds of a song. #VERZUZ pic.twitter.com/Kek7Kuxfnv

— DJ Heat (@DJHeatDC) May 24, 2020
That didn't stop the party though.
The Dancehall Kings went hit-for-hit turning up to their tunes as hundreds of thousands tuned in:
Folks were getting their entire dancehall/reggae lives as the two battled it out:
Watch more below:
Check out some social media reactions below:
This Bounty Killer vs. Beenie Man battle is the best one yet... #Verzus pic.twitter.com/JhEF8vAQEq

— Rob Hodge (@RobHodge_) May 24, 2020
Me in the Bounty Killer vs Beenie Man not understanding a word being said. pic.twitter.com/CMITUVmdgF

— Kevín (@KevOnStage) May 24, 2020
Teddy Riley watching Beenie Man vs. Bounty Killer wondering how they got the sound AND audio so crisp. #VERZUZ pic.twitter.com/N5JH7GcIzu

— James Fauntleroy Stan Account (@yoyotrav) May 24, 2020
Vybz Kartel in the IG live watching beenie man vs bounty killer pic.twitter.com/5gHWhxLzNe

— Papi HATHAWAY (@HeadcACE1906) May 22, 2020
After watching Beenie Man and Bounty Killer battle pic.twitter.com/tXNKZOtGYB

— Zoe (@YourFavoriteZoe) May 24, 2020
Big up @rihanna "Ri Ri do you se Me Me" bounty killer and beenie man has me weak all night lmao . pic.twitter.com/L1Ajog64Os

— aehs (@aehs_shea) May 24, 2020
The uncultured: .........

The rest of us during Beenie Man vs. Bounty Killer #VERZUZ: pic.twitter.com/F3YV4KCRiq

— Def Pen (@defpen) May 24, 2020
Fun times.
Photo: IG Screenshot
​ ​
​ ​ ​