Tekashi 6ix9ine Is BACK & Making Everyone BIG MAD, Including Billboard & Snoop Dogg! + Gets Help From Known Clout Chaser Celina Powell
​
May 19 | by _YBF
​ ​ ​ ​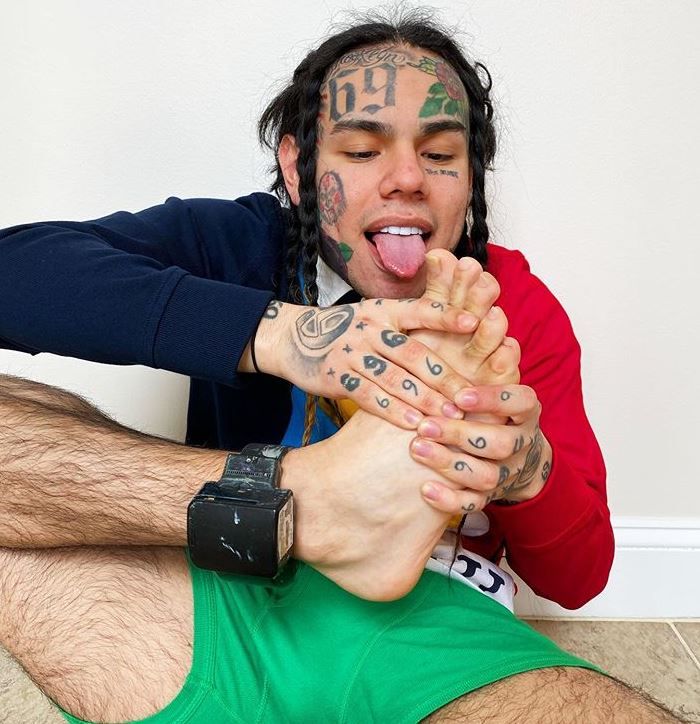 Rapper Tekashi 6ix9ine is ruffling feathers after being home from prison for a little over a month. Watch the "GOOBA" rapper come after Billboard and Snoop Dogg (with help from famed clout chaser Celina Powell) inside...
Rapper Tekashi 6ix9ine is causing controversy on social media just like he used to do before he was released from prison on racketeering charges last month. He was released on April 2nd and kept a pretty low profile on social media…until now.
On Monday, Billboard released the Hot 100 chart and Tekashi's new single "GOOBA" debuted at the No. 3 spot, falling behind Ariana Grande and Justin Bieber's new "Stuck With U," which nabbed the No. 1 spot. Doja Cat's "Say So Remix" featuring Nicki Minaj fell to No. 2.
Now, the "FEFE" rapper is taking aim at Billboard, calling them a fraud.
"You can buy No. 1's on Billboard," Tekashi said in an IG Video posted to his official account.
The 23-year-old rapper claims he and his crew have an "ongoing investigation" and they found out that Ariana supposedly purchased thousands of units with "six credit cards." Well, it certainly wouldn't be the first time an artist did that.
"Explain how you buy 30,000 [units] with six credit cards," he said in the video.
"@billboard CAUGHT CHEATING. @billboard YOU'RE A LIE AND CORRUPT. YOU GOT CAUGHT CHEATING AND THE WORLD WILL KNOW," he wrote in the caption of the video.
He also named dropped Jay-Z and Nicki Minaj in the video. Peep the clip below:
Tekashi then posted a picture of himself holding six credit cards, claiming he'll be taking the No. 1 spot next time.
And he hopped on IG Stories trashing Billboard: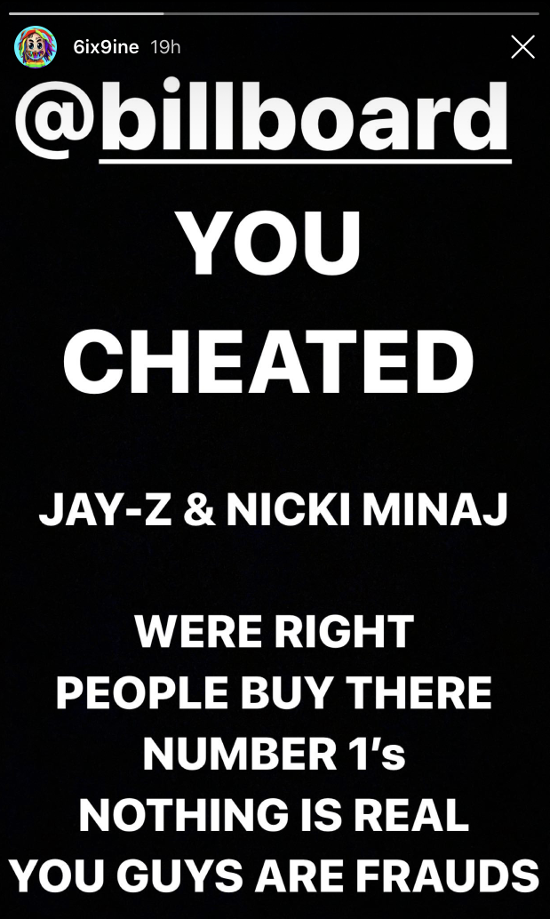 So, here's the thing. If you've publicly trashed and discredited Billboard and labeled it as a fraud, why on earth would you still care about being on it, let alone spend your own money to be on it?
After accusing Ariana of purchasing units, she went on Instagram to respond to Tekashi's claims.
She wrote:
"thank u to everybody who supported this song, this cause and made this happen. we love uuuuu so much. there's so much to celebrate today. however, i would like to say a few things. anyone who knows me or has followed me for a while knows that numbers aren't the driving force in anything i do. i'm grateful to sing. grateful to have people who want to listen. grateful to even be here at all. i didn't have a number one for the first five years of my career and it didn't upset me at all because from the bottom of my heart, music is everything to me. my fans are everything to me. i promise i couldn't ask for another fucking thing. so with this celebration today, i would like to address a few things which i don't usually do (i don't give my energy to drama or strange accusations normally but this has gone a little too far)...my fans bought the song. JUSTIN'S fans bought the song. OUR fans bought this song (never more than four copies each, AS THE RULES STATE). they are ride or die motherfuckers and i thank god every day that i have them in my life. not just when they fight for us to win (even when i ask them not to as i did this week) but because they're some of the greatest people i know. sales count for more than streams. u can not discredit this as hard as u try. to anybody that is displeased with their placement on the chart this week or who is spending their time racking their brain thinking of as many ways as they can to discredit hardworking women (and only the women for some reason.....), i ask u to take a moment to humble yourself. be grateful you're even here. that people want to listen to u at all. it's a blessed position to be in. i've had a lot of "almost number ones" in my career and i never said a goddamn thing because I FEEL GRATEFUL TO EVEN BE HERE. TO WANT TO BE HEARD AT ALL .... and you should feel that way too. congratulations to all my talented ass peers in the top ten this week. even number 3. and thank u to @billboard for this honor. and thank u to everybody who helped us raise a lot of money for a very important cause this week. love u all a lot."
Tekashi then responded to her, saying he wasn't coming for her. His beef is with Billboard.
"@arianagrande All I'm saying is I worked super hard to make it out of Brooklyn NY. I speak for the millions of kids who aren't as fortunate as you. The millions who weren't fortunate to be on T.V.. LIFE is REAL when you're on welfare LIFE is REAL when you grow up with out a father. You don't know what that is like. You say for me to be humble .... I don't think you know what humble is.......... YOU ARE VERY TALENTED AND BEAUTIFUL GOD BLESS YOU. But you will NEVER UNDERSTAND MY PAIN"
Justin also chimed in:
Now, Billboard is addressing Tekashi's allegations. In a new article, they explained how this week's numbers were calculated, breaking down how they calculate streams and airplay. Billboard also responded to Tekashi's claims that Ariana's team purchased unites with "six credit cards."
"Billboard and Nielsen Music/MRC Data conducts audits on all sales reported with access to purchase-level detail, and works with data partners to recognize excessive bulk purchases and remove those units from the final sales total. All titles this week, as in every week, were put under the same scrutiny. (Billboard has reached out to Fame House/Bravado, retailer and reporter of director-to-consumer sales, for further comment about the sales data provided for 'Stuck With U.')"
You can read their full explaination here.
Now, for the Tekashi & Celina Powell vs. Snoop Dogg drama.
It started when Snoop continued to call Tekashi a rat and encouraged others to NOT support a "snitch" like him. That's when Tekashi got petty and decided to post a video of Snoop cheating on his wife, Shante Broadus, with famed clout chaser, Celina Powell.
Tekashi 6ix9ine posts video of Snoop Dogg cheating on his wife #6ix9ine #SnoopDogg pic.twitter.com/Z6F16GL2jM

— Lil Mixtapez (@LilMixtapez) May 17, 2020
The video seems to be old and one we posted a while back as well.
Tekashi also posted a video of himself watching a video of Suge Knight insinuating Snoop is an informant. Check it:
Tekashi 69 tries to insinuate snoop dogg is a snitch pic.twitter.com/2MfTyFy5Qm

— The Internet Is Undefeated (@livekomik) May 16, 2020
Snoop denied ever telling on Suge and said he and Suge are on "great terms."
The Doggfather then posted (and deleted) a video warning Tekashi to stay in his lane:
Snoop Dogg after 6ix9ine calls him a snitch

— RapCentury (@RapCentury_) May 16, 2020
Before Snoop deleted the post, Tekashi hopped in his comments, pointing out that Snoop never denied there's paperwork that would confirm he cooperated with law enforcement. "Still hasn't even denied the paperwork. lEaVe Me AlOnE 'you're blowing my cover,'" he wrote.
Tekashi of all people calling somebody a snitch. That's rich.
The rainbow haired rapper also posted a screenshot of Snoop allegedly threatening him in DMs.
"Can someone tell the police snoop dog is threatening me [laughing emojis he mad," he wrote in the caption of the screenshot. He has since deleted it.
Celina Powell then enters the group chat with a video of Snoop calling her. It's said she might have called him first and he was returning her call and that's how she got him on video:
"@snoopdogg I'm not interested in teaming up with you against @6ix9ine, stop calling me askin why I'm egging him on ... And showing me your dog @juelzbroadus so I don't screenshot you, was a rookie mistake.. you know I stay with two phones #TEAM6IX9INE," she wrote in the caption.
Check it:
Snoop is likely kicking himself for even responding to Tekashi in the first place. Now, it seems he's turning the other cheek to the social media drama. He posted these memes after Celina's video was released:
As far as cheating goes, Snoop's wife, Shante, told her fans on Mother's Day not to come to her for relationship advice because she has taken her man back 81 times. Peep that post HERE.
This entire thing is ghetto...
Photo: Tekashi's IG
​ ​
​ ​ ​