WTH?! Two NFL Cornerbacks Are WANTED For Allegedly Robbing Partygoers At Gunpoint, Police Will Allow Them To Turn Themselves In
​
May 16 | by _YBF
​ ​ ​ ​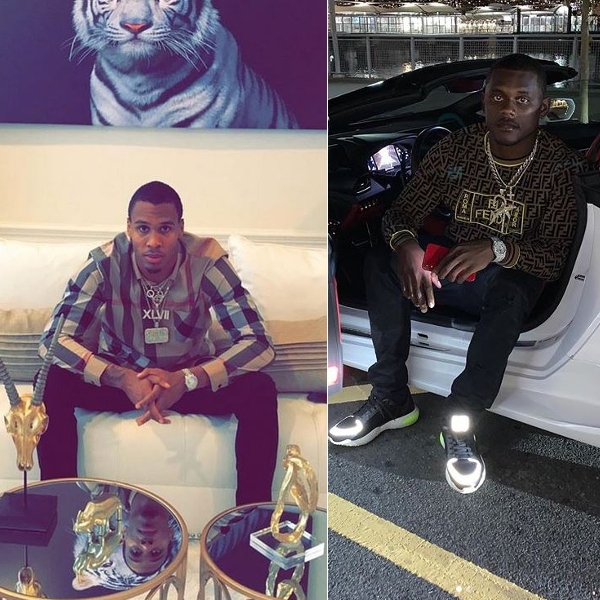 What in the 2020 is going on? Two NFL players – Quinton Dunbar and Deandre Baker – are wanted by police for allegedly robbing people at gunpoint during a party. Sighs. Deets inside…
To say 2020 is insane would be an understatement. And news of NFL players robbing people just adds to the foolery.
According to reports, Seattle Seahawks cornerback Quinton Dunbar (left) and New York Giants cornerback Deandre Baker (right) are wanted by police in Florida. Police in southeast Florida have issued arrest warrants for the NFL players (both South Florida natives) for their roles in an alleged robbery during a house party on Wednesday (May 13th). Social distancing just seems to be a thing of the past these days, huh?
Quinto is wanted for four counts of armed robbery with a firearm and four counts of aggravated assault with a firearm. Deandre is wanted for four counts of armed robbery with a firearm.
CBS Sports have details of what was stolen via the police report:
Baker took money and watches from the victims with force and was armed with a semi-automatic firearm. Dunbar was assisting Baker in taking the money and valuables from the attendees at a party in Miramar, Broward County. The pair were allegedly hanging at a cookout when an argument ensued, resulting in Baker revealing a semi-automatic firearm. Baker allegedly directed a third member, wearing a red mask, to shoot a person who entered the party -- but the gun was not fired.

Both Baker and Dunbar are believed to have taken over three timepieces -- including an $18,000 Rolex watch and a Hublot worth $25,000. Baker and Dunbar also took over $7,000 in cash. Two witnesses did not see Dunbar with a firearm but one said the opposite.

One witness told police Baker and Dunbar lost over $70,000 at a party in Miami days earlier via gambling, some from high-stakes card games. Another witness said those involved in the robbery all left in three different vehicles, a Mercedes Benz, a Lamborghini and a BMW -- which were prepositioned for immediate departure from the scene of the crime.

The argument allegedly started over a gambling dispute. Neither player has been incarcerated.
Per the Miramar Police, neither of the NFL players have turned themselves in, however, the police has reportedly been in contact with at least one of the player's representatives about turning himself in. It's reported the players will have the opportunity to turn themselves in and if they don't do it in a reasonable time, the police will begin a more proactive "process" of arresting them.
I just got off the phone with Miramar Police and was told that Quinton Dunbar and DeAndre Baker are yet to turn themselves in.

They will be given a "reasonable amount of time" to do so before police begin a more proactive "process" of arresting them.

— Joe Fann (@Joe_Fann) May 15, 2020
Had they been social distancing they wouldn't be in this mess.
Quinton's defense attorney, Michael Grieco, has issued a statement regarding the Giants player involvement. He claims 5 witness gave statements that exonerate Quinton.
The Miami Herald reports:
Dunbar's defense lawyer, Michael Grieco, said on Friday that the five witnesses — the same ones cops interviewed in obtaining the arrest warrants — attested that Dunbar was in no way involved. He said he presented the affidavits to the Broward State Attorney's Office, but prosecutors are still requiring Dunbar turn himself in to be jailed.

"All of the affidavits indicate my client is innocent," Greico said. Greico lashed out at Miramar police for tweeting about the arrest warrant and "tagging" Seattle's account. "I have never in my career seen a police department so excited about arresting a celebrity," the lawyer said. He could not immediately say when Dunbar would surrender.
The Quinton Dunbar situation still lacks clarity. Lawyer says the 5 people who gave statements Wednesday night that led to arrest warrant for 4 counts of armed robbery have now given different statements, clearing Dunbar of any wrongdoing. Unclear what changed last 40ish hours.

— Dugar, Michael-Shawn (@MikeDugar) May 15, 2020
The Seahawks' media department also issued a statement:
Statement from a @Seahawks Spokesperson:

We are aware of the situation involving Quinton Dunbar and still gathering information. We will defer all further comment to league investigators and local authorities.

— Seahawks PR (@seahawksPR) May 15, 2020
Play stupid games, win stupid prizes.
Photos: Quinton's IG/Deandre's IG
​ ​
​ ​ ​