DO WE BELIEVE IT? Meek Mill Seemingly Apologizes To Tekashi 6ix9ine, Jay-Z Is RUMORED To Have Signed Tekashi To Roc Nation
​
May 11 | by _YBF
​ ​ ​ ​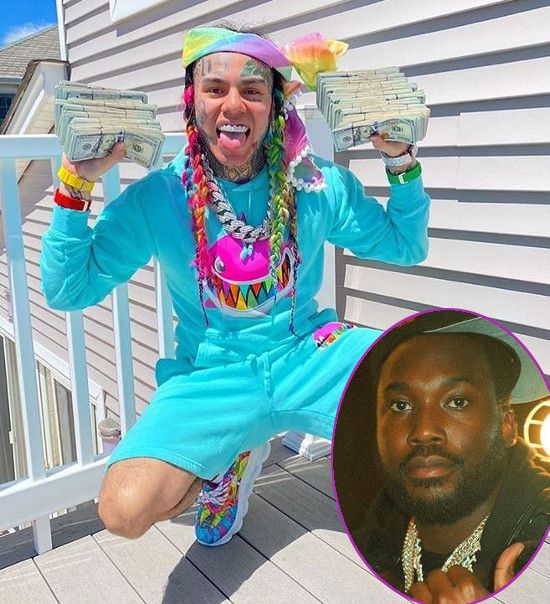 Word on the curb is that Jay-Z has signed Tekashi 6ix9ine to Roc Nation following his jail stint. Meek Mill (who's signed to Roc Nation) was firing shots at Tekashi on Twitter and then seemingly had a change of heart and apologized. Hmm…peep the receipts and more inside…
So, Jay-Z signed Tekashi 6ix9ine to Roc Nation?
That's what these Internet streets are saying, but we're not sure if we believe it yet.
Over the weekend, Tekashi – who was recently released from prison on racketeering charges stemming from his affiliation with the street gang Nine Trey Gangsters – dropped a new video titled "GOOBA" to mark his official comeback. It dropped two days ago and already has 94 million views on YouTube. Oddly enough, all of the females in the video resemble his (ex?) girlfriend, Jade.
In one clip, fans noticed a man wearing a Roc Nation logo on his baseball cap. It was a very quick shot, but fans were quick to point it out, which ignited rumors that the colorful-haired rapper has signed to Hov's Roc Nation company. Peep the clip below:
6ix9ine reportedly signs with Jay-Z rocnation after Jay z signature roc nation cap was worn by one of the cast assistant's pic.twitter.com/SKYVyxVDoJ

— Raphouse Tv (@Raphouse_Tv) May 10, 2020
There hasn't been any official statements released about Tekashi's affiliation with Roc Nation. For all we know, the hat could have been a replica or maybe the man wearing it was once affiliated with the company. Who knows. However, some fans believe it means he's now part of Roc Nation.
You can check out the full video below:
There's also a rumor that a lawyer who works for Roc Nation joined Tekashi's legal team in July, which also adds fuel to the rumors.
After releasing the "GOOBA" track, the "FEFE" rapper hopped on Instagram Live for the first time since his release. If you didn't know, he was released from prison early due to the COVID-19 pandemic last month. The NYC native set an IG Live record of 2 million viewers tuning in to see what he had to say.
During the stream, he talked about being a "rat" for cooperating with authorities. He opened up about the attempts on his life, being robbed and how people tried to kidnap his mother. He argued he didn't stay loyal to the gang because they weren't be loyal to him.
"I snitched; I ratted," he said. "But who was I supposed to be loyal to?," he said during the IG Live.

"You know why people so mad?" he added. "Because they thought it was over for me. They counted me out. 'Oh, you ratted, it's over for you.' Y'all could never cooperate with the government and come back. Y'all could never do that. I'm a living legend at the age of 24."
You can watch his IG Live below:
Rapper Meek Mill (who's signed to Roc Nation) got word about Tekashi going on Live and started tweeting about it. In the past, he has been vocal about why he doesn't mess with 69 for being a "rat"
"I hope that rat going live to apologize to the people he told on or the victim," Meek tweeted about 69. "Y'all forgot that fast a 'rat' killed nipsey he wasn't suppose to be on the streets! That's the only thing ima day because he's dead... left his baby mom and child like a coward as targets!"
The CHAMPIONSHIPS rapper didn't stop there. Peep the rest of his tweet below (read from the bottom up):

On social media, Tekashi hopped in the comments section on TSR and responded to Meek, writing, "Imagine having a new born baby come into the world and be pressed about a Mexican with rainbow hair."
We're not sure what happened, but Meek seemingly had a change of heart. He apologized for lashing out although he didn't name who he was apologizing to.
"I'm sorry I lash out sometimes when I see people playing like that lol I been locked up too many times like a animal. Sam change my passcode and don't give it me nomore," Meek tweeted.
Maybe the fear Tekashi could possibly end Meek's career had something to do with it as well.
There's a rumor that Jay-Z and rapper T.I. have been calling up rappers asking them to stop calling Tekashi a rat. Peep the clip below:
We're not sure how legit this is, but we're just dropping it here.
Also...
6ix9ine can't catch a break as his location is blow up second time! pic.twitter.com/WgvP3UqgQC

— Raphouse Tv (@Raphouse_Tv) May 11, 2020
Tekashi already had to move once a girl saw him taking pictures on his balcony. It seems he may have to relocate again.
We're also just going to leave this here...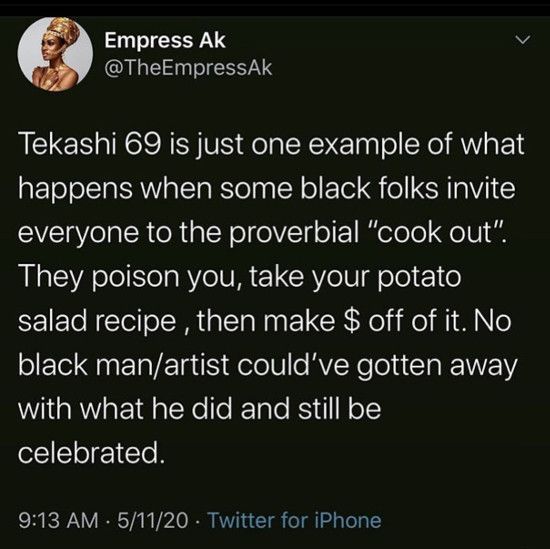 Where's the lie?
Photos: Tekashi's IG/Meek's IG
​ ​
​ ​ ​