Tyra Banks Is Getting A Slew Of Big Mad 'Tyra Mail' Tweets About Her Vicious Critiques On 'ANTM,' But Should She?
​
May 05 | by _YBF
​ ​ ​ ​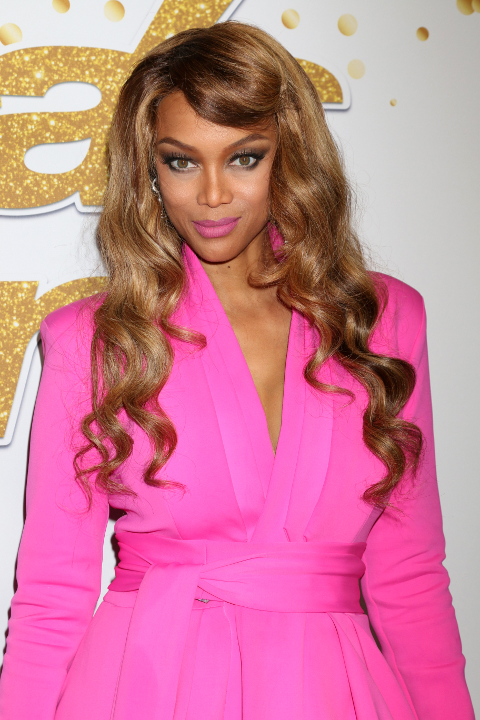 Tyra Banks is getting dragged on Twitter as old clips of her critiquing contestants on her hit series, "America's Next Top Model," have surfaced. But, should she? More inside…
Tyra Banks is getting dragged on social media and it's not because she couldn't open her new project, ModelLand, didn't open. Folks are pulling up old scenes from her show, "America's Next Top Model," and are dragging the Top Model honcho to the highest of heavens. And she's trending on Twitter.
One scene that's getting feedback is when Tyra encourages contestant/Cycle 6 winner Danielle Evans to have her gap closed.
In the clip, Tyra asked, "Do you really think you can have a Cover Girl contract with a gap in your mouth?"
"Why not?," Danielle asked.
"It's not marketable," Tyra responded.
"Just a little bit is OK, but I don't want to completely close it," Danielle said.
"Well, I guess she just like the gap wide open for another girl, baby," judge Miss Jay said.
Check it:
Why was this allowed to air wtf Tyra banks is going to straight hell pic.twitter.com/xtiWl3srKJ

— Aisha Oladapo (@OladapoAisha) May 5, 2020
It didn't take long before people began to react to it, causing Tyra to trend on Twitter:
I remember watching this as a young woman & I felt extremely discouraged to be on TV bc of this scene. I was disappointed in Tyra then... She ended up pressuring this girl to get dental surgery to be "marketable." Also my gap & TV contract say HI! https://t.co/FYfvETcpkP

— Nina Parker (@MzGossipGirl) May 5, 2020
I mean we always knew Tyra Banks was a little ditzy. I had no idea she was telling black girls they'd never make it with gapped teeth but then having a dentist file down a white girl's teeth to make her gap more prominent bc it was the "look". This muthafucka was diabolical https://t.co/YbkeYdgUC1

— Aye throw that Boyz II Men on (@DragonflyJonez) May 5, 2020
Model Slick Woods commented on Tyra Banks recently. She doesn't like how Tyra likes to change models' appearances:
This is what Slick Woods had to say about Tyra Banks recently we can't discredit everything Tyra did but... pic.twitter.com/yEp8YsFBTo

— F (@ohfads) May 5, 2020
The "Y'all........Tyra Banks is fuckin nuts" movement is the most entertaining thing to come out of this quarantine.

— Aye throw that Boyz II Men on (@DragonflyJonez) May 5, 2020
Folks are reflecting on episodes that rubbed them the wrong way:
Thinking about how Tyra banks made a girl on ANTM do a photoshoot in a graveyard the day after her childhood best friend died

— NIAMH (@angelthott) May 4, 2020
Does anybody remember that episode of ANTM where the one girl found out her friend died and the NEXT DAY, Tyra made her do a photoshoot in a GRAVE for motivation Tyra banks was a terrorist

— (@_Lawbytheway) May 4, 2020
Genuinely cannot believe how problematic Tyra Banks used to be. I used to love her and obsessed over Americans Next Top Model but now I'm looking back like pic.twitter.com/d9lAIBqRwZ

— Critical Optimist (@Nasimsalad) May 5, 2020
Y'all Tyra banks made the girls in cycle 16 pose with live bees..... one of the girls is allergic to bees

— nik (@nikfromtheblock) May 3, 2020
LETS DISCUSS HOW TYRA BANKS DESERVES PRISON!! #ANTM pic.twitter.com/CA48SiN2YD

— zuko stan account (@weyheyitsjayla) May 1, 2020
remember that time tyra banks made a lesbian contestant who said she was sexually assaulted by a man so she felt uncomfortable around men and didn't want to pose naked next to one but tyra banks manipulated her into doing it any way

— ugly bitches link (@stopscorpiohate) May 3, 2020
So, here's the thing. While Tyra did do and say some cringe-worthy things on the show, a lot of the criticism is what these models would have experienced in the industry. Tyra was harsh, but so is the fashion industry and she often admitted to being hard on the ladies to show them how cutthroat the industry can be. Many of the things she said to the "ANTM" contestants is what models are told when they go on go-sees and auditions. So this may be a "hate the game, not the player" situation.
In other news...
The Smize Queen made a video to share how she felt about her ModelLand project - that was 10 years in the making - not being able to open due to the Coronavirus pandemic. Peep the clip above.
So, do you think Tyra Banks was problematic during her "ANTM" days, or nah?
Photo: Kathy Hutchins/Shutterstock.com
​ ​
​ ​ ​