Erykah Badu & Jill Scott Will Bring The Soulful Vibes For The Next VERZUZ Battle Just In Time For Mother's Day + Three 6 Mafia vs. Bone Thugs Postponed
​
May 01 | by _YBF
​ ​ ​ ​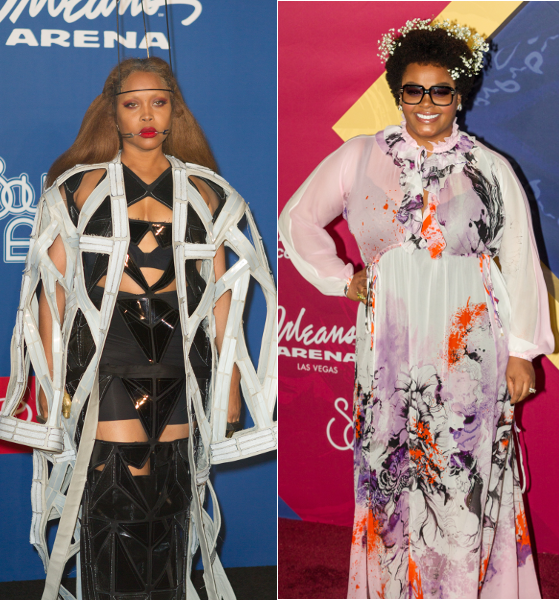 The next Verzuz IG Live Battle has been set and the queens will shine! Erykah Badu and Jill Scott are scheduled to go head-to-head right before Mother's Day and we're here for it. More inside…
"It's time for the Queens to represent!"
And who better than Erykah Badu and Jill Scott?
The legendary Neo-Soul singers - in collaboration with Femme It Forward - will be gong hit-for-hit in the upcoming Verzuz IG Live Battle, created by superproducers Swizz Beatz & Timbaland. It's set to go down May 9th - a day before Mother's Day.
So, hit your mom up and let her know what's up.
"It's time for the Queens to represent," Swizz captioned on IG. "@erykahbadu vs @missjillscott the paper work is in @timbaland shout out @femmeitforward let's Go may 9th the day before Mother's Day Zone @verzuztv #verzuz"
We're def down to see this celebration of music. Get your wine and whatever you need to relax ready for next week's event.
Also...
The Three 6 Mafia vs. Bone Thugs-N-Harmony battle has been postponed!
The legendary groups were set to battle last night. The iconic rap groups weren't a apart of the official Verzuz series, but they wanted to do a battle for the culture to celebrate over 50 combined years of hits in the industry. Well, they ended up getting in touch with Swizz & Timbaland and now they'll officially be battling via the Verzuz series!
The new date will be announced soon.
BONUS:
Kenneth "Babyface" Edmonds recently announced he'll be hosting a "Waiting To Exhale" soundtrack event on Instagram similar to his epic Verzuz battle with Teddy Riley a few weeks ago. On Mother's Day (May 10th), the legendary producer will hop on IG Live to play music from the 1995 classic "Waiting To Exhale" soundtrack while providing stories about how the songs came out.
"There were so many people on Instagram Live that wanted to hear music from the 'Waiting to Exhale' [soundtrack] and so I thought this would be great, Mother's Day, to play the 'Waiting to Exhale' album, to tell stories, tell how it all happened and talk about the artists," Babyface told the ladies on "The View."

"Because that was half the fun of it all in doing the Instagram Live was being able to tell stories and tell things people were so interested in that, so I thought it would be fun to do as well," he said.
Yep. We'll be attending this virtual event as well. Mother's Day Weekend is going to be LIT.
Also....
Singer Monica revealed why she would not do a battle against fellow R&B songstress Brandy. Take a listen above.
Photos: Jamie Lamor Thompson/Shutterstock.com
​ ​
​ ​ ​