TECHNICAL DIFFICULTIES! Teddy Riley vs. Babyface's Live Battle Fail Taught Us A Valuable Lesson – Sometimes Less Is More
​
Apr 19 | by _YBF
​ ​ ​ ​
When doing the most goes totally wrong! The Teddy Riley vs. Babyface IG Live Verzuz Battle got postponed after Teddy experienced technical difficulties. Find out what happened, plus the endless memes that came from the failed attempt inside….
The highly anticipated R&B Battle between Teddy Riley & Babyface has been postponed once again. The first time it was delayed due to Babyface (and his family) being sick. He caught COVID-19 and wasn't quite 100% for the first scheduled battle, so they postponed it.
Last night was supposed to be the night for the Instagram Live Verzuz Battle but, nope.
The King of New Jack Swing had a set up like he was about to perform for a concert. And there wasn't much social distancing going on. He had a whole production crew to accompany him for the live battle. Meanwhile, Babyface was sitting alone in his studio with earphones - chill AF. With 400,000 viewers tuned into the Live, Teddy just couldn't get things straight on his end. He was having major issues with his audio. There were playback and echoes every time Teddy tried to play a track.
However, fans could hear Babyface just fine. His music played through the Live perfectly. The comments were lit up with jokes about the R&B OGs not being able to operate social media. Teddy is 53 and Babyface is 62 after celebrating a birthday last week. Like we said, Babyface had ZERO issues on his end.
The battle was supposed to start at 9pm, but by 10pm it still hadn't started. A person from Teddy's crew hopped on camera and told viewers to come back in 30 minutes while they worked out their technical difficulties.
Here's some of what went down:
By that time, Babyface was over it and suggested the battle be postponed at a later time:
"I think that it's only right that we postpone this thing until another time when there aren't any technical difficulties, and everybody can hear the music the way it needs to be heard," he said.
Teddy Riley then posted a video to apologize for the audio issues while comparing the snafu to a boxing match:
"It's just like a boxing match. If something goes wrong, we have to do it again," he said.
Well, folks have been waiting for this matchup for a few weeks now and they wanted a show! Especially with us all being stuck in the house for over a month.
As you know, the Internet has ZERO chill, so the memes started right after Teddy ended his live and they are EPIC. Several celebrities also spoke out about the battle that never happened.
Singer Toni Braxton - who has collaborated on several songs with Babyface - dragged Teddy for his production issues:
Toni's sister Tamar Braxton was pissed they wasted her time:
"RHOA" star/XSCAPE singer Kandi Burruss commented on Teddy making folks wait through his soundcheck:
Swizz Beatz - one of the masterminds behind the Verzuz series - posted a funny meme following the battle. We're sure his phone was ringing off the hook as this all was going down.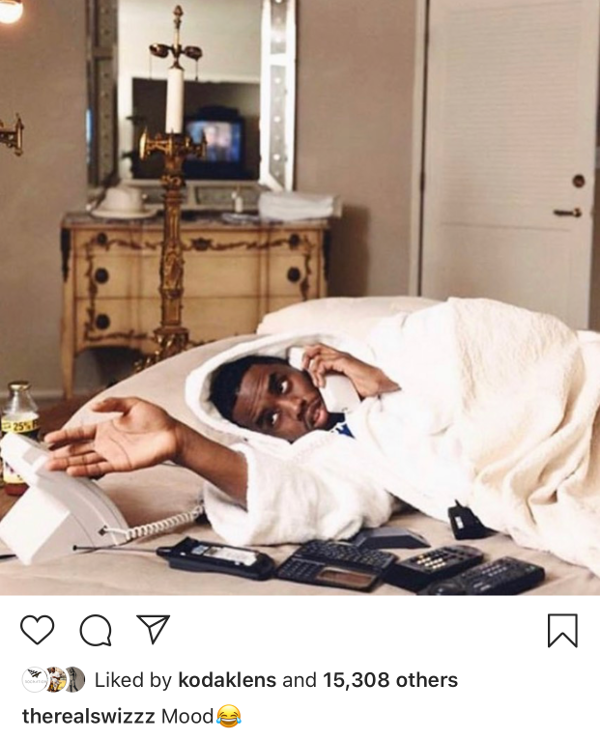 Former football player/TV host Anthony "Spice" Adams never disappoints with his reenactments:
Comedian Lil Duval suggested Teddy put the microphone down and just use his phone to play his music:
Reporter Van Lathan cracked jokes with the Michael Jordan crying meme and Teddy's daughter, Nia Riley, responded:
"Lmao, go to hell bro," Nia wrote.
Power 105's Charlamagne tha God posted several hilarious memes: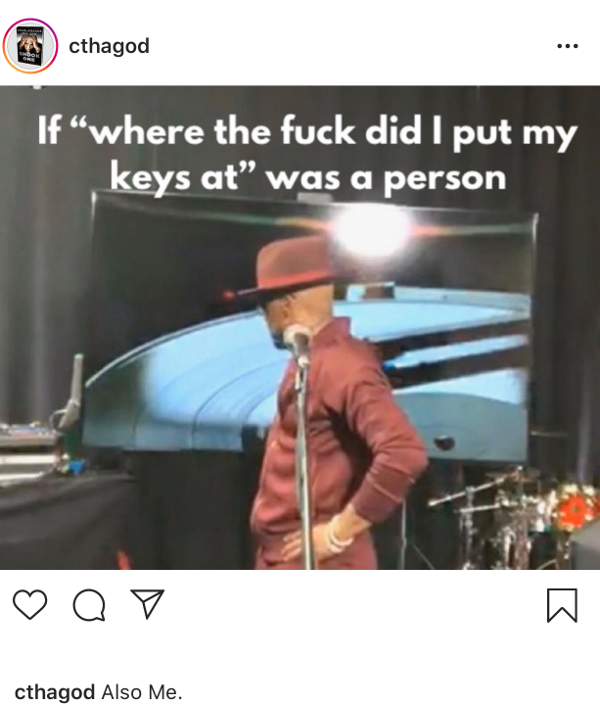 DJ Boof dropped some funny memes as well: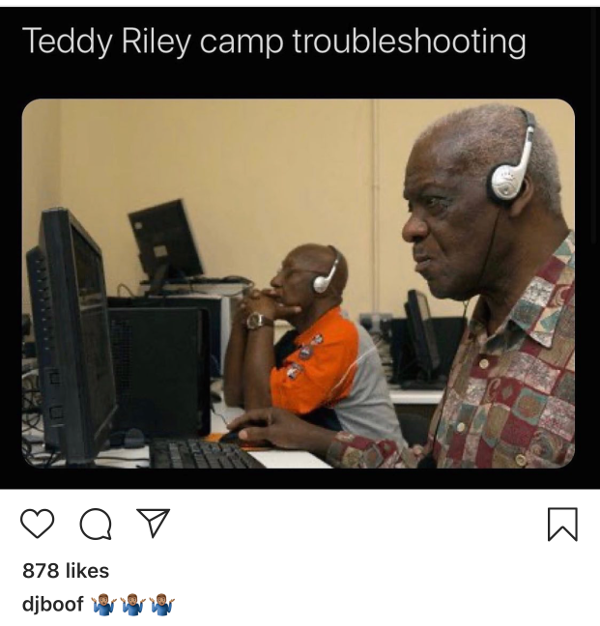 And here are tons more funny memes to keep you laughing: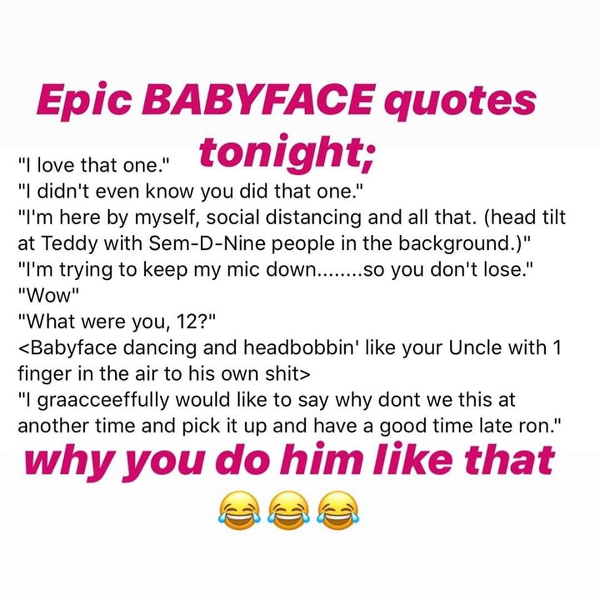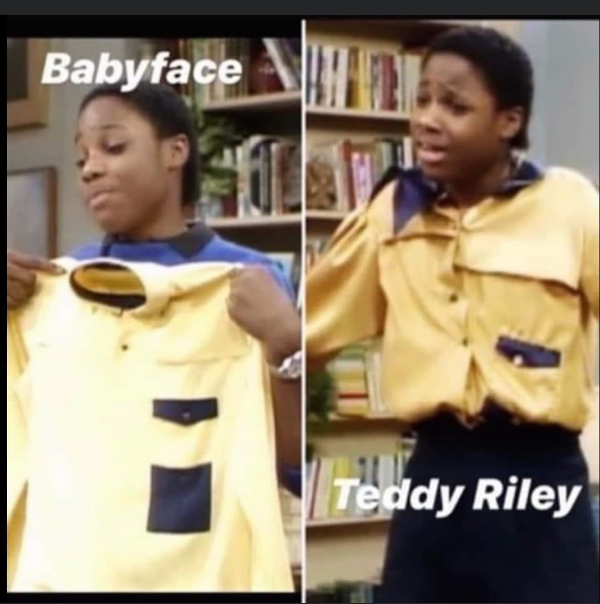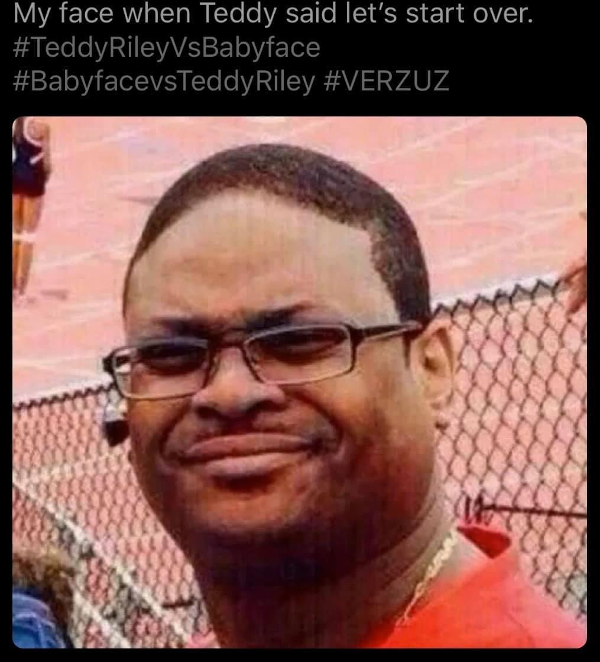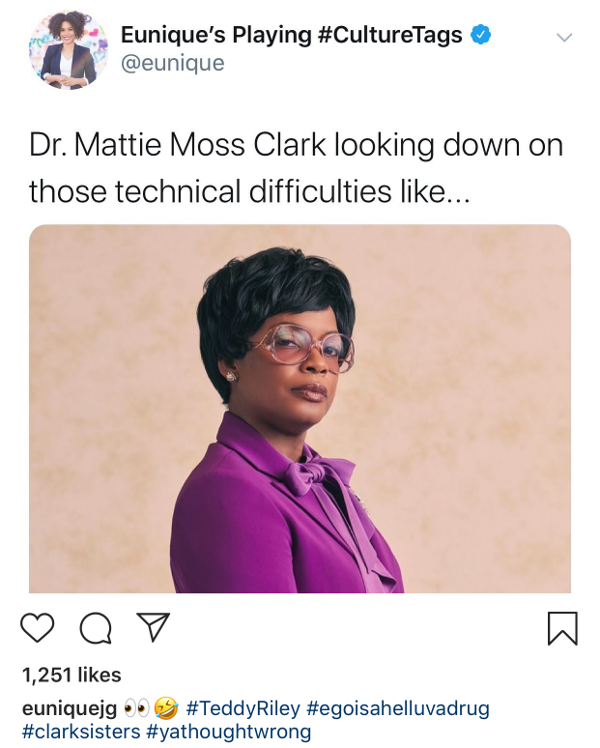 Michael Jackson looking at Teddy right now #VERZUZ pic.twitter.com/y5eWNmF32l

— IG: @CARIBDEON (@CaribDeon) April 19, 2020
Teddy's team: We'll reconvene in 30 mins.

Babyface: pic.twitter.com/AJPjD6nIgS

— Your Cousin That Work At The Pentagon (@stevechristo_) April 19, 2020
Apparently, Teddy had the good audio streaming to his own website:
This is the dumbest shit. pic.twitter.com/akKntYBs1Q

— In the House Like Cool J. (@naima) April 19, 2020
Hilarious!
Photos: Jamie Lamor Thompson/ DFree/Shutterstock.com
​ ​
​ ​ ​