Coronavirus Updates: Folks Flock To Florida Beaches After Reopening, Other States To Follow + Health Experts State The Obvious, It's A Bad Idea
​
Apr 18 | by _YBF
​ ​ ​ ​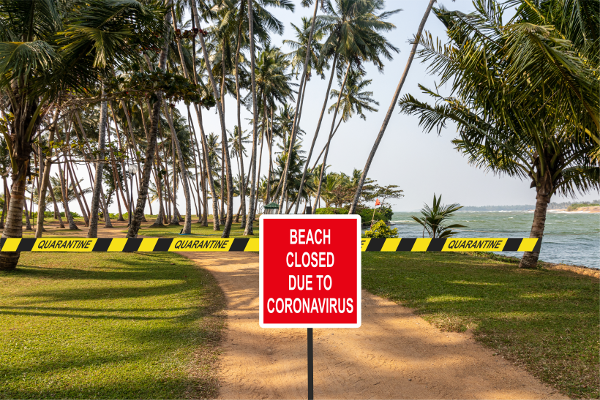 Gov. Ron DeSantis allowed beaches to reopen and people flocked to the sand for some fun in the sun amid a pandemic. Other states will reportedly follow in the coming days. Meanwhile, health experts state the obvious: It's a BAD idea. More inside…
On Thursday (April 16th), the Trump Administration announced its new guidelines for states to reopen amid the Coronavirus pandemic. Some states have already decided to start opening up public places. Sighs…
Right now, the United States has over 706,000 confirmed cases and over 37,000 deaths. Yet, Trump says we're "good" and he's eager to get the nation reopened.
The White House gave governors a three-phase plan to reopen, but no testing plan. Go figure.
With these new guidelines in place, some governors are already lifting measures in place battling the spread of the Coronavirus. Gov. Ron DeSantis eased up on restrictions and people are taking full advantage of it.
Reminder

When Duval County beaches & parks open today from 5pm to 8pm it is for exercise only - No chairs, coolers, sunbathing, or towels/blankets laid out to sit on.

Thank you for continuing to practice social distancing, for more information: https://t.co/TmkOmWZOqk pic.twitter.com/0mZLiMBoc9

— City of Jacksonville (COJ) (@CityofJax) April 17, 2020
Beaches and parks in Jacksonville, FL were reopened Friday evening with restrictions and people were living it up like we're not in the middle of a pandemic. According to CNN, crowds of people filled the beach when police took the barriers down. Folks were seen swimming, biking, running, fishing and surfing. It certainly didn't look like a lot of social distancing was going on.
Check it:
Jacksonville Beach reopened 26 minutes ago. This is a live picture. pic.twitter.com/tC6voQ3BAn

— Travis Akers (@travisakers) April 17, 2020
"It was a mad dash here for the ocean," says @randikayeCNN, from a reopened beach in Jacksonville, Florida.

But while coolers and surfboards were prevalent, social distancing methods were sadly less so.https://t.co/33b3i6Thie pic.twitter.com/Trw9LVm4yY

— Anderson Cooper 360° (@AC360) April 18, 2020
Other beaches that reopened include Neptune Beach and Atlantic Beach.
The beaches will open from 6AM to 11AM and from 5PM to 8PM for recreational activities, which have been determined "essential activities" by the governor.
What's even crazier is the fact that Florida had the most new Coronavirus cases reported yesterday after a three-day drop in numbers. Yep, the same day the beaches reopened.
According to reports, Florida had 1,413 new reported cases of COVID-19 Friday, the highest number of new cases since the outbreak began more than a month ago, according to the state's Department of Health. It also reported 58 new deaths since Thursday evening.
Jacksonville Beaches open the day Florida had the largest number of new cases since testing began. 1,400 pic.twitter.com/TFNF9ZfUh2

— Larry K (@Getsmart4) April 18, 2020
State leaders in Texas and Minnesota announced they'll be lifting some of the measures in place in the coming days to slowly reopen their states while still requiring citizens to avoid big crowds and to keep a distance from one another. Also, Vermont, West Virginia, Montana and Hawaii could open as early as May 4th.
Obviously, reopening states right now isn't a good idea.
Health experts don't think it's a good idea to start reopening states because the U.S. is still behind in its testing capacity. Testing is a key factor in getting the country reopened.
During a recent press briefing, Trump said governors will call the shots on when to reopen their state and said states with the lowest number of cases could begin reopening "literally tomorrow."
On Friday, Trump hopped on Twitter to encourage right-wing protests in states with stay-at-home orders. In a series of tweets, he wrote, "LIBERATE MICHIGAN!," LIBERATE MINNESOTA!" and "LIBERATE VIRGINIA, and save your great 2nd Amendment. It is under siege!" Trump was referencing the strict gun control measures made by VA Gov. Ralph Northam (D).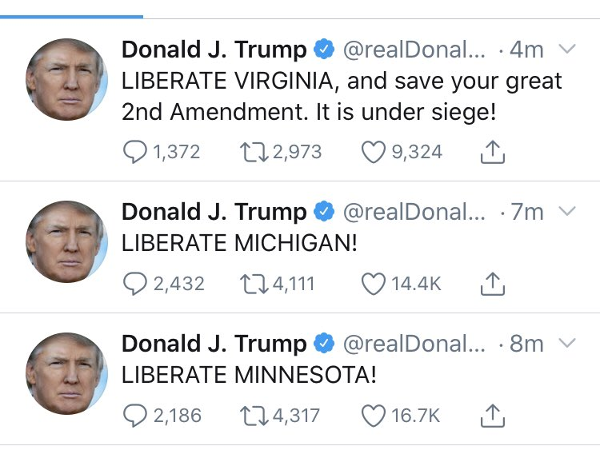 People have been protesting the stay at home orders:
So he leaves the governors to do all the work and then undermines them? This is America, folks.
Yesterday, NYC Mayor Bill de Blasio announced that intensive care unit admissions and hospitalizations for suspected COVID-19 are down.
The NY Post reports:
People in ICUs for suspected coronavirus across the city's public hospital system declined from 887 on Tuesday to 874 on Wednesday, while patients admitted to hospitals for the suspected bug also went down from 386 Tuesday to 326 on Wednesday, de Blasio said during a conference call with reporters.

The percentage of people tested who are positive for coronavirus also dropped citywide from 55 percent on Tuesday to 46 percent on Wednesday, the mayor said.

Those three indicators had previously increased.
While the numbers are seemingly going down, we're no where near out of harm's way and people need to KEEP social distancing to continue to flatten the curve. Not reopen.
Photo: photowind/Shutterstock.com
​ ​
​ ​ ​