Engaged Jay Ellis Explains Why He Keeps His Relationship Low Key & How Fatherhood Is Kicking His Butt
​
Apr 16 | by _YBF
​ ​ ​ ​
In a candid interview with ESSENCE magazine, Jay Ellis opens up about his relationship with his fiancée Nina Senicar and how becoming a first time father while filming for "Insecure." Get it all inside...
Being homebound is new for Jay Ellis.
The South Carolina native was super busy before outside got closed. After wrapping up filming the fourth season of "Insecure," he teamed up with Tom Cruise to film Top Gun: Maverick, which was just pushed from its original June premiere date to one in December.
He then flexed his acting skills in "Mrs. America" (starring opposite Uzo Aduba), which is FX's Hulu miniseries that recently dropped. He portrays philanthropist Franklin A. Thomas, the real-life former Ford Foundation president and CEO. And because he's a thoughtful son, he also helped his mother produce her very first show, "Behind Her Faith," on the Urban Movie Channel.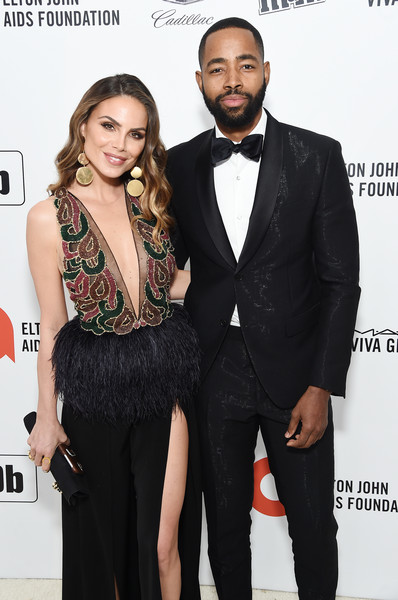 Now, he's stuck in the house like the rest of us. Before we were placed on lockdown he posed it up for the digital cover of ESSENCE.
"When everything kind of hit," he told ESSENCE, referencing the state-mandated lockdown in California due to the novel coronavirus, "it was the first week this year that I had not been on a plane."
The first week he self-isolated himself away from his fiancée Nina Senicar and their 5-month-old daughter Nora Grace Ellis. You may not have known this, but he's a new dad and he's engaged! He purposely keeps his relationship low key. And here's why:
"I have always been like, 'Yo, my family is the one thing on this planet, when it's all said and done, if it goes away today or tomorrow, it's the only thing that I have that's mine…I never want my family to ever feel they had to sacrifice…I never want that dynamic to change because at the end of the day, as we're watching right now in this moment, stuff comes and goes fast..."
In previous interviews, the "Insecure" star said he's not talking about his Italian model fiancée (then-girlfriend) in interviews because "I keep my personal life personal. I keep things private."
Jay and Nina made their red carpet debut at amfAR's Inspiration Gala in October 2015. Before that, they were spotted together in Milan, Italy and L.A.
Fast forward to August 2019 – they're new parents! They're daughter Nora was born August 11th. And fatherhood has been kicking his a**, but he's LOVING every minute of it.
"You get tired and you break down. You need a nap, you might cry, want to be held, whatever it is. But mentally and physically, you're probably stronger than what you actually thought you were," he said.
"That's one of the biggest things that I took away from it: I can do this. This is going to hurt. My eyes are going to burn because I'm tired, but I can actually do it, and nothing has to suffer. I didn't want to not be there for my baby. I wanted as much chest-to-chest time as I could get. I wanted all the bottles. I wanted all the diapers."

"I wanted all of that, and I wanted to make my episode the best it could possibly be," the new dad continued.
Aww!
Being on "Insecure" has allowed him to add some credits to his resume. He mad his directorial debut on episode seven of the hit HBO series titled, "Lowkey Trippin'."
Issa Rae – the show's creator & main star – offered him the opportunity after he shadowed director Melina Matsoukas during season two's finale.
"She's like, 'Clearly you have a point of view, so I am open to it, if you are open to it.'" He rose to the challenge. And it was challenging. "I had stunts in my episode. I had sex scenes in my episode. It was a lot, especially for a first-time director," he said, noting he couldn't have done it without his director of photography, Michelle Lawler (Twenties, Boomerang). "I felt so comfortable. I just felt I was where I was supposed to be."
Looks like he found another love.
You can read his full interview here.
Congrats Jay!
Photos: Getty
​ ​
​ ​ ​