Kanye West Proudly Admits In GQ His First Presidential Vote Will Be For Trump + 'Ye Says Kobe Bryant Was The Basketball Version Of Himself
​
Apr 15 | by _YBF
​ ​ ​ ​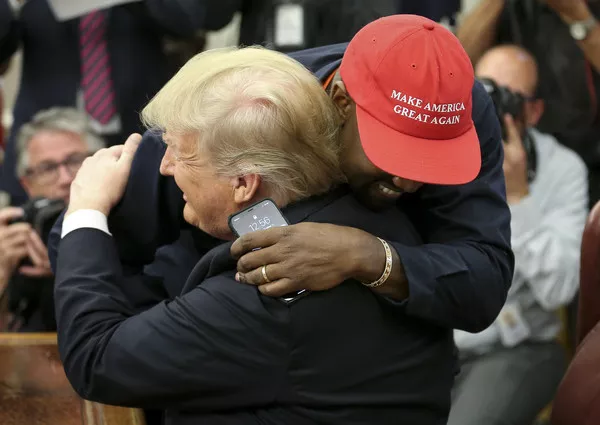 Take a deep sigh, y'alls problematic fave is talking again. Kanye West covers GQ magazine and he opens up about casting his first ever presidential vote for Trump and his close relationship with late NBA icon Kobe Bryant. Highlights inside…
Kanye West is the cover star for GQ's May 2020 issue where he offers up a series of interviews that spans across five weeks and three countries with GQ editor-in-chief Will Welch.
The 42-year-old has never voted in his life. However, that's all going to change when the 2020 presidential election comes around. Remember in 2015 when he was telling the masses he would run for president in 2020?
Ye didn't put a bid in for 2020, however, he did say last year he plans on running for president in 2024.
So, since Kanye can't vote for himself in the upcoming election, the Jesus Is King rapper will be casting his first ever presidential vote for his homie Donald Trump, who will be up for re-election. Lord, help us.
"So look, I'm not telling anybody who they should vote on, what they should wear, where they should live. I'm doing me," he told GQ magazine.
We see he still only likes to flaunt and admit to his influence when it benefits him.
Peep the highlights from a conversation he had with GQ on January 30th on a jet from Cody to Los Angeles below:
GQ: So this is an election year, and I'm curious how your faith plays into your thoughts on politics. To go back to when you put on the MAGA hat, how do you see that moment from where we are now, sitting on this plane, in January of 2020?

Kanye West: Both my parents were freedom fighters, and they used to drink from fountains they were told they couldn't drink from, and they used to sit in restaurants where they were told they couldn't eat from. They didn't fight for me to be told by white people which white person I can vote on. [laughs]

What do you make of how that moment reverberated? Did it have the effect that you intended?

I didn't intend for anything except to speak my mind and express how I felt. I have no intention other than to be free, and I don't intend to be free—I just simply am.

What was at odds to me about you wearing the hat is that "Make America Great Again" is about looking back. Whereas, to me, you are a perpetual forward thinker.

I buy real estate. It's better now than when Obama was in office. They don't teach you in school about buying property. They teach you how to become somebody's property.

For the election ahead, do you plan to speak more about it, or are your interests elsewhere?

No, I'm definitely voting this time. And we know who I'm voting on. And I'm not going to be told by the people around me and the people that have their agenda that my career is going to be over. Because guess what: I'm still here! Jesus Is King was No. 1! I was told my career would end if I wasn't with her [Hillary Clinton]. What kind of campaign is that, anyway? That's like if Obama's campaign was "I'm with black." What's the point of being a celebrity if you can't have an opinion? Everybody make their own opinion! You know?
Ye just continues to prove he's all about self and not the greater good of the people. And frankly, we're over him.
In a separate conversation for the cover story, the Grammy Award winning rapper talked about his close relationship with late NBA icon Kobe Bryant. This interview went down days (72 hours to be exact) after Kobe died in a helicopter crash (Jan. 26th), and he admitted he was taking it hard. When asked how he was doing he said "not good." When asked what was wrong, he responded, "Kobe was one of my best friends."
He got candid about his feelings and how Kobe "was the basketball version of me, and I was the rap version of him."
West: One thing I thought was really amazing is that we were able to find a groove with the photographs today even as out of it as I was with the loss of Kobe. We were able to just go to the court and play ball. There's one street that I drive to go from either my office or my home to the property where the domes were built. [Editor's note: The street is Las Virgenes Road, the site of the helicopter crash that killed Kobe Bryant and eight other people just four days prior.] So now there's no way for me not to be as determined as Kobe every time I drive down that street. It's game time. There's no move that we can't make, or that we'll wait to make. Everyone in our life is now a member of the Lakers on one of Kobe's championship teams. The way that Kobe would say that we all have to come together and win this championship is the way I look at life now. To an infinite, other level.

This is a game changer for me. He was the basketball version of me, and I was the rap version of him, and that's facts! We got the commercials that prove it. No one else can say this. We came up at the same time, together. And now it's like, yeah, I might have had a reputation for screaming about things—but I'm not taking any mess for an answer now. We're about to build a paradigm shift for humanity. We ain't playing with 'em. We bringing home the trophies.
The Yeezy designer also talked about a time he felt his late mother - Donda West - talking through him.
You seem really focused on architecture right now—developing and building these domes.

When I visited the Tadao Ando Art Island [in 2018], there were three James Turrells next to each other and I said, "We need to live in a Turrell." The funny thing is, the first time I ever talked to Turrell on the phone was the night I ended the Saint Pablo Tour. And the last thing I ever said on that tour was, "The show's over." Which felt like my mom talking through me.

How so? Like she was telling you through your own voice to stop?

Yeah, and telling everyone else. Like, "My son is not just here to fill up these sports arenas. My son's got something else to do."
The YEEZUS rapper opened up about wanting to retire from rap and the moment he realized he was a functioning alcoholic:
Let's talk about the music you're making.

I was thinking of not rapping again, because I rapped for the devil so long that I didn't even know how to rap for God. Then one of my pastors told me, "My son just said that he would want a rap album about Jesus from Kanye West." He didn't say, "Kanye West, you should do this," or "you need to do this." He just told me something that a child said. And that one thing made the difference.

One day I was in my office working on the couture collection, and there was some Grey Goose in the fridge and I was just going to get a daytime drink, and I looked and thought, "Devil, you're not going to beat me today." That one statement is like a tattoo. I haven't had a drink since I realized I needed to take it day by day, but I never owned up, or was even told, "Hey, you're a functioning alcoholic." People have called me a crazy person, people have called me everything—but not a functioning alcoholic. And I would be drinking orange juice and Grey Goose in the morning.

There was never a public perception of you as an alcoholic. Of course everybody knows the Hennessy-on-the-red-carpet moment, but there wasn't a perception of "Kanye West has a drinking problem."

Right? I really grabbed the drink to be able to even go to the awards show due to the information that everyone knows now. To say, "Okay, I can handle this."
Ye also shared his journey to becoming a born again Christian:
I want to understand the timeline of your rebirth as a Christian. Did it evolve out of Sunday Service—and can you tell me the story of the moment where you accepted Jesus?

I surrounded myself with the healing—the highest-level healing possible: singing about Jesus with my friends and family surrounding me [at Sunday Service] every single week. This was a place, contrary to popular belief about Christianity, of no judgment. I feel that the church that most people grew up on as kids had a negative environment. The greatest thing for me, as someone who's given their life to Christ, is knowing that other people have that as an anchor and a form of healing, because you're talking to a person that went to the hospital and back. Now you see the measured nature—being able to let the child take the driver's seat but still be measured.

Do you attribute that to the anchor of faith?

Yes, because when you're not in service to God, you can end up being in service to everything else. To live inside of sin, it's going to cost you more than you can pay. You don't want to continue to sin with no repentance. I understand that people feel that I've made some cultural sins. But the only real sins are the sins against God, and you don't want to continue to sin against God.

Do you conceptualize yourself as having been born again?

I'm definitely born again.
You can read the rest of his lengthy interview here.
Photos: Instar/Getty
​ ​
​ ​ ​