[UPDATE] Trump Retweets Posts That Call For The Firing Of Dr. Anthony Fauci, CDC Chimes In
​
Apr 13 | by _YBF
​ ​ ​ ​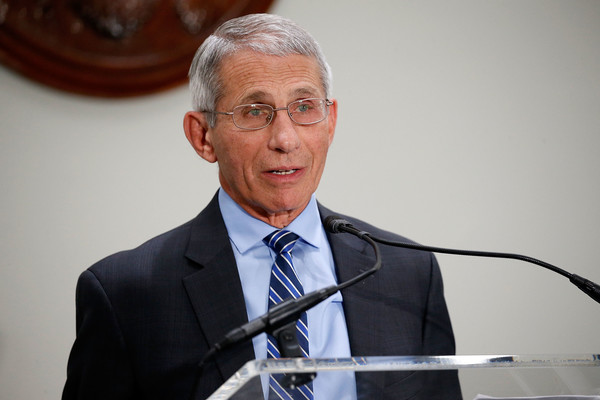 No surprise here. Trump seemingly wants Dr. Anthony Fauci to be fired. He has been the person giving the nation the TRUTH about the COVID-19 crisis after Trump spews his lies. More inside…
[UPDATE]:
White House spokesman Hogan Gidley claims Trump is not considering firing Dr. Anthony Fauci, despite his recent retweet.
"This media chatter is ridiculous -- President Trump is not firing Dr. Fauci," Gidley said in a statement. "The President's tweet clearly exposed media attempts to maliciously push a falsehood about his China decision in an attempt to rewrite history."
"It was Democrats and the media who ignored Coronavirus choosing to focus on impeachment instead, and when they finally did comment on the virus it was to attack President Trump for taking the bold decisive action to save American lives by cutting off travel from China and from Europe. Dr. Fauci has been and remains a trusted advisor to President Trump," Gidley said.
------------------------------------------------------------------------------------------
Since the Coronavirus crisis popped off in the United States, Dr. Anthony Fauci has been holding us down with the real facts while President Trump goes before the nation and says the first thing that comes to his mind.
If you haven't been keeping up with the press briefings, this is how they usually go. Trump takes the podium and shares all of this false news about the deadly virus with no scientific backing of anything he's saying. Once he's done, Dr. Fauci takes the podium and contradicts mostly everything the president has shared about the pandemic only his responses are scientifically backed. Whenever Dr. Fauci was missing during a press briefing the hashtag #WhereIsFauci starts trending on social media.
Y'all know Trump hates being wrong. Ad hates anyone doing what he doesn't order them to do (you know, dictator vibes). Dr. Fauci is all about facts even if that means correcting the president when he's outright wrong.
"I've been telling the president things he doesn't want to hear. I have publicly had to say something different with what he states. It's a risky business. But that's my style. ... I say it the way it is, and if he's gonna get pissed off, he's gonna get pissed off. Thankfully, he is not. Interestingly," Dr. Fauci told The New York Times last month.

"I don't want to embarrass him," Fauci continued. "I don't want to act like a tough guy, like I stood up to the president. I just want to get the facts out. And instead of saying, 'You're wrong,' all you need to do is continually talk about what the data are and what the evidence is."
Yesterday, Trump hopped on Twitter and stirred up some political drama, per usual. He retweeted a post that called for the firing of Dr. Fauci.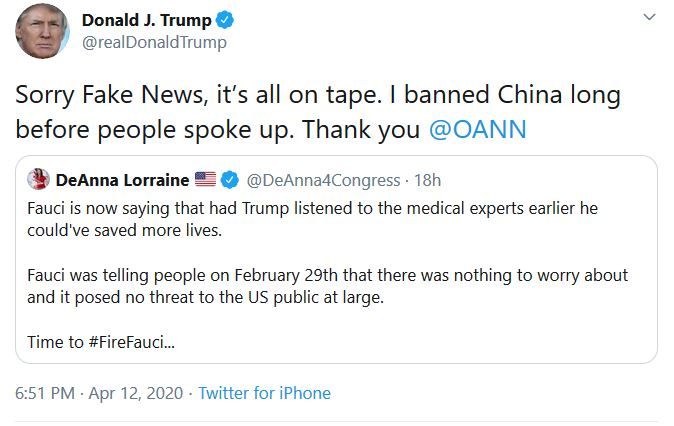 DeAnna Lorraine - a pro-Trump congressional candidate – called for the firing of Fauci on Twitter, tweeting:
"Fauci is now saying that had Trump listened to the medical experts earlier he could've saved more lives. Fauci was telling people on February 29th that there was nothing to worry about and it posed no threat to the US public at large. Time to #FireFauci..."
Trump retweeted her post and added, "Sorry Fake News, it's all on tape. I banned China long before people spoke up. Thank you @OANN"
Trump has been misleading the country about the deadly virus over the last few months. Earlier, he called the Coronavirus a "hoax" and compared it to the seasonal flu as he tried to downplay the virus.
In an interview with CNN's Jake Tapper yesterday, Dr. Fauci was asked if he thought lives could have been saved if the United States had reacted to the virus sooner. Check it:
This is why Trump shared that retweet about his firing.
By the way, there's an online petition going around calling for Dr. Fauci to be named as PEOPLE's "sexiest man alive" for the magazine's 2020 issue. R&B singer John Legend won the honor last year.
"His comforting and intelligent demeanor has helped to lessen our national anxiety," the petition writes about Dr. Fauci. "He speaks truth to power, a strength few have at this time," the pitch pushes. "His kind face and manner of speaking bring calm during the storm."
Ha! You can sign it here.
Also, CDC Director Robert Redfield said he recommended more states issue lockdown orders as early as February:
He also said we're "nearing the peak right now" in the coronavirus outbreak, but says "we have to reopen correctly" on a county by county basis.
Photo: Getty
​ ​
​ ​ ​