Megan Thee Stallion Talks Double Standards, Women As 'The Superior Beings' & Treating Men As Disposable In Marie Claire
​
Apr 08 | by _YBF
​ ​ ​ ​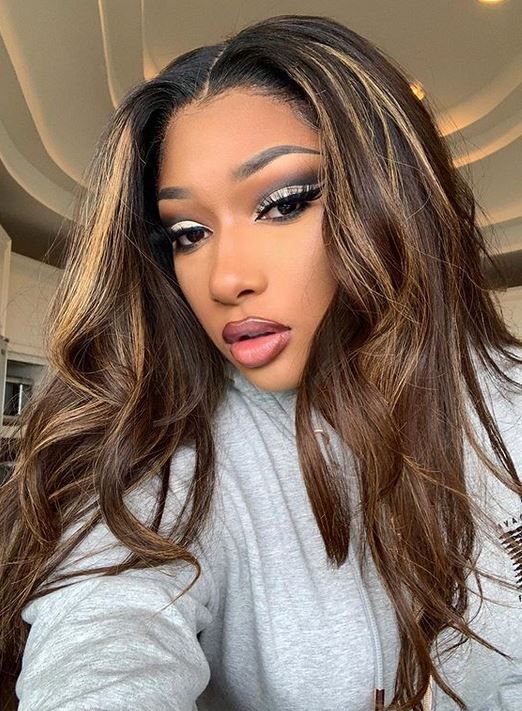 Megan Thee Stallion covers Marie Claire's May 2020 issue. Inside, she talks about how her father taught her never to settle, double standards in the male-dominated music industry and why women are "the superior beings." Get it all inside…
One thing is for sure, Megan Thee Stallion's rap career is flourishing as the Houston Hottie continues to put out hits for her fans, whom she affectionately calls her Hotties.
These are tough times we're living in with the Coronavirus pandemic wreaking havoc on the world. However, Megan's music has been holding folks over, especially with the rising popularity of the video-sharing platform, TikTok. More on that in a few.
Heating up the magazine circuit, the 25-year-old rapper/college student (real name Megan Jovon Ruth Pete) covers the May 2020 issue of Marie Claire magazine. And she stuns on the cover and in the magazine spread.
Meg is juggling her promising rap career and her coursework at Texas Southern University. She's currently working toward a degree in health-care administration, and she dreams of one day opening assisted-living facilities for the elderly in her hometown. Copping her degree has always been one of her life goals and so has music. There was never a Plan B because she has always had two Plan As.
"I never had a plan B; I always had two plan As. I knew I wanted to go to school, but I knew I wanted to pursue music," she says. Due to her hectic work schedule, most of her schooling currently happens online. "When you really want to do something, you're really going to put your mind to doing it. And I really want to do both. I have to do both."
As Meg's rap career began to take off, she was hit with double devastating news that rocked her to the core. She lost her mother and great-grandmother in March 2019. Suffering a tragic loss like that could break some of the strongest people, but Meg decided to use it to fuel her ambitions.
Meg's mother, Holly Thomas, was a bill collector and she was also a rapper who rapped under the name "Holly-Wood." Meg's mother would bring her to the studio as a kid where Megan soaked in everything she could during her mom's recording sessions. In the past, Megan has always talked about how influential her mother (who was also her manager before her death) was as she cultivated her rap persona.
However, it was Megan's father who taught her to NEVER to settle when it comes to committing to a partner. Sadly, he passed away during her freshman year of high school, but he left some valuable life lessons for his daughter.
"My dad was definitely my best friend, but for the first eight years of my life, he was in jail," she reveals. "When he got out, we were together everyday." Her father's love is one of the primary reasons why she refuses to settle. "I saw how he treated my mom, and I saw how my dad treated me," she says. "I have so many strong positive influences. I'm not going to lower my standards."
Aww!
As she continues to take over the music charts, Meg isn't blind to the double standards in the male-dominated music industry. Critics have accused her of being too raunchy, too unapologetically and overtly sexual - words that are never used for a male rapper when he raps about sex in his music.
"A man can be as mediocre as he wants to be but still be praised," she argues. "A man can talk about how he's about to do all of these drugs and then come and shoot your house up. But as soon as I say something about my vagina, it's the end of the world? What are you really mad about? You cannot be mad about me rapping about sex. That's not what you're mad about."

"It's something deeper," she theorizes. "Not only am I rapping about sex, I'm rapping about you making me feel good. I'm not rapping about licking on you. No, you're going to do what I told you to do, and I feel like sometimes that can be a little intimidating....Sometimes it's overwhelming to some men. They can't handle it, they get a little shook, they get a little scared. But I'm not going nowhere, so get used to it."
Exactly. And anyone who has a problem with her rapping about sex will just have to deal.
"I know that women are powerful. I know that we are out here birthing people. I know that we are out here running shit, so I can't even be mad at you for thinking that we should be held to a high standard," she says. "We're the ultimate beings. We are the superior beings."
And that's that on that!
Rocking Off-White fishnet drip for the cover, Meg revealed the motto more women probably need to live by:
'Sometimes I can treat men like they're disposable, and it's because I know that I don't need you. You're here because I want you to be here,' the rapper revealed, according to a Marie Claire press release.
This doesn't mean she's cold hearted though. Just aware of treating others the way they often treat us.
Megan has strong family ties with her loved one, especially the women in her life. And they've blessed her with some words of wisdom to live by. Her grandmother, a special-ed teacher, encouraged her to always be kind. "It takes more energy to be a bitch than it does to just be nice," Meg says.
Facts.
You can read her full interview here.
Find out all of Thee Stallion's faves in her Pop Quiz clip below:
Also..
The latest craze on TikTok has been the #SavageChallenge, created by TikTok user Keara Wilson. After loading her verision of the dance on social media, it spread like wildfire where Meg herself joined in on the challenge, along with several other celebs like Keke Palmer, Marsai Martin, Normani, Ryan Destiny, and even Tamar Braxton (who could use a tad bit more practice).
Recently, Megan released a lyric video of her track "Savage," that features an animation of the #SavageChallenge creator, Keara. Loves it. Check it above.
Naturally, Keara was totally geeked that Megan included her in the video:
Be sure to follow us on TIKTOK to keep up with all the dance trends!
By the way, Meg now has the #CaptainHookChallenge taking over social media:
Photo: Megan's IG
​ ​
​ ​ ​