Zoom Stock DROPS After Video Conferences Start Getting Hacked, Dubbed 'Zoom Bombing' + Schools & Businesses Ban The App
​
Apr 06 | by _YBF
​ ​ ​ ​
Video conferencing app Zoom fell victim to hacking. Now, schools and businesses have banned the use of the videoconferencing service and the company's stock is dropping. More inside…
It was all good just a week ago!
ZOOM's popularity and usage began to surge amid the Coronavirus crisis. Governors across the nation put "stay at home" orders in place, which resulted in people hopping on the video conference call app to connect with family and friends, along with conducting business for work.
Then, hackers. And it's definitely a piece of news you can use.
Hackers have been "zoom bombing," which is when someone hijacks a video call and posts hate speech or offensive images. These zoom bombings have disrupted online classes, city council meetings, Sunday school gatherings, AA meetings, and more. Here's an example of one ZOOM meeting getting hacked:
Idk who the people are that did this during our lecture but you're incredibly immature and unbelievably disrespectful. pic.twitter.com/ghXIZBV5Jp

— NOT FOR THE SOCIALS (@j_donatella) March 31, 2020
ZOOM's stock has dropped as much as 15% as of the time of this post. Schools and businesses are now banning or discouraging the use of the video-chat and meeting software during the worldwide lockdown.
The New York City Department of Education – which regulates the country's largest public school system – has banned the use of the application. School systems in Washington D.C. and Las Vegas have also discontinued the use of the videoconferencing service for distance learning due to security, privacy and harassment. School systems have since switched to other videoconferencing services like Microsoft Teams, Google Hangouts, 8x8, and WebEx.
Looks like the Zoom CEO is using one of Zoom's virtual background -- it says "We Care" pic.twitter.com/ParlTfMiod

— Donie O'Sullivan (@donie) April 5, 2020
Tiara Moore - founder of WOC Space - experienced zoom bombing firsthand. WOC is a virtual place where professional women of color meet, network and support one another. She recently started a video conference call and hackers logged in and started acting a fool. She said tons of folks dialed into her conference and some people began calling her the n-word.
"I felt personally attacked," Moore said. "I was super emotional. I cried and I was like, 'It's 2020, what the f*ck!'," she told BuzzFeed. "It's so heartbreaking and, for me to be promoting this virtual safe space and to be attacked, it's so devastating," she said.
ZOOM CEO Eric S. Yuan admitted to CNN that the company that despite the company's recent security problems, its "intentions are good."
"We moved too fast... and we had some missteps," Yuan said in an interview with CNN's Brian Stelter. "We've learned our lessons and we've taken a step back to focus on privacy and security."
He also revealed that some call data was "mistakenly" routed through China for non-China users.
"In our urgency to come to the aid of people around the world during this unprecedented pandemic, we added server capacity and deployed it quickly — starting in China, where the outbreak began," Yuan said in a statement. "In that process, we failed to fully implement our usual geo-fencing best practices. As a result, it is possible certain meetings were allowed to connect to systems in China, where they should not have been able to connect."
It's unclear how many users have been affected.
Yuan told The Wall Street Journal that he "really messed up as CEO" and that he felt "an obligation to win the users' trust back."
Trish Zorino – who is a scientist running for Senate – reminded folks why its important to have scientists and data experts in the White House.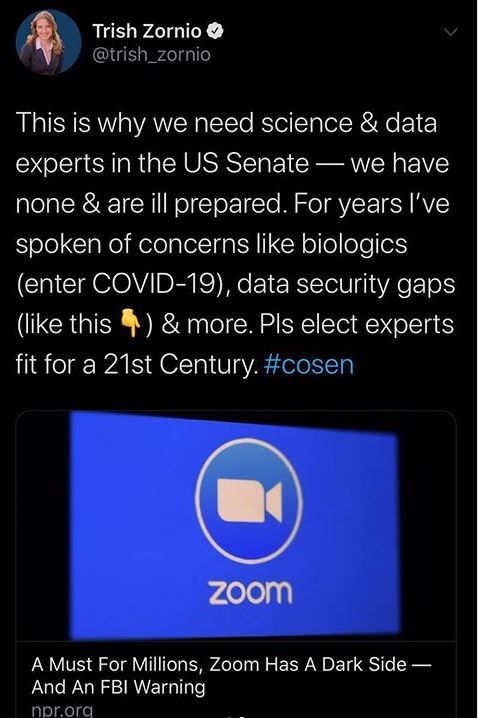 Right before the pandemic, the Trump administration cut funds for the Centers for Disease Control and Prevention (CDC). They have since reversed course on its request. Hmph.
It goes to show that even when you know better doesn't mean folks will do better.
Stay safe, folks!
Photo: Ink Drop/Shutterstock.com
​ ​
​ ​ ​