VP Cuomo 2020? Supporters Of NY Gov. Andrew Cuomo Are Working To Get Him On Presidential Ticket
​
Apr 04 | by _YBF
​ ​ ​ ​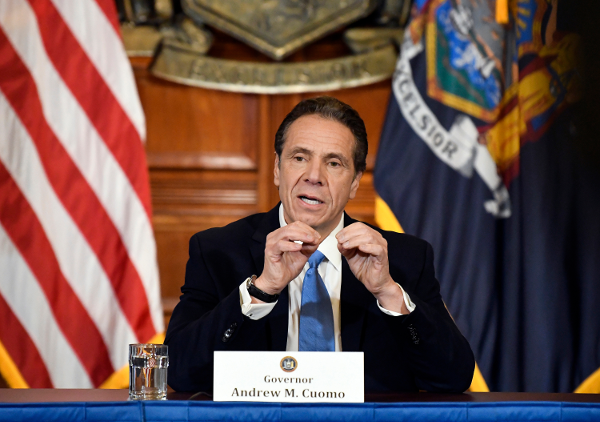 A grassroots campaign has been launched to consider New York governor Andrew Cuomo for Vice President. Get into it inside…
New York Gov. Andrew Cuomo has been receiving all the praise for his response to the Coronavirus pandemic in the Big Apple. His responses have been more presidential than the actual president. Trump has been slow to respond and constantly keeps saying things that are simply not true. Meanwhile, Cuomo has been oozing leadership skills as he tries to slow down the spread of the deadly virus in his state.
Now, supporters are planting presidential seeds online. A "Draft Cuomo 2020" Twitter account has launched that's sharing a Change.org petition that calls the governor "a perfect foil to President Trump" and declares, "after COVID19 crisis, Gov. Cuomo should be considered for VP or drafted as the nominee" to run alongside former Democratic VP Joe Biden for the 2020 presidential election.
Petition
"After COVID19 crisis, Governor Andrew Cuomo should be considered for VP OR drafted himself, as the Nominee"
Read it Review it Sign it!
Then retweet/like!https://t.co/0sZ1yYxbOx#DraftCuomo #Petition #PresidentCuomo #VicePresidentCuomo

— Draft Cuomo 2020 (@DraftCuomo2020) March 27, 2020
Insiders tell Page Six:
"Biden bundlers have told me that they are feeling pressure from Cuomo's orbit to, at the very least, have the vice president bring him up in complimentary ways regarding his handling of the crisis," said one New York Democratic operative regularly in touch with big Biden donors. They seek to "keep the dust up" and "generate a positive whisper campaign" — potentially even netting Cuomo a spot on the 2020 Democratic ticket with Biden.
While Cuomo has been receiving praise for his presidential-like responses, he says he has no interest in running for Vice President. During an interview with WAMC radio host Alan Chartrock he said:
"You're kind, but I don't want to be vice president," Cuomo replied to the Albany radio host. "I told the people of the state of New York that I wanted to be their governor and I said I would serve as governor, and that's what I want to do."
Oddly enough, a former senior Cuomo staffer says otherwise, telling Page Six the 62-year-old "definitely" has national aspirations and would jump at being Biden's running mate.
"If given the opportunity there is no question in my mind he would want to go for that," the ex-staffer said. "This is the Cuomo playbook. Keep out there, publicly deny, work behind the scenes."
If this is true, help save us Cuomo! We need you more than ever.
Photo: Hans Pennink/Shutterstock.com
​ ​
​ ​ ​