Tamera Mowry's Husband Adam Housley Gets Gathered By South African Twitter Over Coronavirus Tweets
​
Apr 03 | by _YBF
​ ​ ​ ​
Tamera Mowry's husband Adam Housley has Twitter in a frenzy yet again. This time, he tweeted about body bags being delivered to South Africa due to the Coronavirus pandemic. His tweets didn't sit right with South Africans, so they dragged him. More inside…
Adam Housley – Tamera Mowry's husband – has been receiving backlash for a few tweets he posted about South Africa amid the Coronavirus crisis. The former FOX News correspondent said he learned South Africa received one million body bags due to many South Africans suffering from AIDS and TB and that they're worried about what's coming with the Coronavirus.
It started with a tweet about him being worried about a friend of his who is in South Africa: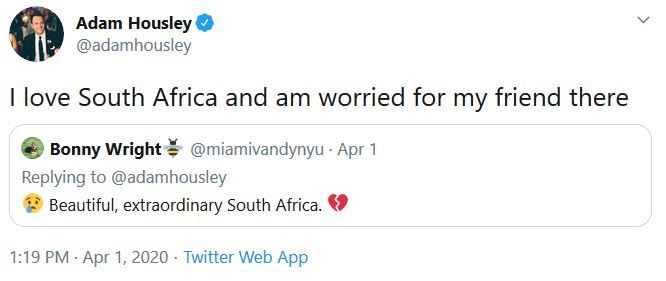 "I love South Africa and am worried for my friend there," he tweeted.
Then, he started posting statistics about people who have AIDS and TB and how the Coronavirus could cripple the country to, we guess, explain why "he's worried".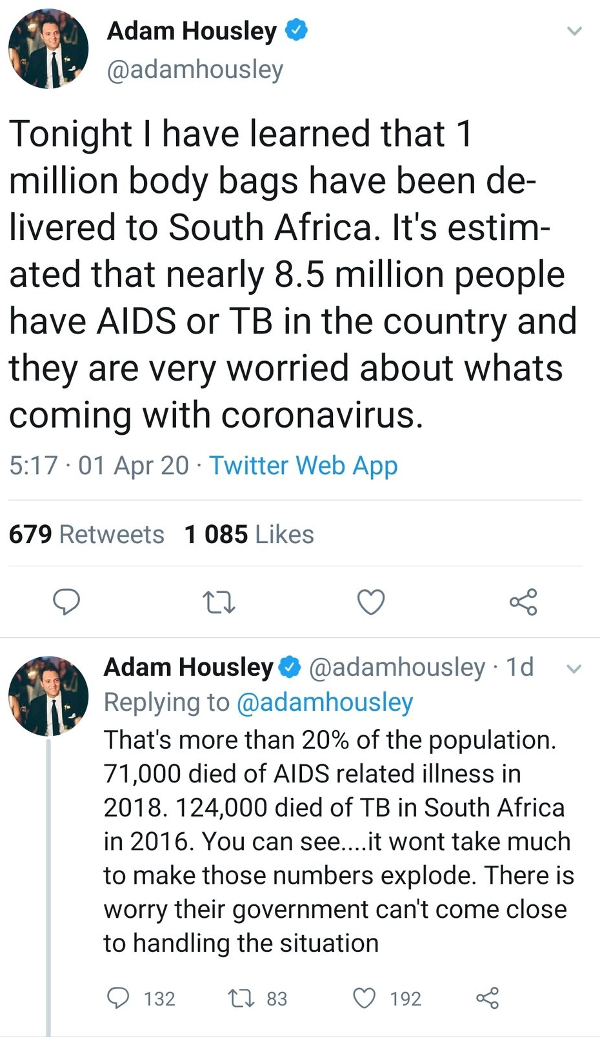 "Tonight I have learned that 1 million body bags have been delivered to SA. It's estimated that nearly 8.5 million people have Aids or TB in the country and they are very worried about what's coming with coronavirus," he tweeted.
"That's more than 20% of the population," he continued. "71,000 died of AIDS related illness in 2018. 124,000 died of TV in South Africa in 2016. You can see…it won't take much to make those number explode. There is worry their government can't come close to handling the situation."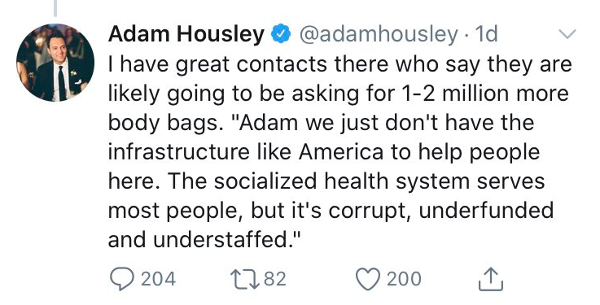 "I have great contacts there who say they are likely going to be asking for 1-2 million more body bags," he tweeted. "'Adam we just don't have the infrastructure like America to help people here. The socialized health system serves most people, but it's corrupt, underfunded and understaffed.'"
Adam's tweets rubbed some South Africans the WRONG way. They said he needed to stop spreading "fake news" and to worry about what's going on in the U.S. and leave them alone. Bloop.
I'm sure others in other parts of the world would throw the world's biggest After Tears party as soon as they see Africans dying like ants! If this isn't some anti-African hatred, I don't know what is. Adam Housley o bua his BALLS! pic.twitter.com/KImNL0OUvU

— Akanyang Merementsi (@AkanyangM) April 2, 2020
Adam, South Africa has had 5 deaths thus far. If any country needs those body bags it's yours. Leave us alone and focus on your own corona virus mess.

— miss vanjie (@taahira_k) April 2, 2020
Someone please come an collect Adam Housley. He's outchea spreading fake news; basically salivating at the thought of South Africans dying and clearly thinks that "HIV" and "AIDS" are synonyms. Tell this man to keep SA out of his mouth. pic.twitter.com/tzCRcvbExP

— Slice of life (@resting_nice) April 2, 2020
Wrong delivery. We ordered grocery bags cause we are busy shopping and drinking water. Otherwise...

SA death toll 5
US death toll 2000

Don't worry, the delivery has been sent back. Coming to the right address soon

— NTHAPELENG (@Nthapeleng__) April 2, 2020
Please, what is this man talking about? We have mobile units out already, testing people. It's been just over a week since lockdown was announced and we're hustling to save our people. America and Trump have their fingers up their noses. Useless.

— Megsie (@MegPascoe) April 2, 2020
There death rate is literally 1000 more than ours buy ai they can never comprehend that our country is handling this pandemic better than they ever could

— Geralts hmm (@JustSxbs) April 2, 2020
It's still baffling to them that we're not dying like they anticipated

— Tshidi (@tshidi_sb) April 2, 2020
That's cool and all but let's compare figures. Let us also look at which country is currently implementing a nation-wide lockdown and which country is still debating whether or not you can walk Fido during the lockdown.

— Ivan (@IamIvan_Dude) April 2, 2020
I wonder if Tamera and the girls will discuss how South African Twitter dragged her hubby Adam Housley for the lies he posted on @TheRealDaytime pic.twitter.com/KhPxJZ3Bb0

— Sbwl bwlw (@lebo_cake) April 2, 2020
He deleted those tweets only to put up a tweet that's equivalent to "I'm not racist because I have black friends."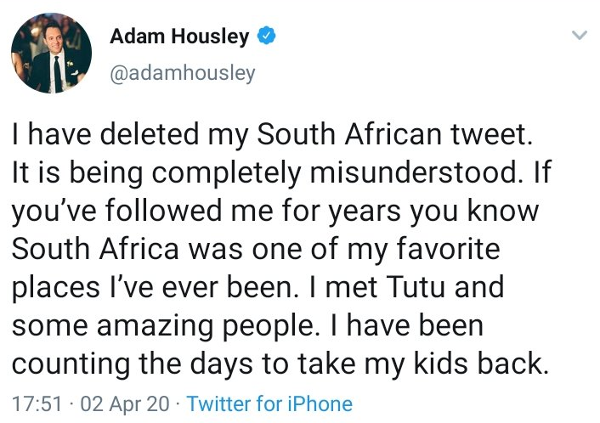 "I have deleted my South African tweet. It is being completely misunderstood. If you've followed me for years, you know SA was one of my most favorite places I've ever been. I met Tutu and some amazing people. I have been counting the days to take my kids back," he tweeted.
Still no sympathy for Adam. Users began dragging him for pulling the "I met Tutu" card. By the way, Desmond Tutu was a South African Anglican archbishop who became the first black General Secretary of the South African Council of Churches.
I can't be racist, I met Tutu@adamhousley pic.twitter.com/V9nb0HrjBi

— Natasha (@dramadelinquent) April 2, 2020
"i MeT tUtU" pic.twitter.com/0st2MSuZYt

— GEZA (@ThubaDlamini4) April 2, 2020
Is saying "I Met Tutu" the same as saying "I have black friends?"

— James de Villiers (@pejames) April 2, 2020
Even if he met Mandela himself...he's still racist

— #OurLand (@PNMaster_) April 2, 2020
Adam Housley deleted all his BS tweets about South Africa and meeting Tutu.
The internet did well today.
You can't just spew fake news and think you'll get away with it Mr Tamera.
Nope, noppity nopes!!!

— Zanele ka Madiba (@MissMadiba) April 2, 2020
Needless to say, he deleted that tweet as well.
As of the time of this post, South Africa has 1,462 confirmed cases and 5 deaths. The United States has 245,974 confirmed cases and 6,126 deaths. It's understandable to be worried about friends and family anywhere on the globe right now, but the stereotypical undertones of his tweets are problematic, and if you call yourself a journalist like he does, you would know why.
This isn't the first time Adam ruffled feathers on social media. In 2018, Twitter users dug up some old tweets he posted about murdered teen Trayvon Martin and labeled him as a racist. He hopped on Twitter to defend himself, claiming he's not racist and he's sick of people running with that narrative.
Hmph.
Photo: Kathy Hutchins/Shutterstock.com
​ ​
​ ​ ​