Eva Marcille VS. NeNe Leakes Continues! A No Makeup Challenge Turns Into A 'Show Our Bodies' Challenge & It's Messier Than Ever
​
Apr 02 | by _YBF
​ ​ ​ ​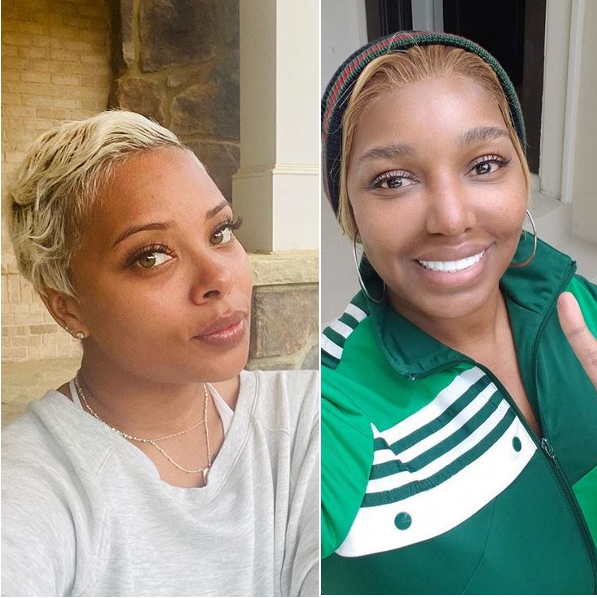 Eva Marcille and NeNe Leakes are still going at it! After NeNe shaded Eva in an interview, Eva hopped on social media to pop back. Then, she went on the "Rickey Smiley Morning Show" to snatch NeNe's wig. Whew, chile. Get it all inside…
Eva Marcille and NeNe Leakes are AT IT…again!
A few days ago, NeNe shaded Eva in an interview with Entertainment Tonight where she said her co-star Eva "doesn't bring much to the cast." She said if she could swap out one person from the cast it would be Eva and that she would replace her with former "RHOA" star Kim Zolciak-Biermann. The former "ANTM" contestant hopped on social media and posted a video, laughing while saying, "Ooo, she's bothered."
Then, Eva hopped back on Instagram to challenge her "RHOA" co-stars to share their makeup free faces for the #NoMakeUp #WashFaceChallenge, tagging them in the caption of a video of her fresh face.
Cynthia, Kenya, and Yovanna participated:
And so did NeNe...with some added shade of course:
"If you know me, you know I've ALWAYS been a skin girl @evamarcille Next time, let's show our bodies," she captioned. Eva just had her third baby six months ago, so NeNe threw in that "show our bodies" as shade.
However, Eva isn't backing down...at all:
The mom-of-three, including a newborn, said she would be submitting to the body challenge.
Then this morning...
Eva read NeNe for FILTH on "The Rickey Smiley Morning Show." Before the show, she hopped on IG Live before her segment to address "no storyline NeNe." She said she doesn't understand why she's bothered and threatened and then said, "she doesn't have edges. HA!"
"If you come for me, pack up a good bag, take your vitamin C and whatever else you need as an elder because B*TCH you got the right one!," she said. "And I'm not the makeup to breakup like her and the rest of her Judys that hated each other two days ago and now are best friends for checks. I'm not her!"
Bloop.
She went in on NeNe again during the radio show:
"First and foremost, I was not in Greece because I was pregnant. Now NeNe, who is 55, doesn't remember being pregnant because of that being 20 years ago for her," she started off saying.

"But I'm a 35-year-old woman with my family and beautiful husband. As far as my relevance on the show, I choose not to every single day be ratchet, there is already enough ratchet, i.e. her, on the show. Why do you need two? I do me, and represent the other part of black women that are smart … well-spoken. That's who I represent. So, if I'm that boring, you spent time in your interview talking about me because ... you have no storyline."
Eva said she can't WAIT to pop off during the reunion, and warned NeNe to make sure her wig is glued down good.
"This reunion is going to be LIT. Glue your wig all the way down," she continued.
Check it:
The "RHOA" Season 12 reunion has been temporarily postponed due to the Coronavirus pandemic. But, when these ladies DO get back around each other, palm trees will be on READY!
Photo: Eva's IG/NeNe's IG
​ ​
​ ​ ​