Do Gooders Helping Others During The Pandemic: Rihanna's & Jay-Z's Foundations Drop $2M + 'Grey's Anatomy' Donates Medical Supplies + Lizzo Provides Lunch For ER Staff
​
Mar 31 | by _YBF
​ ​ ​ ​
The do gooders are doing some GOOD during the Coronavirus pandemic. Deets on Rihanna, Jay-Z, Lizzo, Russell Wilson, Kanye West, the "Grey's Anatomy" cast and more inside….
Musicians, actors and professional athletes are donating money and resources to help during the Coronavirus crisis. They're feeding families and providing supplies for health care workers risking their lives on the frontlines (And not getting dragged for asking the masses - who many are facing layoffs - to donate. We're looking at you, Pharrell.)
That Rihanna rain isn't letting up. After donating $5 million via her Clara Lionel Foundation to protect most vulnerable in the United States, Caribbean and in Africa, the philanthropy queen is back to drop more millions to help. RiRi and Jay-Z have joined forces to donate a combined $2 million towards COVID-19 response efforts via Rih's Clara Lionel Foundation and Hov's Shawn Carter Foundation.
The funds will help support children of frontline health workers and first responders, undocumented workers, along with elderly, incarcerated and homeless people in New York City and Los Angeles.
The Grammy Award winner took to her IG to make the announcement:
Below is breakdown of how the funds will lend support:
Offering daycare, learning materials, food and supplies for the children of frontline healthcare workers and first responders;

Providing learning materials for the more than 20,000 children and youth learning in shelters and virtual mental health support for parents;

Ensuring child care centers are clean and that all personnel are protected;

Supporting the expansion of home-delivered meals for the elderly and meals for homeless populations in emergency shelters;

Providing emergency economic support and the expansion of rights for immigrants and undocumented workers;

Advocating for free testing and treatment for all New Yorkers, regardless of immigration status; and,

Provision of legal support to protect members of marginalized populations, including advocating for people to be released from jail and detention, encouraging voting and civic engagement during the COVID-19 response period and protecting immigrant communities
Shoutout to RocNation holding it down!
Also....
.@WheelsUp is going "Meals Up" to donate 10 million meals to nonprofit Feeding America, partnering with NFL quarterback @DangeRussWilson and other celebrities, including @AROD, @JLo and more. https://t.co/ijpCjHSgn6 pic.twitter.com/uKuOOfJuQf

— CNBC (@CNBC) March 31, 2020
Last week, Seattle Seahawks QB Russell Wilson and his wife Ciara donated one million meals to the city of Seattle through Food Lifeline. Now, the NFL star and his wife CiCi (along with several other celebs) are teaming up with private aviation company Wheels Up to donate 10 million meals to Feeding America, a hunger relief organization.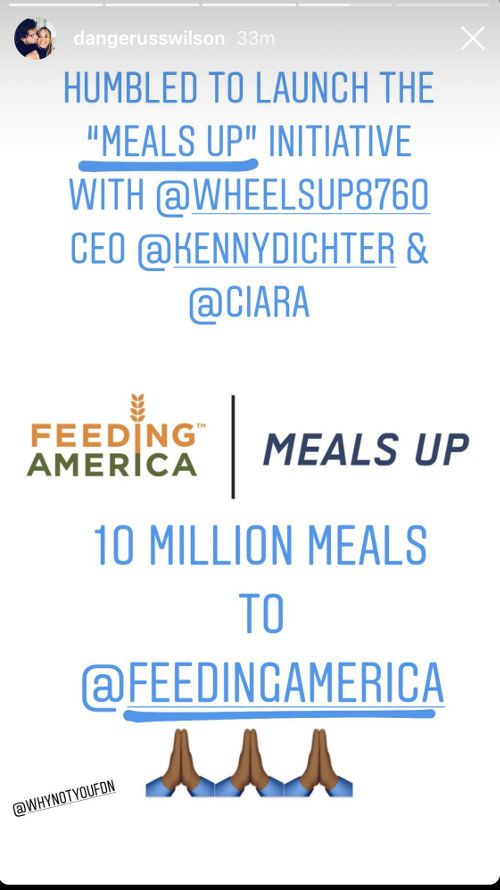 Peep the clips above and below:
Private aviation start-up @WheelsUp is going "Meals Up" to donate 10 million meals to nonprofit Feeding America, partnering with Seattle Seahawks quarterback @DangeRussWilson. https://t.co/ijpCjHSgn6 pic.twitter.com/u92KQT5lwK

— CNBC (@CNBC) March 31, 2020
Also...
Kanye West made a "generous donation" to We Women Empowered, organization that delivers meals to the elderly on Chicago's South Side. They're reportedly delivering three meals daily to seniors in 10 South Side neighborhoods.
15 years ago today grey's anatomy premiered and the rest is history pic.twitter.com/iarXjQ7DXc

— jade (@merxpompeo) March 27, 2020
Several medical dramas are pitching it to help healthcare workers during the pandemic.
"Grey's Anatomy" is donating gowns and gloves while "Station 19" is donating masks to give to doctors and nurses, according to USA Today
"At 'Station 19,' we were lucky enough to have about 300 of the coveted N95 masks which we donated to our local fire station. They were tremendously grateful. At 'Grey's Anatomy,' we have a back-stock of gowns and gloves which we are donating as well," the statement read. "We are all overwhelmed with gratitude for our healthcare workers during this incredibly difficult time, and in addition to these donations, we are doing our part to help them by staying home."
NBC's "New Amsterdam" has donated supplies of masks, gloves, gowns and other items to the New York State Department of Health. Fox's "Resident" made a donation to healthcare workers at Grady Hospital in Atlanta stay safe. Items include masks, surgical gloves, surgical gowns, booties and protective head gear.
Speaking of donations...
We @lizzo!
Thanks for treating our hardworking @UWMedicine ER staff to lunch today! pic.twitter.com/4cor7Oayet

— University of Washington (@UW) March 30, 2020
Lizzo bought lunch for the staff at the University of Washington Medical Center's emergency room. The staff shared thank-you pics on Twitter to show their appreciation to the Grammy Award winning singer.
Loves it!
Fashion designer Christian Siriano and his staff are putting work to make surgical surgical masks for healthcare workers during the pandemic.
"This is life for a little while I guess. But we made 1,000 masks in 3 days and they will be shipped tomorrow!," he captioned a picture of himself in his studio. "Thank you to everyone who donated on ChristianSiriano.com we can't thank you enough."
While's he's manufacturing these surgical masks, he's also still fulfilling orders from his clothing line.
Keep it up! We're all in this together!
Photos: Getty
​ ​
​ ​ ​