Rihanna Opens Up About Battling Anxiety & Starting Her Own Family - Solo If She Has To - In British VOGUE
​
Mar 30 | by _YBF
​ ​ ​ ​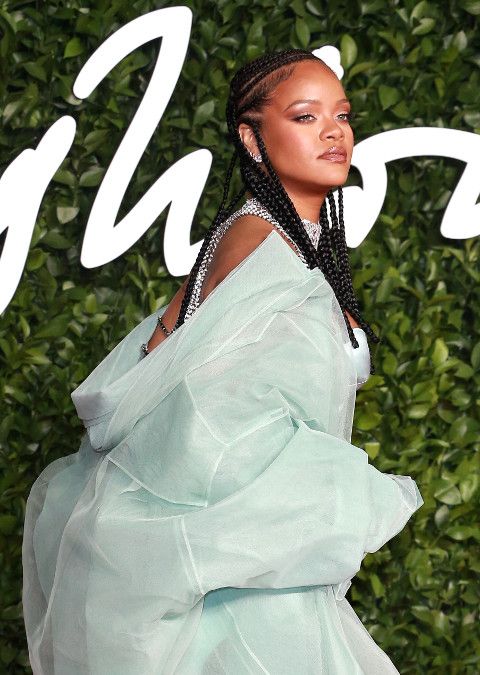 Rihanna the Ruler! Bad Gyal RiRi serves up fabulousness on two covers for British VOGUE's May 2020 issue. Inside, she opens up about battling anxiety and experiencing motherhood by any means necessary. More inside…
Praise the fashion gawds we can count on Rihanna to give us something else to obsess over during this trying time amid the COVID-19 crisis.
The durag-wearing FENTY mogul serves up rebel fashion - dressed up in Burberry - on two covers for British VOGUE magazine's May 2020 issue. And, as always, she's perfection.
In the cover story, the bomb philanthropist (who recently dropped $5 million towards the Coronavirus efforts) lets her NAVY in on some internal feelings she experiences as a global superstar. Turns out, she gets the jitters like most of us before big events.
"Oh, I'm nervous before even getting in the car to go to something," she says. "It can be devastating. And when I pull up to the red carpet, I'm like…" she imitates crisis breathing. "Are you kidding me? I left the Grammys one time. Left! In the middle of my hair and make-up. My hair half up, half of my lash on…" It was 2016 and she had been due to perform "Kiss It Better" from her Anti album. At the time she was said to have left because of issues with her voice, but anxiety can be just as flooring. She laughs about it now, but she wants me to know it's harder for her than it looks. "Being on camera, being in a room full of celebrities is still not normal for me, by the way."
Aww, Rih!
Following news she called it quits with her Saudi billionaire businessman ex, Hassan Jameel, the GRAMMY Award winner says she plans on having children even if society frowns about women starting their own families without a man. She says she putting in so much work now so she can chill comfortably in the future.
"I'm working like this now so that I don't have to in the future," she says. "I know I will want to live differently," The main difference she has in mind is children. When I ask her where she sees herself in 10 years, she says, in a distinctively Bajan tone of disbelief, "Ten years? I'll be 42! I'll be ancient." She playfully ignores my outrage (I'm almost 40 myself) at this idea. "I'll have kids – three or four of 'em."
And if you haven't met the right person, I venture, would you do it on your own? "Hell, yeah," comes the unequivocal response. "I feel like society makes me want to feel like, 'Oh, you got it wrong…' They diminish you as a mother if there's not a dad in your kids' lives. But the only thing that matters is happiness, that's the only healthy relationship between a parent and a child. That's the only thing that can raise a child truly, is love."
It all boils down to love for Rihanna.
We can see RiRi being a fabulous mom, for sure.
At this point in her life, she's not putting up with any extra mess.
"Since I turned 32, I'm realizing life is really short," she says. "You don't have a lot of time to tolerate shit, you know? You put so much on your plate. When you're overwhelmed, you need to start cutting things out. And I'm overwhelmed too much," she says. "What's happening now is that I'm going back to black and white. My grey area is shutting down."
Not even mad.
The singer/actress/beauty mogul also talks about expanding her empire into skincare:
Next up, the launch of her full skincare line, Fenty Skin. So far fans have had to content themselves with a Pro Kiss'r Scrub and Balm "lip prep" duo, and her bestselling shimmering Body Lava oil. But Rihanna says she has had to push herself to achieve the same level of perfection. "Skincare, it's the truth. It either works or it doesn't. There's nowhere to hide." For a moment she looks concerned.
And she also dishes on her heavily delayed ninth studio album after recently dropping the "Believe It" collab with PartyNextDoor on his new LP:
"I can't say when I'm going to drop," she says (it could even be out by the time you read this). "But I am very aggressively working on music," she adds, coyly.
Relax, NAVY. It's coming.
The "Diamonds" singer now lives in London and she talks racism still being prevalent:
"So when I see these injustices happening, it's hard to turn a blind eye," Rih continues. "It's hard to pretend it's not happening. The things that I refuse to stay silent on, these are things that I genuinely believe in."

"I think police brutality is probably extremely severe in America, but racism is alive everywhere. Everywhere," she emphasizes. "It's the same [in the UK]. It's either blatant, which is becoming more and more of a norm, or it's underlying, where people don't even know they're being obvious about it. You know, it's just a subconscious layer that's embedded from their entire core."
You can read the rest of her interview here.
Photo: Cubankite/Shutterstock.com
​ ​
​ ​ ​