Instacart Workers Call Company's Response To Their Strike Threat A 'Sick Joke' Amid COVID-19 Crisis
​
Mar 30 | by _YBF
​ ​ ​ ​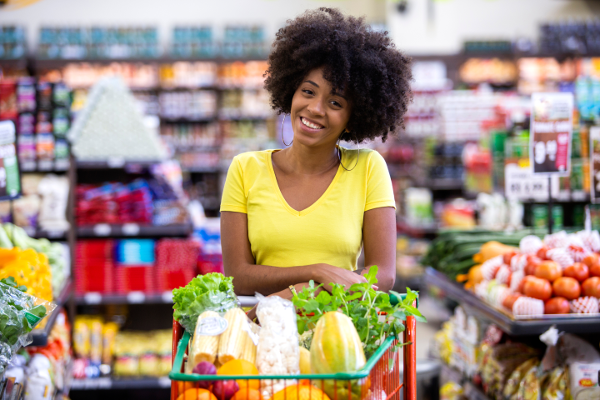 Instacart workers threatened to STRIKE if they didn't get their demands met. The company heard them, granted some requests, but not all. And now, the workers are responding. More inside…
Instacart workers are not happy with the grocery-delivery's response to their nationwide strike. In fact, they're calling it "insulting" and a "sick joke" as several of their demands are not met.
Instacart workers are set to strike today after making demands for hazard pay and safety equipment to do their jobs during the Coronavirus crisis. As of the time of this post, there are over 141,000 cases and over 2,400 deaths from the deadly virus. So, workers want Instacart put provisions in place to help keep them safe while they deliver groceries to customers on lockdown.
The company met some of their demands – like providing hand sanitizer to workers a week from today – but not all. They also added provisions for sick pay, contact-less delivery, alcohol delivery and more. The company confirmed they would use customers' last tip as the default on new orders, but that's still not enough. Here's the company's full response in a letter sent to InstaCart users today:
As the COVID-19 crisis evolves, our teams continue to work around the clock to ensure customers can rely on Instacart for their groceries and shoppers can have access to immediate, flexible earning opportunities. Our first priority has been to safely serve the entire Instacart community and, today, we'd like to share several updates on how we're supporting both our customers and our shoppers in the wake of this crisis.

For Our Customers
We've rolled out a number of recent changes to your Instacart experience to provide you with a safer and more convenient experience including:

For Our Shoppers
Over the past month, we've launched a comprehensive set of changes to support the health and safety of our shoppers and make sure they're being fairly compensated for their effort during this time.

As the crisis unfolds, our teams are committed to continuing to deliver for all the communities we serve and ensuring our customers and shoppers can safely and reliably use

Instacart

. We're proud to be able to serve as an essential service for you and your loved ones during this critical time. You can read more about our latest health and safety updates and the steps

Instacart

is continuing to take here.
"Leave at My Door Delivery" is now the default setting for all

Instacart

deliveries across the U.S. and Canada. We believe it's important for you and your personal shopper to have more control over your delivery experience, and we're proud to have been the first on-demand delivery company in North America to make this available as part of our COVID-19 preparedness.
"Contactless Alcohol Delivery" is now live and, for the first time, most

Instacart

alcohol deliveries in the U.S. will no longer require a physical signature, unless required by your state or a retail partner. Shoppers are now only required to scan a customer's ID for age verification, which can be done from a safe distance.
"Customer Default Tipping" is also now live for all customers. This new feature remembers your last tip selection and will, going forward, default to that percentage instead of another fixed amount. We believe this new feature will make it easier for you to set your preferred tip amounts based on your personal preferences and we expect, ultimately, will help shoppers earn higher, more consistent tips. We encourage you to show your appreciation for your shoppers during this critical time by tipping extra based on their effort and great service. As always, 100% of all tips go directly to your personal shopper.
Safety supplies are available to

Instacart

shoppers in several ways. In-store shoppers already have access to disinfecting supplies and sanitation stations in collaboration with our grocery partners across the U.S. and Canada. Additionally, given the broader supply chain shortage for products like hand sanitizer, our teams worked over the last few weeks to partner with a third-party agency to manufacture our own hand sanitizer, without taking away resources from healthcare workers. The hand sanitizer spray will be available at no cost to shoppers starting tomorrow morning via a website built for the shopper community.
Offering fair and competitive earnings is critically important to us. We are proud that earnings on our platform have increased by more than 40% over the last few weeks and our shopper satisfaction, as measured by Net Promoter Score, is at its highest level in our company's history. To deliver for all of our customers relying on us and create flexible earnings opportunities in the communities we serve, we've also announced that we'll be bringing 300,000 additional shoppers to our platform over the next three months. If you know anyone who might be looking for a flexible way to earn, please send them to https://shoppers.

instacart

.com/.
Extended sick pay for COVID-19 is available to our entire shopper community. We're providing 14 days of extended sick pay for any shopper who is diagnosed with COVID-19 or placed in mandatory quarantine. We also now have sick pay for part-time shoppers and are encouraging them to stay home and use that time if they feel unwell.
And the workers aren't satisfied in the least bit.
Worker said the company's response is a "sick joke," it's "not enough" and it's "insulting for a number of reasons." The company also failed to address hazard pay. Here's the workers' response to the company's new policies (via Medium):
We had been asking for hand sanitizer for many, many weeks. But apparently the company is capable of sourcing some with 2 days of work? Where was this before? Where were these efforts back when Shoppers first began asking for it? It's abhorrent that it took this long for them to act, but on the bright side, it shows that a strike will work to change their behavior.

Setting the tip amount to whatever a customer had previously tipped is ridiculous, because most previous customers would have tipped a different (lesser) amount back when things were more normal. This will, in all likelihood, provide no meaningful benefit to shoppers.

Hazard pay went completely unaddressed. The average pay per order is well under $10. Workers should not be risking their lives for pocket change.

Workers who must stay home due to conditions that put them at high risk are still not being given sick pay.

We are heartened by the outpouring of support we've received from Instacart customers, politicians, activists, and everyday folks worried that they could be exposed to the virus due to Instacart's craven profit-seeking. It goes to show that corporate greed is an issue that impacts us all, whether one is a Shopper directly being affected, or not.

The strike is still on. Stay safe, everyone.

In Solidarity,

Gig Workers Collective & Instacart Shoppers
As of now, the strike is still on, so you may have to cancel that Instacart order.
Last week, Instacart said it would offer a $25 to $200 bonus for workers dependent on their hours worked between March 15th and April 15th, but did not commit to a per-order bonus. Def isn't enough. Also, the company announced they were planning to hire 300,000 additional workers to deliver groceries during the pandemic and that's what prompted the strike.
Photos: Paulo Vilela/Shutterstock.com
​ ​
​ ​ ​