Jhene Aiko Reveals She Was Super Self Conscious Growing Up – 'I Just Never Liked My Face'
​
Mar 26 | by _YBF
​ ​ ​ ​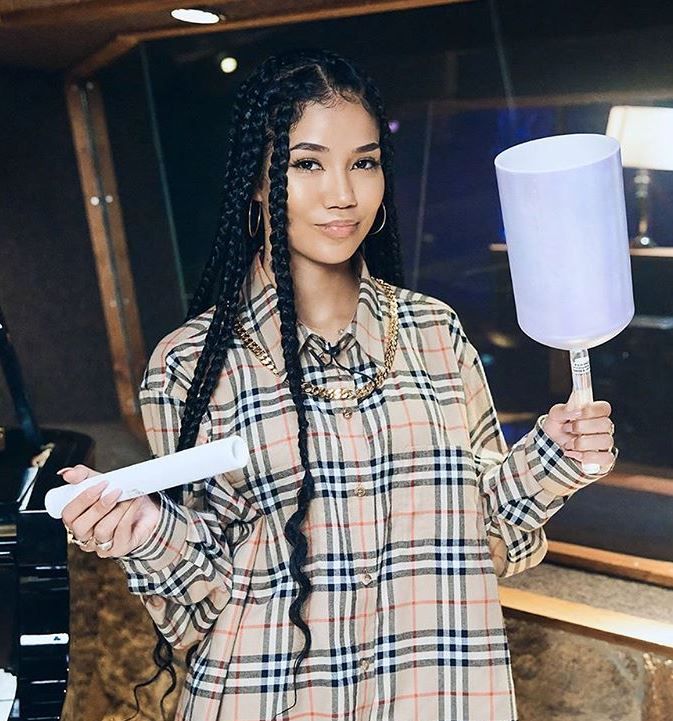 Jhene Aiko opens up about her insecurities in a new interview with radio host Ebro Darden. Everything she said about being self-conscious, deets on her new album CHILOMBO and more inside…
Jhene Aiko opens up about how she used to be self-conscious growing up.
The R&B singer sat down with Apple Music Beats 1 anchor host Ebro Darden to discuss her new album, CHILOMBO, and how she came up with the title. CHILOMBO is actually her last name after her father decided to change his name when he was in his 20s. She said she hated the name as a kid, but when she became a woman she was able to appreciate it.
The 32-year-old also opened up about struggles and insecurities she dealt with growing up, which a lot of us can relate to. These days, she's way more comfortable with herself and that shows in her new music. However, when she was growing up, she dealt with (what she called) body dysmorphia disorder and low self-esteem.
"Growing up, I was always self-conscious and dealt with a lot of self-esteem issues," she shared. "I don't know, I just never liked my face. I couldn't look at pictures or videos of myself. I hated video shoots, photoshoots. I almost thought I had that thing, what is is, body dysmorphia disorder where you see yourself very distorted when you look at yourself.
Now that she has matured, she has overcome those insecurities.
"Basically, I'm just not in that place anymore," she shared.
Ebro then assured Jhene that she is often seen as "one of the most beautiful artists out there". And we all know she would be deemed beautiful by the "traditional" beauty standards, but everyone has their insecuriites and struggles, apparently.
"It's the make-up, no just kidding," she joked. "See me in the morning haha. Change your mind."
During the creative process of her album, she wanted to incorporate crystal alchemy sound bowls — which produce an extended vibrational hum — on each track. Her hope was to open up different chakras within the human body. She talked about researching sound healing, how she got Nas to drop some bars on her new album and more. Check it below:
Photo: Jhene's IG
​ ​
​ ​ ​