Alicia Keys Reveals She Struggled Over Her Decision To Have Her 2nd Child With Swizz Beatz - HERE'S WHY
​
Mar 26 | by _YBF
​ ​ ​ ​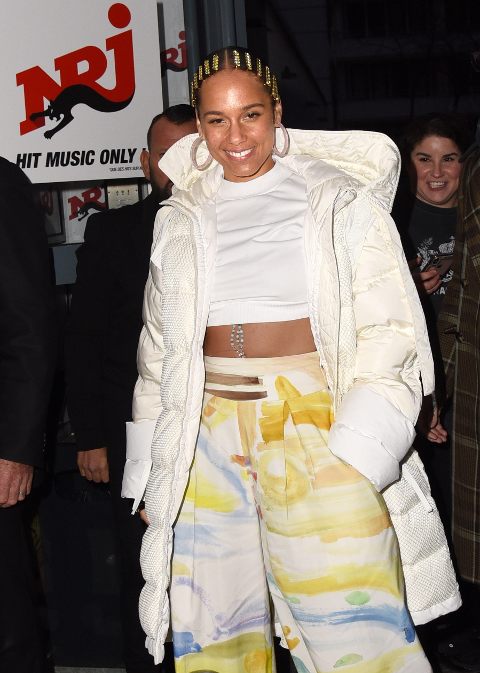 Alicia Keys shares how she was "torn" when she found out she was pregnant with her second child, Genesis. Find out how her hubby Swizz Beatz indirectly helped her make a decision and more inside...
Alicia Keys is gearing up to release her new autobiographical book "More Myself" and she's sharing candid excerpts before it drops.
The 39-year-old singer revealed when she found out she was pregnant with her second child, Genesis, whom she shares with husband Swizz Beatz, she was "torn" whether to give birth or not. Why? Well, she was working on her sixth album, titled HERE, and Swizz had just enrolled into Harvard Business School.
"I wasn't ready for this, which is what I told the doctor," she writes. She explained to her physician, "'This is the worst time ever. I'm working on my next album. My husband just got into Harvard Business School. And I've been drinking—a lot.' I left her office feeling so torn."
The Grammy Award winner was four months pregnant when she found out. They welcomed their first child together, Egypt, in 2010.
At that time during her life, music was her main focus.
"The music I was creating felt more important and urgent than just about everything. I'd have to put off its release for at least a year if I chose to have the baby," she writes.
A song she wrote with her husband helped her decide what was best for her.
"While I was struggling over my choice, I went into the studio one evening and began listening to 'More Than We Know,' a song Swizz and I had written. The lyrics are about how we're capable of so much more than we can ever imagine. My eyes filled with tears. How could I take away the potential for this beautiful child, this light that could touch others in ways I couldn't dream of. For me, the song was a powerful message that I should go on with the pregnancy."
Alicia & Swizz welcomed their son Genesis in December 2014. He joined his big brother Egypt, along with Swizz's other kids, Prince Nasir, Kasseem Jr. and Nicole, all from previous relationships.
After sharing her story with her mother, Teresa Augello, she said it made them closer as her mother also contemplated abortion when she was pregnant with Alicia.
"It wasn't until writing this that I realized, 'Oh s—, she chose me', even through all the difficulties," Keys tells PEOPLE of Augello, who raised her alone after she suddenly became pregnant following a brief relationship with the star's father. "How would she ever know what I was brought here to do? In a way we are parallel, but I didn't even know that."

"There's all these other sides within us," she continues. "Maybe people don't really ever know you until they can see under all of those layers."
Despite some foks thinking this was too much info that Genesis could read and feel some type of way about later, it's definitely a story other women can relate to.
Alicia's book "More Myself" drops March 31st.
Photo: MEGA
​ ​
​ ​ ​