Money Is On The Way! Trump Considers Sending 2 Checks Directly To Citizens As Part Of Stimulus Package + Firsthand Coronavirus Stories
​
Mar 18 | by _YBF
​ ​ ​ ​
American taxpayers could receive some cash for the government in response to the Coronavirus pandemic. As the virus continues to spread several states and major cities are on serious lockdown and people with the virus are giving firsthand accounts. Everything inside….
As the U.S. Coronavirus death toll topples over 100, Trump promises to send taxpayers money to help.
Trump assured taxpayers that "money will soon be coming to you" in an effort to offset the effects of the pandemic. People - especially hourly wage workers nd small business owners who perform services - are losing their jobs left and right. Not only that, a lot of Americans live paycheck to paycheck and are hourly workers, so NOT working means no money coming in and bills not getting paid.
For the people that are now out of work because of the important and necessary containment policies, for instance the shutting down of hotels, bars and restaurants, money will soon be coming to you. The onslaught of the Chinese Virus is not your fault! Will be stronger than ever!

— Donald J. Trump (@realDonaldTrump) March 18, 2020
Treasury Sec. Steven Mnuchin shared details about the White House stimulus bill which would inject $1 trillion into the economy as the virus has disrupted just about every industry imaginable, including the travel industry. It has caused businesses (small and large) to close down or suspend operations and many states and cities to urge citizens to self quarantine.
The stimulus plan includes payments to small businesses, loan guarantees to industries such as airlines and hotels, and stimulus package to workers. The government wants to send checks to taxpayers in about two weeks.
"We're looking at sending checks to Americans immediately," Mnuchin said during the briefing. "And I mean now, in the next two weeks."
Peep a clip below:
Treasury Sec. Mnuchin outlines stimulus plan, including payments to small businesses, loans guarantees to industries such as airlines and hotels, and stimulus package to workers.

"You can think of this as something like business interruption payments for the American workers." pic.twitter.com/kKKhlzzuUi

— ABC News (@ABC) March 17, 2020
In the stimulus plan, the White House wants to send Americans two rounds of $1,000 checks, spend $300 billion for small business loans and a $50 billion loan for the airline industry.
BREAKING: Read the 2-page White House "stimulus 3" proposal here

1) 2 rounds of $1,000 checks (April, May)
2) $300bn for small business loans
3) $50bn loan for airline industry
4) $150bn loan for other distressed industries
5) Guarantees for money markethttps://t.co/VpDleRcHL5 pic.twitter.com/CbmhXNLcsZ

— Heather Long (@byHeatherLong) March 18, 2020
You can read the full Department of Treasury proposal for coronavirus response here.
People have been sounding off on social media after Trump made claims that he knew nothing about the disbandment of the White House pandemic team, that was heralded by President Obama during his terms.
Reminder: Trump fired the government's pandemic response team in 2018 and his government hasn't been able to test enough people for coronavirus https://t.co/QHE5hwHRoE

— Aaron Rupar (@atrupar) March 18, 2020
Trump says he 'didn't know about' the firing of the entire U.S. pandemic response team in 2018

Here's video of him talking about it.

#Corona #covid #covid19 pic.twitter.com/WT0lLSoFWB

— Planetary Security (@Planetary_Sec) March 18, 2020
When asked why he chose to cut CDC and gut the Pandemic Response team, Trump says:

"...they haven't been used for many many years...I'm a business man... I don't like having thousands of people around when we don't need them..."

Remember this.
He did it for money. https://t.co/ybkEfkxMBz

— Miss Adorable Speaks (@ThisAbigail) March 17, 2020
As with everything else Obama put on a pedestal, Trump wiped it away.
Providing an update on the #Coronavirus pandemic. WATCH LIVE: https://t.co/eq4DDnvc9V

— Andrew Cuomo (@NYGovCuomo) March 18, 2020
New York Gov. Andrew Cuomo has announced a statewide mandate that NO business can have more than 50 percent of their workforce report to work outside of their home, except for essential services like food services and food delivery services, pharmacies, healthcare organizations, and shipping companies. A full list of essential services will be released soon. Peep his briefing above.
#BREAKING: NY, PA, CT, and NJ will temporarily close all indoor portions of retail shopping malls, amusement parks and bowling alleys effective tomorrow 8PM.

Together we will reduce density and slow the spread of #Coronavirus.

— Andrew Cuomo (@NYGovCuomo) March 18, 2020
As for a complete lock down of NYC - that aint happening. Mainly because it can't happen without Cuomo's directive, and he has no interest in doing so. He says there's no way to lock down only Manhattan and surrounding 'burbs anyway - it would have to be a statewide mandated lockdown. Let's take heed to all these urgent requests so we don't get to the point of mandated 24-hour lockdowns, shall we?
Governors and city leaders across the nation are putting guidelines and restrictions in place on top of the guidelines the federal government released on Monday urging American's to avoid being in a crowd of more than 10 people for the next two weeks to help slow down the spread of the virus.
There's never been a more important time for New Yorkers to receive accurate, real time information & the role of the media has never been more essential. For that reason media organizations will be exempted from the 50% work reduction order.

— Andrew Cuomo (@NYGovCuomo) March 18, 2020
New York, New Jersey and Connecticut have ordered a ban on gatherings of more than 50 people and agreed to close casinos, gyms and movie theaters. Restaurants and bars will only do take-out or delivery. New Jersey Gov. Phil Murphy announced residents are no longer able to travel between the hours of 8pm and 5am. Ohio's governor closed polls hours before Tuesday's presidential primary. Michigan and Indiana will only be working via takeout.
Colorado health officials have ordered bars, restaurants, gyms, theaters and casinos to close down for the next 30 days. Minnesota Gov. Tim Walz closed amusement parks, bowling alleys, skating rinks and country clubs. In Louisiana, bars, clubs and casinos have been closed until April 13th. Also, visitors aren't allowed at nursing homes or prisons unless it's an "end of life" or emergency basis.
After San Francisco ordered citizens to stay home, California's Bay Area residents have been ordered to shelter in place.
As of now, 37 states have made the decision to shut down schools. Kansas Gov. Laura Kelly announced the closure of all schools across the state for the rest of the school year.
UPDATE: The federal government is sending a hospital ship to New York, the USNS Comfort.

The Comfort, which has about 1,000 rooms on it, will be moored in New York Harbor.

Hospital beds are what we need. pic.twitter.com/CwTVJhJvDi

— Andrew Cuomo (@NYGovCuomo) March 18, 2020
Several people who have tested positive for COVID-19 have been sharing firsthand accounts of the symptoms they've experienced. See a few accounts below:
. @RitchieTorres tests positive for #COVID19 with very mild symptoms. Explains how important #socialdistancing is especially for young people: pic.twitter.com/aa7ASKPEwA

— Jessica Cunnington (@JessicaNews12) March 17, 2020
I have it. Don't sleep on this thing people. I'm a very healthy type I diabetic. My body is fighting it very well but it's kicking my ass. Don't be a moron. Stay home! pic.twitter.com/X0Lb2FYE6z

— Justin (@jwdaddy80) March 17, 2020
Ohio coronavirus patient describes her fight: 'Nothing I had ever quite experienced' https://t.co/5HUdhTg3n4 via @usatoday

— Luana Hess (@HessLuana) March 18, 2020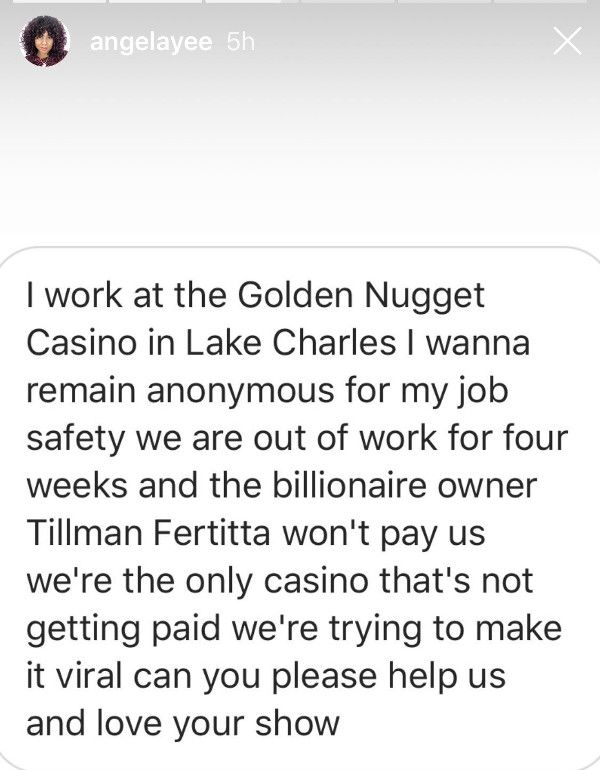 A Golden Nugget employee wrote in to Power 105's Angela Yee about how they weren't getting paid. A new report reveals Golden Nugget Lake Charles Hotel and Casino will now give full-time and part-time hourly employees two weeks' pay.
Also, a newborn baby in London has become the youngest Coronavirus victim in the world. It is unclear if he caught the virus in utero or after birth. His mother is being treated in a separate hospital. Sad.
Photo: Getty
​ ​
​ ​ ​