EXCLUSIVE: 'For Life' Star Joy Bryant Says A Partner's Best Friend Isn't Totally Off Limits In A New Relationship - HERE'S WHY!
​
Mar 09 | by _YBF
​ ​ ​ ​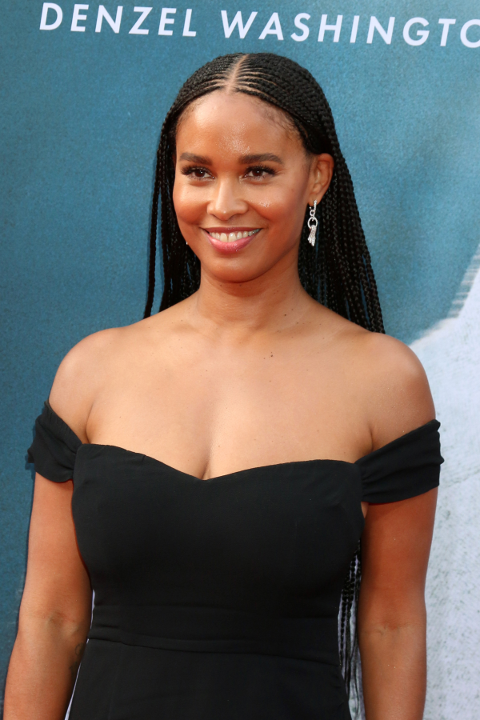 Are besties totally off limits in a new relationship? Joy Bryant tells TheYBF.com exactly why dating your former spouse's best friend has a lot of "gray area" and how things aren't always what they seem inside...
Joy Bryant enters our living rooms (or appears on out mobile devices) every week on 50 Cent's new ABC series, "For Life."
In the new real-life inspired crime drama, the Bronx native plays Marie, the estranged wife of Aaron Wallace, who becomes a lawyer fighting to reverse his own life sentence for a crime he didn't commit.
In the first episode, viewers learn Marie has entered a relationship with Aaron's best friend, Darius. While she's sympathetic to her husband's situation, she also feels the need to move on with her life. She's def the "realist" on the show, while their daughter, Jasmine, seems more naïve when it comes to her father's release. Jasmine is holding out hope that her father will one day be released from prison under super extraordinary circumstances.
"I think that things – nothing is black and white and it's a lot of gray," Joy told TheYBF.com in a phone interview.
We can't lie. Once we realized Joy's character was in a relationship with her estranged husband's best friend, we were giving her a whole "Now girl...". However, Joy shared with us that it's a lot viewers don't know about the background of their relationship, which will soon be revealed.
In episode four (titled "Marie"), viewers will get the chance to see things from her character's perspective and will get to "really understand the lost." We'll see how and why things progressed with her husband's friend.
"It's a lot more complicated than that," she explained. "It shows that people can look at someone else's life and make assumptions or judgements based on what THEY would do. Until you are in that situation and going through those things, you don't really know. And sometimes sh*t happens."
When put under extraordinary circumstances, things you said you would never do you may just end up doing.
"This dynamic of people falling in love under these type of circumstances – whether it's a death of a partner or incarceration – when someone is taken away from this unit. It's not the first time that its happened. And it's easy to say 'Oh, that's messed up. You shouldn't do that,' but you don't know what goes on in people's lives and in their hearts. Again, sometimes sh*t goes down. It just be like that."
We won't have to wait long to see Marie's perspective as the next episode of "For Life" airs tomorrow at 10/9c on ABC.
If you didn't know, Joy joined forces with Curtis "50 Cent" Jackson for his first acting role in the 2005 coming-of-age film, Get Rich or Die Tryin'. She played the mother of his child in the movie. While she didn't film any scenes with 50 in the new series, she explained what it's like working on a project with him again.
The 45-year-old actress said it has been amazing to see Fif grow and prosper as an actor and then flip it in such an impactful and powerful way as a producer.
"If it wasn't for him, we wouldn't be talking right now," she told us.
One thing she said that's special about the "Power" producer is that he has a knack for knowing what people want to see and that's an intelligence that not many people (even in their business) have.
"I have nothing but tremendous respect for 50," she said.
By the way…
The "Power" spin-off about Kanan has found it's lead star.
According to Deadline, Mekai Curtis will star as young Kanan Stark alongside Patina Miller (Hunger Games: Mockingjay) in "Power Book III: Raising Kanan." The upcoming series will follow the now deceased "Power" character Kanan Stark, showing viewers his life back in the 90s and how he became the man we saw in the original "Power" series.
Here's a synopsis:
Smart, driven and still naïve, Kanan's world revolves around his mother, Raq (Miller), who raised him by herself. She is his everything. At the same time, he is beginning to get a sense of not only the world around him but his place in said world. Kanan wants to be just like his mother — and that's the problem. He's young and wide-eyed and doesn't know how the hustle works. And even more important, his mother is not nearly as keen as he is for him to follow in her footsteps. Theirs is a complicated relationship that only gets more problematic as time goes on.
Rob Hardy ("Power," "All American") will direct the pilot and he'll also executive produce. "Power" creator Courtney Kemp will executive produce alongside 50 and Sascha Penn, who will also serve as the showrunner. Other executive producers include Mark Canton, Chris Selak, Danielle DeJesus, Shana Stein, Bart Wenrich and Kevin Fox.
We'll keep you posted when "Power Book III: Raising Kanan" is set to premiere on STARZ.
"Power Book II: Ghost" - starring Michael Rainy Jr., Naturi Naughton, Mary J. Blige, Method Man & Woody McClain - is set to premiere this summer on STARZ.
Photos: Kathy Hutchins/Shutterstock.com
​ ​
​ ​ ​