A 'Wild A** F***** Year' Of Grief Pumped The Breaks On SZA's New Music - Her 'Rolling Stone' Cover Saga
​
Feb 27 | by _YBF
​ ​ ​ ​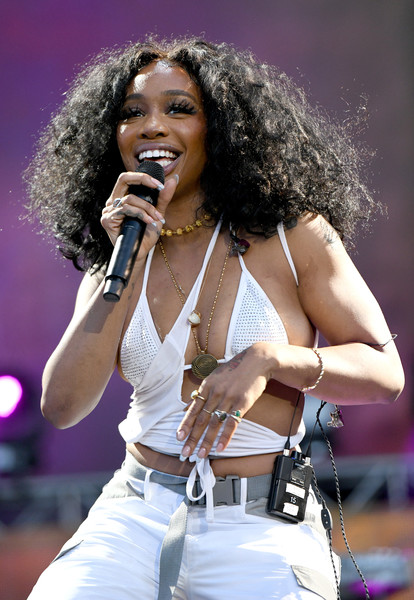 SZA explains why she hasn't made any new music lately. And the culprit was grief. Find out what kept the singer from releasing new bops and more from her Rolling Stone cover story inside…
2019 was a rough year SZA.
In 2017, the singer released her debut album CTRL and fans haven't received an album since. After inking her deal with Top Dawg Entertainment, she scooped up nine Grammy nominations, she hit the stage on Coachella's main stage with her labelmate Kendrick Lamar and wrote tracks for superstars like Beyoncé. In 2018, her collaboration "All the Stars" for the Black Panther soundtrack blew up and fans just knew a new album was in the works.
But, life hit.
First, her close friend and collaborator Mac Miller died from an accidental overdose in the fall of 2018. In June 2019, SZA's grandmother, Norma, died in hospice care. "My grandma was like my best friend," she says. "It was the longest five months of my life."
In May, when Norma was really struggling, SZA performed on Saturday Night Live with DJ Khaled, which made her feel immense guilt. The following month, her grandmother passed away. Five months later (in November), SZA's auntie died unexpectantly.
"I didn't want to make music," she tells Rolling Stone in her cover story for her single cover. "I didn't. I was just trying to not kill myself, and not quit, period. Because it was really f*cking hard, and lonely as fuck."
Before her solo cover dropped, SZA was joined by Megan Thee Stallion and Normani for Rolling Stone's Women Shaping The Future cover.
"I've buried so many people in my life, you would think that I would be used to it, or just have a threshold. But my grandma broke the threshold for me. It was so weird to not have any . . ." — her voice breaks — "I don't know, any control over anything."
To begin healing through what she calls "my own journey out of this dark-ass depression," SZA leaned into exercise and wellness for therapy. She committed herself to going to the gym every day and practicing Pilates; she got into crystals and meditation and sound bowls. She says all of these things, bit by bit, started to help.
"You really have to choose to feel better. You have to. Have to," she says through tears, pounding her floor for emphasis. "Because if you don't, you just die. I decided I'm going to choose that sh*t for my f*cking self, for real. I feel like I'm only trying to make music that I care about, and I'm trying to work with people that will f*ck with me for real. That's it. I'm just trying to do everything that is meaningful, and do sh*t that's passionate, and remind myself that I'm worth something and talented and a nice girl. Just basic sh*t." She pauses and collects herself. "So that's what the f*ck I've been doing."
Now that she's gotten herself together and healed, she's ready to release new music. And her new bops will seemingly hit different for her fans.
"Music is coming out this year for sure," she says. "An album? Strong words." The much-reported rumor that she was planning on releasing a trilogy of albums and then retiring, she says, is nonsense. "I can always make music. It's who I am," she says. "So if I started making f*cking sculptures and decide to take up entomology, I'm still probably going to drop something. I am also getting to know myself. Because if I keep trying to regurgitate the same girl, y'all are going to hate that sh*t. And I don't want that either."
The "Love Galore" singer has been drawing inspiration from jazz (Miles Davis, John Coltrane) and a truly eclectic playlist she made "from my childhood," which jumps around from the Beach Boys to Ella Fitzgerald to Australian neo-soul group Hiatus Kaiyote.
"I don't even give a f*ck about cohesion," she adds. "If you sound like you, your shit's going to be cohesive. Period."
The 29-year-old entertainer has been in Hawaii cooking up a new sound:
"Every day became its own nucleus of ideas and experimentations, which led to making some shit I haven't heard before. Usually when I hear something that I haven't heard before, I hear it from somebody else. It's exciting when I'm hearing shit I haven't heard before, and it's coming from me."
So, get ready. SZA is about to drop a new LP that'll hopefully satisfy fans who have been craving new music from the star.
In a recorded interview, SZA opened up about some "firsts" in her life:
Also, SZA joined forces with Justin Timberlake to release the track and music video for "The Other Side," co-written by SZA along with Justin Timberlake, Ludwig Göransson, Max Martin, and Sarah Aarons. It's produced by Timberlake and Göransson. "The Other Side" is the first single to be released from the upcoming "Trolls World Tour," which will be available on March 13th via RCA Records and is available for pre-order.
Check it:
SZA is also featured in a new ad for Calvin Klein:
Megan Thee Stallion's solo Rolling Stone magazine cover also dropped:
The FEVER rapper also did a video interview where she talks about her "firsts":
In case you missed...
Meg, SZA and Normani flexed their model skills on the cover of Rolling Stone's Women Shaping The Future. After it was released, SZA hopped on Twitter going off about never doing another video interview or photos again:


Here's the joint interview the ladies did together:
We love her and her emo self. Y'all ready for new music from her?
Photo: Getty
​ ​
​ ​ ​