Pioneering NASA Mathematician Katherine Johnson – Whose Work Inspired 'Hidden Figures' - Dies At 101
​
Feb 24 | by _YBF
​ ​ ​ ​
The world just lost another icon. Pioneering NASA mathematician Katherine Johnson – whose work at NASA was instrumental to the first human space flight – has reportedly died. She was 101. Celebrate her legacy inside…
Katherine Johnson – whose work at NASA inspired the Oscar-nominated film Hidden Figures – has reportedly died. She was 101.
The West Virginia native was a pioneering NASA mathematician who was part of NASA's "Computer Pool," which was a group of mathematicians whose data powered NASA's first successful space missions. She was one of the first African-American females to work at NASA.
And it's a good thing they had her on the team because her brilliance made history.
Katherine was literally a real-life "human computer." Before the creation of modern computers and technology, Katherine was breaking down math equations to come up with calculations – done with pencil & paper or chalk & blackboard – to put astronauts in space. In the 50s, she did trajectory analysis on the Alan Shepherd-manned Freedom 7 mission— America's first human spaceflight in 1961, NASA reported.
The @NASA family will never forget Katherine Johnson's courage and the milestones we could not have reached without her. Her story and her grace continue to inspire the world. https://t.co/UPOqo0sLfb pic.twitter.com/xwnRX9oZoi

— Jim Bridenstine (@JimBridenstine) February 24, 2020
In 1962, the astronauts of the Friendship 7 mission were gearing up to orbit the Earth. Famed astronaut John Glenn specifically asked for Katherine to help with the orbital flight. At that time, they had computers that were programmed with the equations to control the trajectory of the capsule, but astronauts were hesitant to trust the technology with their lives. Katherine came in and ran all of the equations by hand that eventually resulted in John Glenn orbiting the Earth three times before his safe return. Come on, queen!
In 2017, some of Katherine's life at NASA was put on the big screen via Hidden Figures. Taraji P. Henson played Katherine, Octavia Spencer played Dorothy Vaughan, and Janelle Monae portrayed Mary Jackson. The film – adapted from Margot Lee Shetterly's best-selling book "Hidden Figures" – was nominated for three Academy Awards, including Best Picture, Best Adapted Screenplay and Best Supporting Actress for Octavia Spencer.
As a child, Katherine skipped several grades due to her "intense curiosity and brilliance with numbers. At 18, she enrolled into HBCU West Virginia State College. She graduated in 1937 with the highest honors and then she became a teacher at a black public school in Virginia. Katherine then enrolled in the graduate math program at West Virginia University – becoming one of the first black students to be offered admission there after they integrated. She left after the first session to start a family with her husband, James Goble. They welcomed three daughters before she returned to teaching.
With slide rules and pencils, Katherine Johnson's brilliant mind helped launch our nation into space.

No longer a Hidden Figure, her bravery and commitment to excellence leaves an eternal legacy for us all: https://t.co/1D6xzQNWrg pic.twitter.com/pvUvoRhuxp

— NASA (@NASA) February 24, 2020
In 1952, Katherine and her family moved to Newport News, Virginia after she was told about a position in the all-black West Area Computing section at NACA (before the name changed to NASA). She was placed on a temporary project, but her role quickly became permanent.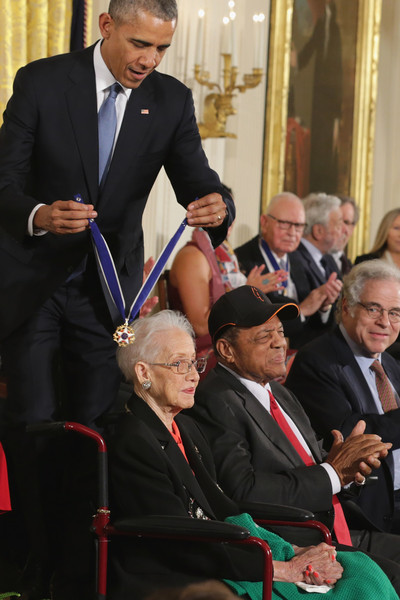 In 2015, President Barack Obama presented Katherine Johnson with the Presidential Medal of Freedom. She was cited as a pioneering example of African-American women in STEM. And the rest is HERstory!
Celebs have been paying tribute to Katherine Johnson on social media:
Thank you QUEEN #KatherineJohnson for sharing your intelligence, poise, grace and beauty with the world! Because of your hard work little girls EVERYWHERE can dream as big as the MOON!!! Your legacy will live on… https://t.co/sMv6kETbjV

— Taraji P. Henson (@TherealTaraji) February 24, 2020
We've lost an icon and brilliant mathematician with the passing of Katherine Johnson.

A barrier breaker and inspiration for women of color everywhere, Katherine's legendary work with NASA will forever leave a mark on our history. My heart goes out to her family and loved ones. https://t.co/rc0qOHOZWZ

— Kamala Harris (@SenKamalaHarris) February 24, 2020
Katherine Johnson is an American hero who broke down barriers for women of color at @NASA and beyond. Honoring her incredible life today that will continue to inspire generations. #BHM https://t.co/T3PwpHAQpl

— Sen. Cory Booker (@SenBooker) February 24, 2020
As a child, Katherine Johnson said she "counted everything: the steps, the dishes, the stars in the sky." As a mathematician, she broke barriers to help reach those stars. Her calculations helped put Americans in space, in orbit, and, finally, on the moon. #HiddenFigures pic.twitter.com/5ONuV5zhQ0

— Hillary Clinton (@HillaryClinton) February 24, 2020
Katherine Johnson was a true American hero and pioneer in math and science. Her legacy and incredible achievements in the face of racial and gender discrimination will never be forgotten. https://t.co/Pl8uoBwCO5

— Bernie Sanders (@BernieSanders) February 24, 2020
She not only paved the way for many of our Brothers and Sisters in the STEM industry but also paved the way to the stars themselves.

May we never forget that there are many more people of color who are pursuing this field because of Katherine Johnson.https://t.co/4Ztk4aX0cO

— Iyanla Vanzant (@IyanlaVanzant) February 24, 2020
My heart goes out to the loved ones of Katherine Johnson, a brilliant mathematician who inspired little girls – especially Black girls – to reach for the stars. I'm very glad that Congress honored Mrs. Johnson & her contributions to NASA with a Congressional Gold Medal last year. pic.twitter.com/QvUWNrmirv

— Elizabeth Warren (@SenWarren) February 24, 2020
Before John Glenn became the first American to orbit the Earth, there was only one person he trusted to check the final math on his rocket launch: Katherine Johnson. #HiddenFigures #BlackHistoryMonth #BHM https://t.co/7TzXtYnUTW pic.twitter.com/SejX3K7KAw

— Rep. Val Demings (@RepValDemings) February 24, 2020
Rest easy queen. Your work has inspired millions of black girls to go after what they want in life, no matter the obstacles. We salute you!
Photos: Featureflash Photo Agency/Shutterstock.com/Getty
​ ​
​ ​ ​