'Black Ink's' Ryan Henry Seemingly Responds To Former NBA Star Eddy Curry's Interview About His Sister Being His Alleged 'Mistress'
​
Feb 18 | by _YBF
​ ​ ​ ​
"Black Ink Crew: Chicago" star Ryan Henry is seemingly responding to an interview his sister Nova Henry's kids' father Eddy Curry did where she was labeled his "mistress." Find out Ryan posted and what Eddy said in the interview inside...
Ryan Henry has been very vocal about his sister Nova Henry's death throughout his reality show career on VH1's hit show, "Black Ink Crew: Chicago." In January 2009, his 24-year-old sister Nova and his 10-month-old niece, Ava Curry, were found fatally shot inside their South Loop town house in Chicago. Nova's three-year-old son, Noah Curry, was found in the town house unharmed. She was the mother of two of former NBA player Eddy Curry's children, who was and still is married.
Chicago attorney Frederick Goings was convicted of two counts of first-degree murder and sentenced to life in prison. Nova & Frederick began a romantic relationship after Nova hired him to help her with receiving child support from Eddy.
Former/married NBA star Eddy Curry had remained mum about the murder of his daughter and his daughter's mother...up until now.
The 37-year-old (who played in the NBA from 2001 - 2012) recently opened up about the incident in a piece he wrote for The Player's Tribune. He shared how he found about Nova and Ava's murders in the middle of a game and shared the feelings he felt inside when he learned he would have to come clean to his wife, Patrice Curry, who didn't know anything about Nova, nor did she know he fathered two children with her.
"A lot of people don't know about Nova," he wrote. "I saw her on and off for a few years while I was with the Knicks. We had two kids together. On the day Nova was murdered — shot down in cold blood back home in Chicago — one of the many people who didn't know about her was my wife, Patrice." "Patrice also didn't know about the children I'd had with Nova — my 10-month-old daughter, Ava, and her three-year-old brother, Noah," he added. "I kept it a secret. All of it. For years." He later found out that Nova's attorney Grederick Goings was the killer and that his 3-year-old son, Noah, witnessed his mother and sister being murdered.

"I found out that my son Noah was right there when his mother and sister were shot. But he was so little that he didn't really understand what had happened," he wrote. "He'd tried to wake up his mom after the shooting, so when the officers went in and found him there, he had blood all over him. He actually laid down next to her and had fallen asleep. Noah hadn't been able to wake up his mom or his sister, and probably thought they were sleeping, so he went to sleep, too."
Eddy then talked about how his (second) wife, Patrice Curry, reacted to the news.
"She was basically exactly like what you'd think a good woman would be like when she's just found out that her husband has been lying to her for years," he said. "And, I mean, I don't blame her — I had been a terrible husband for a long time by that point."
He called his wife Patrice a "hero" and the "best person" he's even known for accepting him after all the lies and deceit.
"If there's a hero character in the crazy story of my life, that hero is most definitely Patrice," he said. "In the 15 years we've been married, she's been through what amounts to about 15 lifetimes' worth of drama — infidelity, unspeakable tragedy, multiple lawsuits, home foreclosures, several dozen financial scams, and on and on. She could've left me thousands of times. And I really couldn't have faulted her. But you know what? She's still right here. She never turned her back on me."

"Patrice actually ended up coming back to Chicago with me when I went to the funeral home to pay my respects to the woman I was cheating on her with and the little girl she didn't know her husband had fathered. I can't even imagine how hard that must have been," he added. "And right now, as I write this thing out, she's in the other room helping our kids with their homework. She is the best person I've ever known."
So sis had to endure all of this heartache to receive unconditional love from her husband? Sheesh.
You can read his full piece here.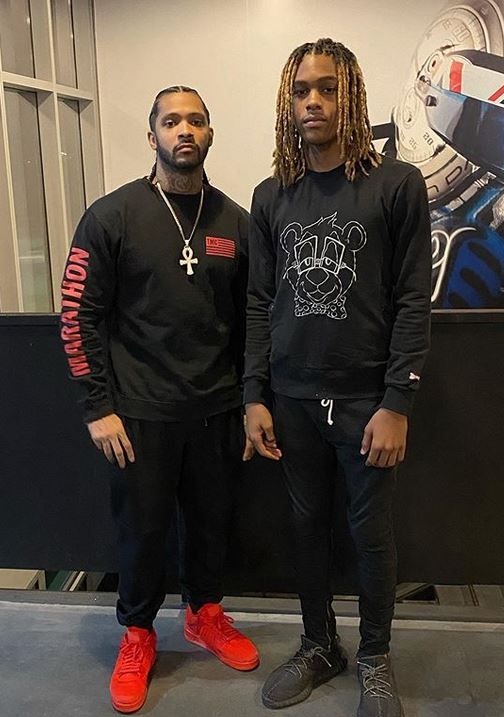 Days after the release of the interview, Nova's brother, Ryan Henry (above, alongside his 14-year-old nephew Noah Curry), hopped on social media to pay tribute to his sister, who is much more than a mistress – which she was dubbed in the media – to him.
"The noisy outside world's misinformed disrespect does not overshadow what BEAUTY IS.... and how much you Use YOU and myself to help other WOMEN in all kinds of situations... be peaceful #NOVA," he captioned pictures of his sister.
Folks on social media have been going back and forth about Nova being labeled a "mistress." Some argue since she started a relationship with Eddy BEFORE he got married - twice - that she's not a mistress. They've also said since she allegedly didn't know he was married, that's another reason why she's not considered a mistress.
While Nova and Eddy did start dating while they were in high school, she learned about BOTH of his marriages via the news. In TV One's "Fatal Attraction," Nova's mother and her friend confirmed Nova learned about his marriages through the headlines.
Check it at the 10:30-minute mark below:
So tragic. Mistress or not, this woman and her child didn't deserve to die and the POS that took their lives will live the rest of his life in prison.
Photo: Ryan's IG
​ ​
​ ​ ​