Jennifer Hudson Delivers The Powerful Kobe Bryant Tribute You Knew She Would At The 2020 NBA All-Star Game + Chaka Khan Gets Dragged For National Anthem Performance
​
Feb 17 | by _YBF
​ ​ ​ ​
Jennifer Hudson served up a powerful performance to pay tribute to NBA legend Kobe Bryant, his daughter Gianna Bryant and the seven other victims to kick off the 2020 NBA All-Star Game. Chaka Khan performed the National Anthem and is being dragged on social media over it. Get it all inside…
Celebs and athletes jetted to Chicago to party it up for the 2020 NBA All-Star Game festivities.
Last night, Jennifer Hudson was tapped to kick off the 2020 NBA Att-Star Game at the Chicago's United Center with a special tribute to NBA icon Kobe Bryant, his 13-year-old daughter Gianna Bryant and the seven other victims - John Altobelli, Keri Altobelli, Alyssa Altobelli, Sarah Chester, Payton Chester, Ara Zobayan, and Christina Mause – who lost their lives in a tragic helicopter crash on January 26th.
The Oscar/Grammy Award winner flexed her vocals for a rendition of Donny Hathaway's classic hit "For All We Know (We May Meet Again)" as pictures of Kobe and Gianna were displayed behind her.
Check out her powerful performance below:
Before JHud hit the stage, she was introduced by NBA legend Magic Johnson, who also paid tribute to Kobe:
"We will never see another basketball player quite like Kobe," Magic Johnson said before the game. "He was passionate about being a great father, husband, filmmaker."
Check it below: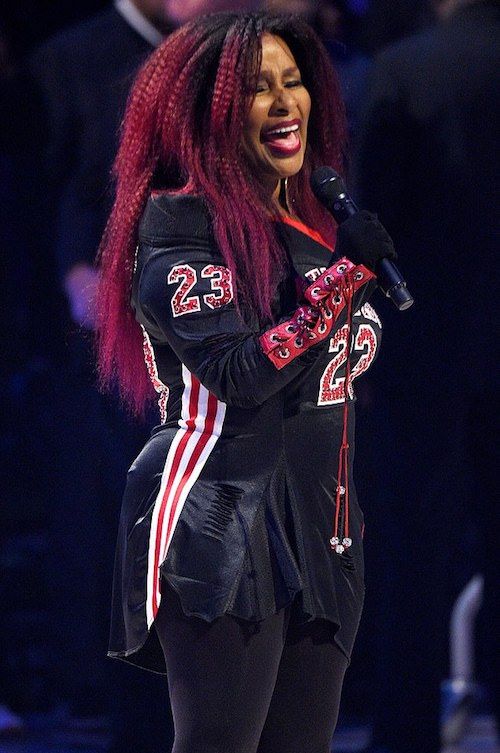 Soulful songstress Chaka Khan was tapped to perform "The Star Spangled Banner" before the NBA All-Star Game, which you can check out above. Chaka put her own spin on the National Anthem, sort of like how Fergie did in 2018. However, folks weren't feeling it.
Here's her performance:
Peep a few tweets below:
I love Chaka Khan and she is truly "I'm Every Woman" but it sounded like all of those women were trying to come out during that vocal performance pic.twitter.com/EYT0XbjB9Q

— Eric Perry (@EricpNBC12) February 17, 2020
Listen.

LISTEN.

Idk what kinda chopped and screwed, key of cdf & g, lower octave, range of "what was it", falsetto, vibrato version of the Star Spangled Banner that was but..

Hey. Chaka did HER THANG.#NBAAllStarGame pic.twitter.com/FcBZDNvAWm

— Shanelle Genai (@shanellegenai) February 17, 2020
I'm not watching the all star game but my phone is ringing off the hook. My guess is someone did a weird Star Spangled?

— RootsPicnic2020 Now! (@questlove) February 17, 2020
Wasn't crazy about that version of the Star Spangled Banner. BUT I also don't do Chaka Khan slander so I'm conflicted.

— NICK LOVE (@NickLoveATL) February 17, 2020
Everybody, Chaka Khan is a soulful singer and she did the Star Spangled Banner, her way, tonight. There's no perfect way to sing it.

There's other people in this world who have different voices. Don't be judging how people should sing and act. Leave Chaka be, now!

— ChrisRadFinch 7 (@RadFinch) February 17, 2020
I don't care what you think of Chaka Khan's national anthem, you WILL show respect because she is LITERALLY CHAKA KHAN.

Pitch perfect. Tones? Hit. I? Conic. No slander for QUEEN OF FUNK in this house. We aren't gonna cannibalise our legends while they're here, who raised yall?

— #StreamWantItAll (@UMNIAMusic) February 17, 2020
Yikes.
Rapper/actor Common honored Kobe's legacy with spoke word.
"He used his game to touch the world's soul, a king named Kobe Bryant who wore purple and gold," Common said.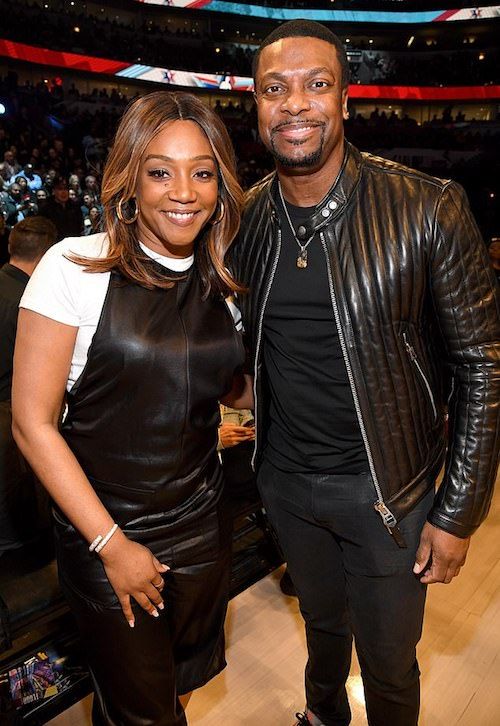 By the way, the Oscar winner's rumored BAE Tiffany Haddish (above alongside Chris Tucker) was also in the mix.
Peep his performance above.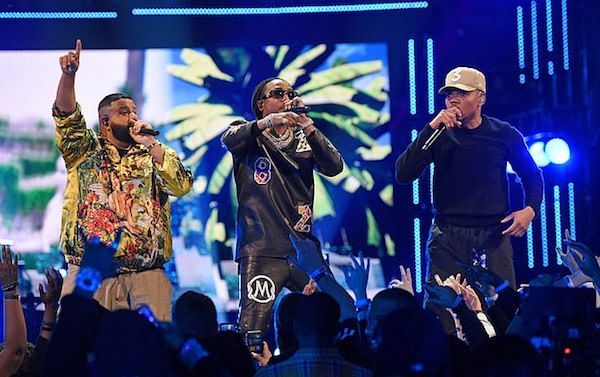 Chi-town native Chance the Rapper was tapped for the halftime performance, where he too honored Kobe & his daughter Gianna. During the performance, Chance was joined by Lil Wayne to perform "No Problem" along with Quavo and DJ Khaled for "I'm the One." He also did a cover of Kanye West's "Ultralight Beam."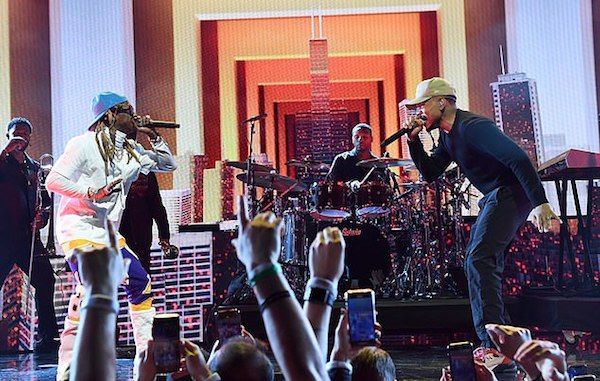 Check out Chance's performance below: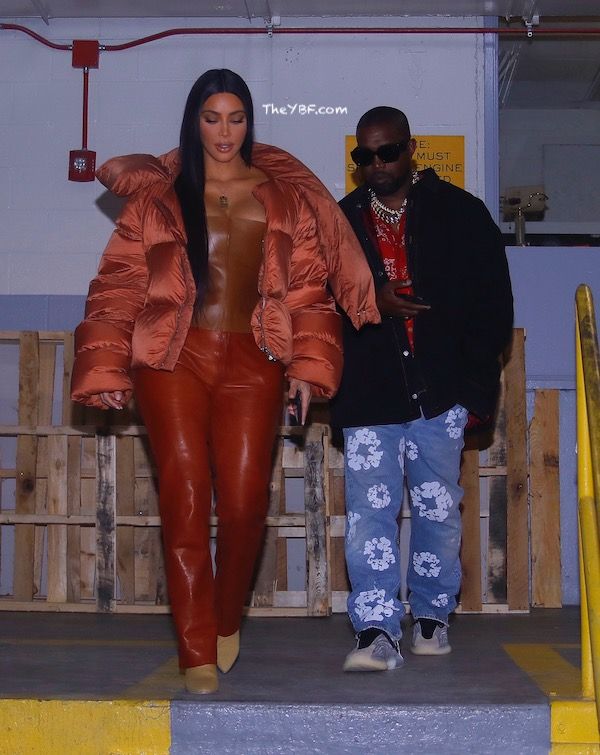 By the way, Yeezy was courtside with his wife Kim Kardashian West.
Cardi B and Offset were also spotted courtside.
Queen Latifah hit the stage to perform a rendition of Stevie Wonder's "Love's In Need of Love Today" where she added a rap verse to the track to pay tribute to Kobe.
"Home is where the heart is. Don't gotta pay a mortgage. It's free, not a fee you ever owe me. Give love a shot. When you do, say, 'Kobe'. 24 hours, 8 days a week — trophies," she rapped.
Peep her performance below:
Dr. Dre also offered up a tribute to the legend Laker:
In honor of Kobe Bryant, the All-Star Game was reworked to honor the fallen NBA player. MSN reports:
Instead of the usual time limit, when scores are tallied up in the fourth quarter, a target score will be set, which each team has to reach in order to win. In a nod to the number Bryant wore for the latter half of his career with the Los Angeles Lakers, 24 points will be added to the winning score in order to determine the target.

The two teams this year are led by captains LeBron James of the Lakers and Giannis Antetokounmpo of the Milwaukee Bucks.

Both teams will also be wearing jerseys that commemorate Bryant and his 13-year-old daughter. All members of Team LeBron will wear No. 2 on their jerseys, in memory of Gianna, who played with the number as a member of the Mamba Sports Academy. Meanwhile, Team Giannis players will wear No. 24.

To pay tribute to the other victims, both teams will wear patches with nine stars to represent all who were lost in the crash, including John Altobelli, Keri Altobelli, Alyssa Altobelli, Sarah Chester, Payton Chester, Christina Mauser and pilot Ara Zobayan.
Nice!
Team LeBron ended up bringing home the victory this year:
On Friday, NBA commissioner Adam Silver announced the NBA All-Star MVP Award will be renamed the Kobe Bryant MVP Award. Los Angeles Clippers baller Kawhi Leonard won the award this year:
Also....
Stand up, Chicago!

The 2020 #NBAAllStar Game is tipped off by Chicago legends @BarackObama, Michael Jordan, @KekePalmer, @common, @chancetherapper, @HEBRUBRANTLEY, @iJesseWilliams, @TheRealBuddyGuy, @DwyaneWade, @Candace_Parker & @IsiahThomas. pic.twitter.com/VyrI6Ajg2S

— NBA on TNT (@NBAonTNT) February 17, 2020
With Chicago hosting this year's game, TNT aired a tribute to several Chi-town icons. Watch it above!
Swipe through our gallery below to see flicks of Cardi B, Offset, Quavo, J. Cole, Common, 2 Chainz, and more at the 2020 NBA All-Star Game!
Photo: AP/Getty/Splash
​ ​
​ ​ ​