WATCH: Offset Says 'It Wasn't Me' After Being Released From Custody, Two People From His Camp Admit The Guns Found Were Theirs
​
Jan 30 | by _YBF
​ ​ ​ ​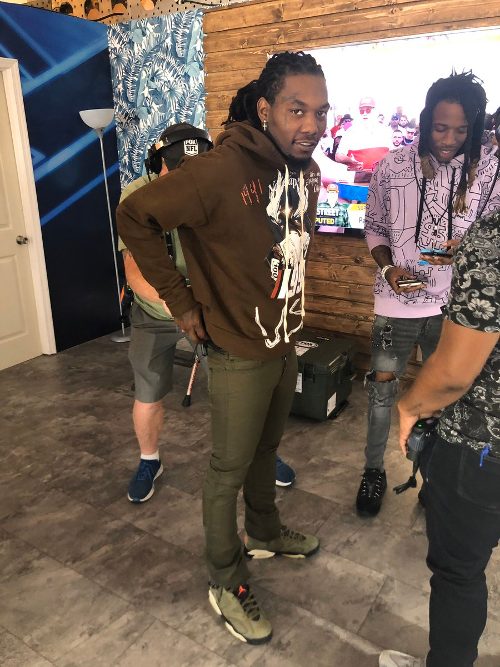 Offset got hemmed up by police in L.A. after cops found two loaded guns in the vehicle he was riding in. He was later released after two of his homies admitted the firearms were there. Watch video of Offset getting ruffed up, his release and his "Undisputed" interview this morning inside…
You have to watch the company you keep because if you don't you could end up in jail. Rapper Offset learned the hard way. Yesterday, the Migos rapper was detained by police in L.A. after cops discovered two loaded handguns in the SUV he was riding in.
According to reports, a call came in just before 8PM about a person with a gun inside the parking lot of The Grove shopping center in L.A. When police swarmed in to investigate, witnesses caught video footage of law enforcement putting Offset and his crew in handcuffs. The "Clout" rapper was extremely pissed with the arresting officer for not telling him the reason he was being detained.
Watch it go down below:
In the initial reports, police were looking for a black male wearing all black. Well that narrows it down nicely....
Law enforcement sources told TMZ when officers arrived, they saw someone matching the description getting out of the SUV that was carrying Offset and his crew.
After searching the vehicle Offset and his crew were riding in, police reportedly found two loaded handguns. The rapper and three others were then taken to the station for further questioning. Two members from his entourage eventually admitted the firearms were theirs. One person was arrested for carrying a concealed firearm and the other was arrested for possession of a firearm by a prohibited person.
With their confessions, Offset was in the clear and was released from jail around 2AM.
While leaving the jail, he told photogs it was a simple misunderstanding and that he was NOT the person they were looking for.
"Everything is good though. They did a good job. They found the right person though," he said.
He said he loves L.A. and will likely return to The Grove because he get his kids clothes from there.
Check it:
By the way, Offset is currently on probation for a 2015 arrest alongside his Migos groupmates where police found a loaded gun and marijuana in their car after a show at a Georgia college. All three rappers were charged with felony possession of a schedule II narcotic and carrying a loaded gun on school property. Eventually, Quavo & Takeoff were released, but Offset was already a convicted felon. He accepted an Alford plea deal and was placed on probation for five years in December 2015. If he was charged with possession of the gun, he would have be hauled off back to jail.
In July 2018, he was arrested on four charges, including gun and drug possession. Georgia prosecutors ended up dropping the felony gun possession charge against Offset in July 2019. However, a bigger case is reportedly being looked into by federal authorities.
After he was released from being detained....
LET'S GOOOOO @undisputed @ShannonSharpe @RealSkipBayless @NFL @CAFFEINE pic.twitter.com/tz4YvoWB0J

— OFFSET (@OffsetYRN) January 30, 2020
Cardi B's husband hopped on a plane to Miami and made it in time for an appearance on "Undisputed" for the pre-Super Bowl festivities.
Offset says 'Culture 3' will drop as soon as the summertime and that Migos will continue to go strong forever. More @Undisputed, now on FS1 https://t.co/L6pelNI3jd

— Skip Bayless (@RealSkipBayless) January 30, 2020
In case you were wondering, NO the Migos are not breaking up. Culture 3 is dropping this summer and that will conclude their "Culutue" triology of music.
During the interview, the ATL rapper reveals which team he's rooting for, he reacts to the Lakers currently having the best record in the West and more.
Peep the full interview below:
Photo: Offset's Twitter
​ ​
​ ​ ​