Beyonce's LEMONADE Named AP's Album Of The Decade + What Bey Taught Us About Self-Care & Giving Zero F**** In ELLE Mag
​
Dec 14 | by _YBF
​ ​ ​ ​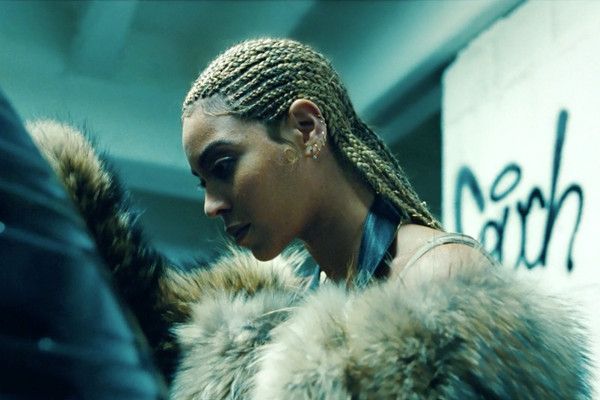 Beyonce's iconic LEMONADE album has been named as the AP's Album of the Decade!
Beyonce. Queen of the Decade.
Mrs. Carter stopped the world when she dropped her epic sixth studio album, LEMONADE via Parkwood Entertainment and Columbia Records on April 23, 2016. It was her second "visual album," the follow-up to her surprise self-titled album that changed the game forever.
Queen Bey created a masterpiece of work that centered around one of the most explosive rumors in pop culture, Jay-Z cheating. We still don't know if the rumors are true or not, but the Grammy Award winner had every woman reflecting and relating to the lyrics she sung beautifully over beats that span across all genres. Yep, even country ("Daddy Lessons.") Not only that, the album oozed of black pride, being unapologetically black, being a fearless mother and more.
The AP sums up LEMONADE like this:
Beyoncé, "Lemonade": At the beginning of this decade, Beyoncé was already the greatest singer of her generation. She won a record six Grammys in a single night, had women AND MEN "oh-oh-oh'ing" to the fun sound of "Single Ladies" and continued to be a beast of a performer. But somehow Superwoman — shoot, she's Superman, too! — found a way to do more: Like a boss she launched her own company, Parkwood Entertainment, and really took the bull by the horns of her career. In 2011, she released the R&B adventure "4," featuring classics like "Countdown," "Love on Top," "Party," "End of Time," "I Care" and "I Miss You." Three years later — in surprise form — came "Beyoncé," her bold, audacious and daring album that showcased a new side of Beyoncé: Goodbye was the girl who cared about topping the charts, and born was an artist, a true storyteller, a grown woman. Somehow, she topped herself again with "Lemonade," which still tastes as good as it did when it was released in 2016. The usually private Beyoncé bares her soul on the album, singing about a troubled relationship, black pride and motherhood in a brave way. Lyrically, she's on point and honest over beats and sounds that range from rap to rock to country and pop. "Who the (expletive) do you think I am," she brashly asks on "Don't Hurt Yourself," which co-stars Jack White. The answer: the greatest of all time.
By the way, Rihanna's "ANTI" album came in at the No. 2 spot on the list.
While LEMONADE was a perfectly crafted album and shifted the music game, it did not win album of the year at the 2017 Grammy Awards. But guess what? The mother-of three doesn't give a damn.
In an interview with Elle for her January 2020 cover story, the Queen shared - via an epic Ask Me Anything with the Beyhive - how she felt after learning her album didn't win the Grammy. She shared how her miscarriage and pregnancies revealed a deeper meaning in life and awards snubs were no longer on her radar.
"I began to search for deeper meaning when life began to teach me lessons I didn't know I needed," she said. "Success looks different to me now. I learned that all pain and loss is in fact a gift. Having miscarriages taught me that I had to mother myself before I could be a mother to someone else. Then I had Blue, and the quest for my purpose became so much deeper. I died and was reborn in my relationship, and the quest for self became even stronger. It's difficult for me to go backwards. Being 'number one' was no longer my priority. My true win is creating art and a legacy that will live far beyond me. That's fulfilling."
By the way, Bey's "Spirit" from "The Lion King" album has been nominated for Best Original Song at the 2020 Golden Globes.
The "Sorry" singer shared why working with female directors was so important to her:
"Melina Matsoukas has inspired me to own and redefine what it means to be a director. As a woman, if you are too opinionated, too strong-willed, too anything, you are disregarded. I've seen this happen to Melina, but she handles it with respect and grace. Melina is a rarity; she has the sensibility to understand fashion, photography, storytelling, history, and culture and is able to seamlessly incorporate those components into her work. I have trusted Melina for over a decade and created some of my best work with her—from visuals for my music to tour content and now a fashion shoot. I was so excited to work with her on this shoot for ELLE, because working with Melina is effortless. We have a natural way of collaborating because of our friendship and mutual respect for each other. There's no politics, no ego; it's just about being in the moment and creating dope art.

"Pioneers like Kasi Lemmons, Julie Dash, and Euzhan Palcy have amazing catalogs, and women like Lena Waithe, dream hampton, Adria Petty, Diane Martel, Darnell Martin, and Ava DuVernay have added to the dialogue. And I am lucky to have worked with most of these talented women."
Bey even dished on her secret Snapchat account:
"I hate to say it, I hope I don't sound ridiculous, but I don't know what my Snapchat is. Sorry to that Snapchat."
L-O-L. You can read her full interview here, including what she said about y'all snapping pics of her at Target.
Get your coins ready. Beyonce's Ivy Park x Adidas collaboration is set to drop January 18th.
Photo: TIDAL
​ ​
​ ​ ​