FIT, FINE & FORTY! Syleena Johnson Drops 50lbs & DOMINATES At Fitness Competition!
​
Dec 11 | by _YBF
​ ​ ​ ​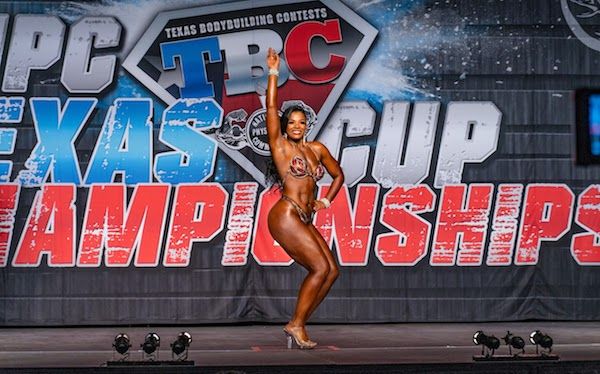 Syleena Johnson just gave us some gym act right! Chick dropped 50 pounds, joined a fitness competition and SLAYED! More inside…
What an inspiration!
Singer Syleena Johnson is KILLING the fitness game right now. And we're loving it.
The "Sister Circle" co-host recently dropped 50 pounds and started training to compete in her first fitness/amateur bodybuilding fitness competition. And chick SERVED for the fitness GAWDS.
The 43-year-old flexed her amazingly fit bod on stage at the Texas National Physique Committee (NPC Texas Cup) in Waco, Texas.
Syleena scooped up three trophies after the competition. She placed third for "Open," fifth place for "True Novice" and sixth place for "Novice." Yes, it was a struggle, but she totally accomplished her goals.
The fab and fit singer shared her journey on Instagram, revealing she went from 236lbs down to 179lbs in 8 months by sticking to a strict diet and hitting the gym. She thanked her trainers for pushing her and preparing her for the stage and shared how she did it all.
"Kevin Wilson took me from 236 pounds to 179 pounds in 8 months with diet and exercise through my bulging disc, strained hamstring and calf muscle, and losing the entire feeling in my left leg. He gave me the proper meal plan each week, came on tour with me, pushed me in my weak moments and got me to that stage injury free," she wrote on Instagram
Sis said this is JUST the beginning.
"I think it is just now sinking in for me. I just completed a lifelong goal and dream of mine," she captioned another pic of herself in competition. "I truly am overjoyed and grateful to God for keeping me the entire way. Through, a bulging disc, a sprained hamstring and calf muscle, flying back and forth to Chicago recording an album, touring in and out of the country, 2 months of physical therapy and constant pain everyday, I STILL managed to get it done. God is truly the greatest...But I am not done yet. This show was really competitive, I placed 3rd, 5th, and 6th out of the 4 categories I was in. I learned a lot about my body and myself on this journey. I realized how important self care is and how quickly my body responds to certain foods."
SHE.DID.THAT.
Watch her in action below:
After the competition, Syleena indulged in a cheat meat, which was a peanut butter and jelly sandwich. She shared a video of herself enjoying the sandwich on her IG Stories. On Monday, she came on "Sister Circle" and shared her journey along with her "cheat meal" during training.
Keep it up Syleena!
By the way, Syleena is releasing her 10th studio album titled WOMAN on January 31, 2020.
Photos: Michael Witherspoon
​ ​
​ ​ ​