BEEF REIGNITED: Eminem Responds To Nick Cannon & Mariah Carey + Suge Knight Calls Em A 'B****' & 50 Cent Throws Shots At Nick – HEAR THE DISS TRACKS!
​
Dec 10 | by _YBF
​ ​ ​ ​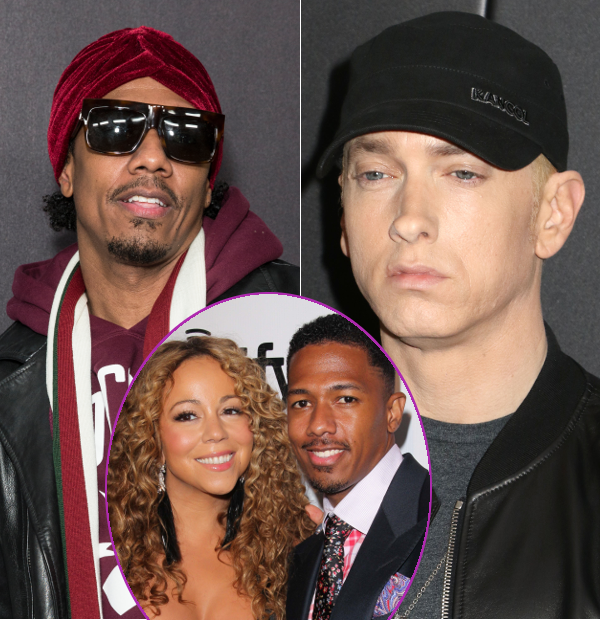 Before 2019 wraps up, a new rap beef has ignited…well re-ignited. Eminem started trash talking Nick Cannon and his ex-wife Mariah Carey on wax. Now, Suge Knight and 50 Cent are all in the mix. Everything inside…
Eminem and Nick Cannon are back at it again! Yes. In 2019. Almost 2020.
Last Friday, Fat Joe released his new joint album with superproducer Dre titled Family Ties, which featured a track titled "Lord Above." Fat Joe & Dre nabbed Eminem for a verse and Mary J. Blige for the hook.
Em didn't waste any time to pop off on Nick Cannon and his ex-wife Mariah Carey, reigniting their decade-old beef.
"Word to the Terror Squad, Joe, this is all puns aside though / I know me and Mariah didn't end on a high note/But that other dude's whipped, that p*ssy got him neutered / Tried to tell him this chick's a nut job 'fore he got his jewels clipped," Em rapped.

"Almost got my caboose kicked, fool, quit, you not gon' do shit / I let her chop my balls off too 'fore I lost to you, Nick / I should quit watchin' news clips, yeah / My balls are too big, I should be talkin' pool / 'Cause I got scratches on my pockets, fall when I'm takin' shots at you."
Whew. The disrespect.
Take a listen below (at the 2:15 minute mark):
On Monday, Nick Cannon released a diss track aimed at Em in response to his disrespectful bars about him and his ex-wife on a track titled "The Invitation." The track features former Death Row Records CEO Suge Knight, who's currently in prison. Nick also tapped battle rappers Hitman Holla, Charlie Clips and Prince Eazy for a few bars. Suge opened up the track by calling Eminem a "b*tch."
"Call Kim, somebody get Hailey and that other kid you raising that ain't even your baby/Took a page out of Drake book, this might get a Grammy/We going back to back until you respond—on the family/My baby mama killed you off a decade ago/You still crying about it b*tch, now who really the hoe?," Nick rapped.
On the track, there were claims that there's a video tape of Eminem performing oral sex on another man. Yikes.
"I heard your chauffeur got a video of you sucking a c*ck/You paid him off then laid him off, now who really the opps," one of the artists rapped.
Sheesh.
The "Wild 'N Out" honcho also invited "old man" Eminem to battle him on his sketch-comedy show while hosting his morning show on Los Angeles radio station Power 106.
Listen below:
Nick posted up on Instagram to call Eminem out:
Nick gave Fat Joe a shoutout for a fire album and then called out Eminem, writing:
"FatJoe album is Star studded, he even did some charity work and dug @Eminem out his grave I mean cave!! LOL FLAM FLAM! BLAM BLAM! NICK CANNON!! Bring your Ass to @MTVWILDNOUT to Battle like a real legend Grandpa Marshall!!"
Nick also hopped on Twitter to respond about the alleged videotape of Em: "FACTS! His lawyers didn't want that one out! They already on my line," Nick tweeted.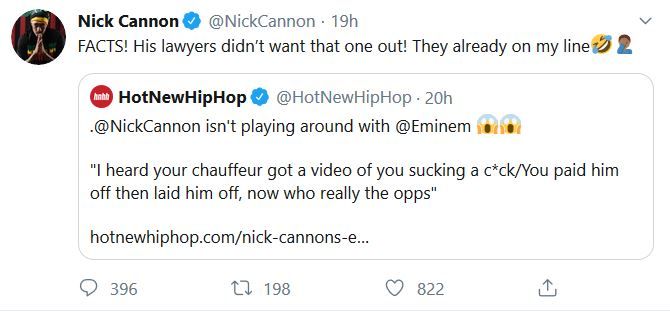 Eminem then hopped on Twitter to respond.
"U mad bro? Stop lying on my dick. I never even had a chauffeur, you bougie f*ck," Eminem tweeted. "I demand an apology Nicholas, you've made my gardener so jealous!"
The former "AGT" host didn't stop there, responding to Em and more. Peep more of his tweets below: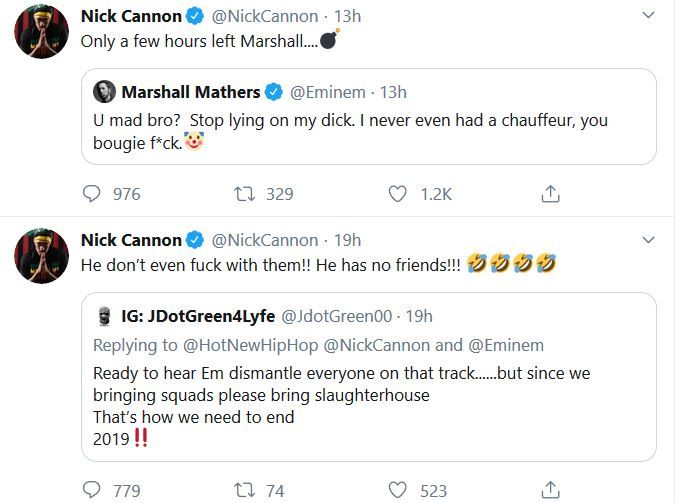 "Fuck Apologies! Pull Up!! Bring your gardener, chauffeur, your male nurse and whoever else you're f*cking!!," Nick said in a tweet. "eminem I see your handlers let you use the internet today Marshall! We waiting..." Nick said in another tweet.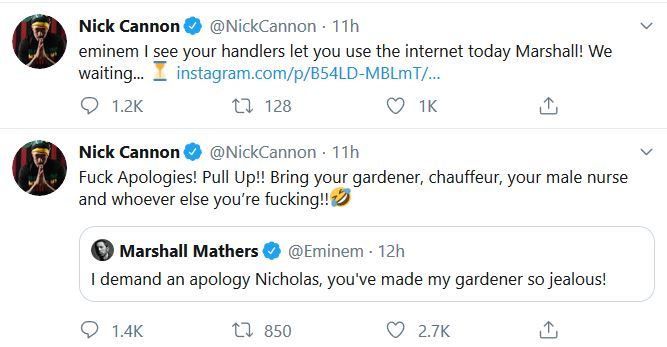 Nick also got his Wild 'N Out audience to join him in inviting Em to the show:
Then, Petty King 50 Cent hopped in the mix, firing shots at Nick, tweeting: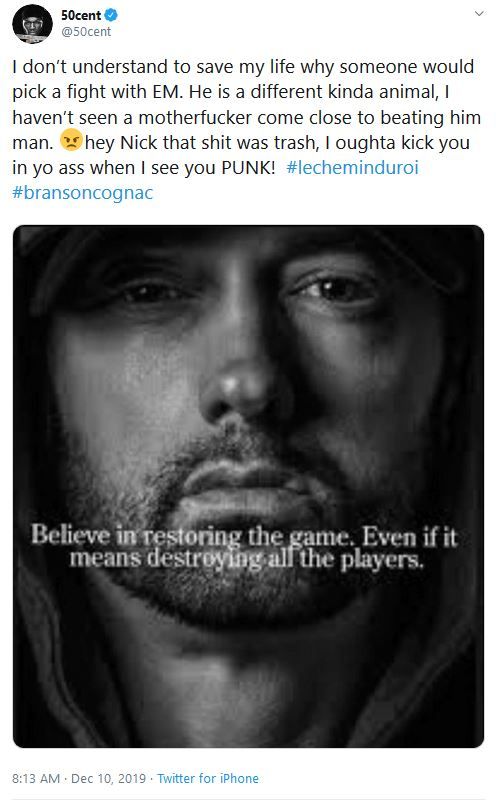 "I don't understand to save my life why someone would pick a fight with EM. He is a different kinda animal, I haven't seen a motherfucker come close to beating him man. hey Nick that shit was trash, I oughta kick you in yo ass when I see you PUNK!"
Nick then popped back at 50 Cent, posting a picture of Django's "uncle tom" character Stephen (played by Samuel L. Jackson):
Meanwhile, #RIPNICKCANNON has been trending on Twitter.
Later....
Nick dropped a second diss track aimed at Eminem titled "Pray For Him," featuring Hitman Holla, Conceited and other members of The Black Squad. On the track, Nick accused Em of being a Trump supporter, having a drug addiction, and getting botox. Sheesh. Listen above.
After dropping the second diss track, he tweeted, "Where yall Aryan Savior at???"
Where yall Aryan Savior at???

— Nick Cannon (@NickCannon) December 10, 2019
Em and Nick's feud dates back to 2009 when Eminem fired shots at Mariah Carey on his track "Bagpipes from Baghdad" on his Relapse album.
"Nick Cannon, I wish you luck with the f*cking whore," he rapped on the track. MiMi responded to Em on her track "Obsessed." The video to the song featured an Eminem lookalike. Not only that, Nick even threatened to kick Em's ass for going at his then-wife.
#RIPNickCannon is already trending and Em hasn't even responded. It may be because of the 30K+ thumbs down Nick received on Youtube.
Whew! Do you think Eminem will accept Nick's "Wild 'N Out" invitation. It'll make for good TV for sure.
Photos: JStone / lev radin /s_bukley/Shutterstock.com
​ ​
​ ​ ​