Cardi B Nabs 1st VOGUE Cover (With Kulture)! Explains Why She Took Offset Back After Cheating & Why Social Media Drives Her Insane
​
Dec 09 | by _YBF
​ ​ ​ ​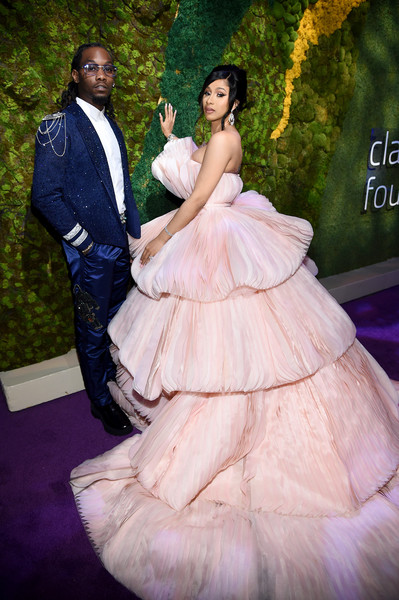 Cardi B lands her very first VOGUE cover and she posed it up with her adorable daughter Kulture. In the cover story, the "Press" rapper explains why she decided to take Offset back after cheating (multiple times), why social media now drives her insane (although that's how she got discovered), how she pushes through the balancing act of wearing so many hats and more. Get it all inside…
Cardi B is closing out 2019 lighting up the magazine circuit! The "Press" rapper landed her first VOGUE magazine cover, which is the 4th and final cover of the January 2020 issue that features fearless moms. The Grammy Award winner tapped her 16-month-old daughter Kulture Cephus to join her in matching Michael Kors and Oscar de la Renta looks for the issue. Bardi also rocked some Zac Posen threads in her solo editorials. Swipe left, above to see them.
Inside, the "Clout" rapper opened up for the first time about why she decided to take her husband Offset back after cheating…multiple times. As you know, Offset embarrassed Bardi a few times with infidelity antics. Before they were married, video footage of the Migos rapper laid up in a hotel room with another woman leaked online after his phone was allegedly hacked in 2017.
Just 15-months after tying the knot, the "Be Careful" rapper hopped on Instagram and announced she was "single" a week before Offset released his debut album, FATHER OF 4. Days before her breakup announcement, alleged text messages leaked showing a friend of rapper Cuban Doll trying to set up a threesome with Offset, who was trying to fly them out.
Most recently, Tekashi 69's girlfriend Jade - the bartender who is suing Cardi for allegedly jumping her and her sis at work because the rapper thought Offset was cheating with her – shared a video of Offset hopping in her DMs on Instagram saying he missed her. The Cephuses then got on Instagram claiming his account was hacked and all.
Through it all, Cardi has remained a "ride or die" for Offset. The reason? She told VOGUE all relationships have issues and their marriage isn't perfect.
"My thing is, everybody on social media acts like relationships is perfect," Cardi explained. "And that's crazy to me. I'm around so many women, and there's always a woman talking about how she loves her man, but her man is not financially stable, or she has a problem with his mom, or the sex is not as good anymore. Everybody has issues."
The Bronx native said she and the Atlanta rapper prayed about it and eventually came to a mutual understanding.
"I believe in forgiveness. I prayed on it. Me and my husband, we prayed on it. We had priests come to us. And we just came to an understanding like, bro, it's really us against the world. He has my back for everything, I have his back for everything, so when you cheat, you're betraying the person that has your back the most. Why would you do that? We have come to a clear understanding. For me, monogamy is the only way. I'll beat your ass if you cheat on me."
The "Bodak Yellow" rapper opened up about the social media scrutiny she received after taking her husband back so many times after publicly cheating on her.
"When me and my husband got into our issues—you know, he cheated and everything—and I decided to stay with him and work together with him, a lot of people were so mad at me; a lot of women felt disappointed in me," she said.

"But it's real-life shit. If you love somebody and you stop being with them, and you're depressed and social media is telling you not to talk to that person because he cheated, you're not really happy on the inside until you have the conversation. Then, if you get back with them, it's like, how could you? You let all of us down. People that be in marriages for years, when they say till death do us part, they not talking about little arguments like if you leave the fridge open. That's including everything."
The "Clout" rapper even explained why she decided to start a family with the Migos rapper even though he already had three kids by three different women.
"When I was pregnant with Kulture, a lot of people was like, oh, he has three kids already; why would you have a kid with somebody that have three kids? And it's like, how is that such a bad thing? My dad has eight kids, and we all get along, and it feels better, fuller. And with Offset, I feel like his kids just bring a pop of fun to life when they're in his house. I actually love it. It brings out a different side of him that I like to see, and I love to see my baby interacting with her siblings. The more the merrier."
Whatever floats your boat.
Being a rapper, mom, wife, sister and daughter is a lot on Cardi, but she's learning how to balance it all – although it's not an easy task. Her husband Offset spoke to the publication about how she's managing it all.
"It's not an easy thing," the Migos rapper said. "We both have our own households. But you grow. We're way better now with communication. She's balancing a lot. She feels like she can't be absent a lot, and our jobs are crazy. But I think motherhood got her more focused. I always tell her, don't follow the comments. But she's been outspoken on things since before she was making music—she's not ever putting on, she's not ever being cool. At the end of the day, she's still going to rap about the same shit, which is what it's like being a woman."
Cardi added, "Being a mom—how can I say it? Things are a little bit harder to balance, but it's good for the mental. Like, if I'm playing with my daughter, I forget about the issues."
As you know, Cardi B's rise to fame came even before she starred on "Love & Hip Hop." She had over 1 million followers on Instagram due to her infectious personality. Now, social media seems to be more of a burden for her these days.
"Social media really made me," she says. "Before I got on Love & Hip Hop, I had millions of followers just off the way I speak. Just me talking. And that's how I got discovered. But now social media makes everything hard."
Bardi said she likes to surround herself with family and friends to keep her mind off social media.
"When I'm there [in her New Jersey apartment] by myself, a lot of thoughts go to my head, and when the thoughts go to my head, it just overwhelms me, and it puts me down, and it puts me on social media, and that drives me insane. So I just like to be where there's a lot of people so I won't be watching my phone."
Not only is she feeling pressure from social media, she's also feeling anxiety about her sophomore album, which she's currently working on.
"The first time it was just me being myself," she said. "I didn't even care if people was gonna like it or not. When I found out I did so good, I'm like, is this a big number? Everybody was like, yes, this is a huge number. So it's scary because it's like, now you got to top your first album, and then it's like, damn. I wonder if people are gonna relate to the new things, to the new life, to the new shit that I gotta talk about now. Music is changing. I feel like people just wanna hear twerk-twerk music, but it's like, is that just a phase? I probably need a sexy song. I need a lot of turn-up songs. I need a slow song, a personal song. And those are harder for me—I always need help when it comes to talking about my feelings. It's hard for me to be soft, period. So it's a lot of thoughts, a lot of pressure. It's really like a job."
Welcome to the real entertainment world Cardi! The Sophomore curse is real, but push thru!
You can read her full VOGUE interview here.
In case you missed, peep Cardi's 73 questions with VOGUE below:
Photo: Getty
​ ​
​ ​ ​