49ers Analyst Made Some Ignorant Comments About Ravens' Lamar Jackson's 'Dark Skin' & Now He's Suspended
​
Dec 05 | by _YBF
​ ​ ​ ​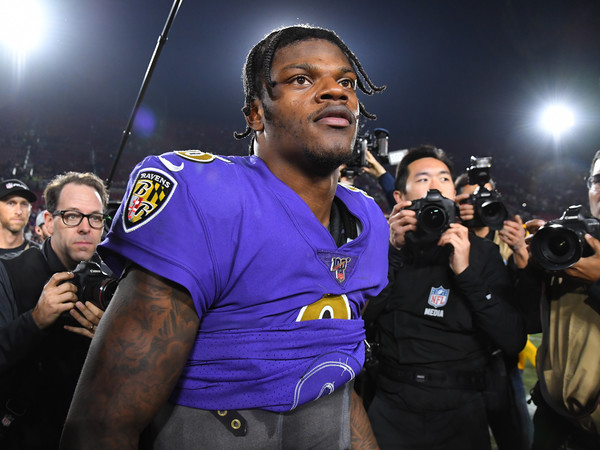 49ers analyst Tim Ryan has been suspended after making unacceptable comments about Baltimore Ravens QB Lamar Jackson's "dark skin." Find out what he said and his punishment inside…
You would think people who work in certain fields would know that commenting on the "darkness" of someone's skin is just absolutely unacceptable. And unnecessary. But then again, when you're of a certain hue the rules are very different.
But not this time.
49ers analyst Tim Ryan has been suspended by the organization for comments he made about Baltimore Ravens quarterback Lamar Jackson. And it had everything to do with his "dark skin."
The football broadcaster/ex-NFL player said the Ravens QB had an advantage at faking hands-off because of "his dark skin." Tim Ryan was adding his commentary on a KNBR radio show about the 49ers lost to the Ravens (20-17) and explained his "dark skin" is what makes him so good at his position. Seriously.
"He's really good at that fake, Lamar Jackson, but when you consider his dark skin color with a dark football with a dark uniform, you could not see that thing," he said. "I mean you literally could not see when he was in and out of the mesh point."

"I mean you literally could not see when he was in and out of the mesh point and if you're a half step slow on him in terms of your vision, forget about it, he's out of the gate," he continued.
Take a listen below:
Snippet of Tim Ryan's comments RE: Lamar Jackson's "dark skin with a dark football with a dark uniform... you could not see that thing" via KNBR. He has since been suspended by the team pic.twitter.com/vpRI3veoXK

— 49ersHive (@49ersHive) December 5, 2019
Tim Ryan later released an apology, saying:
"I regret my choice of words in trying to describe the conditions of the game. Lamar Jackson is an MVP-caliber player and I respect him greatly. I want to sincerely apologize to him and anyone else I offended."
The 49ers also addressed the commentary, revealing Tim Ryan has been suspended for one game:
"We are disappointed in Tim Ryan's comments earlier this week and have suspended him for the upcoming game. We hold Tim to a high standard as a representative of our organization and he must be more thoughtful with his words."

"Tim has expressed remorse in a public statement and has also done so with us privately. We know Tim as a man of high integrity and are confident he will grow and learn from this experience."

"We have reached out to the Baltimore Ravens organization to extend our apologies and assure them the matter is not being taken lightly."
Ryan will miss the 49ers game against the New Orleans Saints this Sunday.
On the flip side, Lamar Jackson is now the NFL MVP favorite. The consensus is that Jackson and Seattle Seahawks quarterback Russell Wilson are the leading candidates for the title. He's on the cusp of surpassing former quarterback Mike Vick's impressive record. If he can rush for 63 yards on Sunday's game against the Buffalo Bills, he'll break Vick's record and he'll set the NFL record for most rushing yards in a season by a quarterback! Vick holds the title now after he rushed for 1,039 yards in 2006 while playing for the Falcons.
"It would be an honor. @MichaelVick's my favorite player."@Lj_era8 on being on pace to break Vick's record: pic.twitter.com/Ev9Vm9hitt

— Baltimore Ravens (@Ravens) December 4, 2019
"It'd be an honor," Jackson said. "Like I said, Mike Vick's my favorite player. For me to do such a thing, it's incredible. He had that record for a long time. It would be pretty cool, but I'm focused on the win, regardless."
Good luck!
Photo: Getty/Debby Wong / Shutterstock.com
​ ​
​ ​ ​