END OF THE ROAD: Kamala Harris Ends Her Presidential Campaign, Booker & Castro Call Out The Media & Societal Bias Against Her
​
Dec 03 | by Natasha
​ ​ ​ ​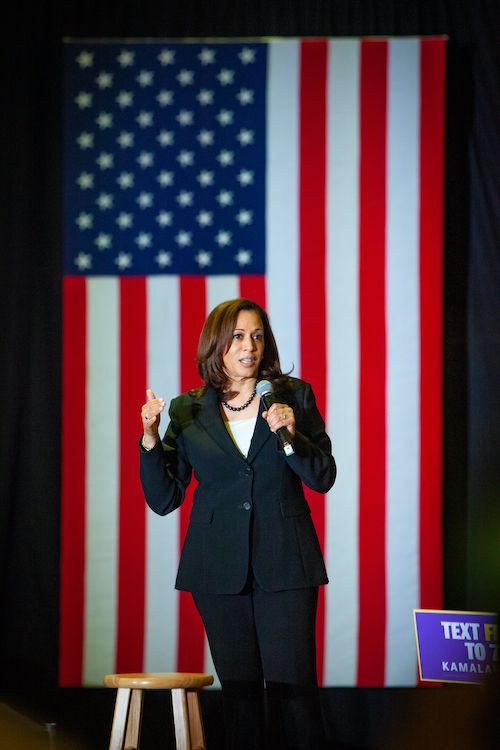 We all knew it was inevitable. But now, it's official. Sen. Kamala Harris has ended her Presidential campaign. Her heartfelt message to her supporters inside, plus Presidential candidate Juilan Castro speaking truth about the media & societal bias she received.
We saw it coming, given the recent onslaught of hit pieces sourced from an "inside campaign staffer", as well as the fact her numbers & buzz hadn't moved upward in months. But maybe not this quickly.
Senator of California & former Attorney General of the most populous state in our union, Kamala Harris, has suspended her Presidential campaign.
She posted a heartfelt video and message to her supporters and constituents this afternoon:
To my supporters, it is with deep regret—but also with deep gratitude—that I am suspending my campaign today.

But I want to be clear with you: I will keep fighting every day for what this campaign has been about. Justice for the People. All the people.https://t.co/92Hk7DHHbR

— Kamala Harris (@KamalaHarris) December 3, 2019
It has been the honor of my life to be your candidate. We will keep up the fight. pic.twitter.com/RpZhx3PENl

— Kamala Harris (@KamalaHarris) December 3, 2019
Just days after the Thanksgiving Holidays were kicked off with hit piece after hit piece in every major news publication detailing alleged in-fighting and chaos and staff turnover within her campaign, Kamala has called it quits.
It's important to note, the source that many think was delivering all of this strategically timed info to news media - is being linked allegedly to Kelly Mehlenbacher. Mehlenbacher worked on operations for Harris' presidential bid and recently informed colleagues of her plans to resign over frustrations with the organization. She then - as of a few days ago - accepted a job with new candidate Michael Bloomberg.
It wasn't new news that Kamala's campaign had planned to cut staff and pay in order to keep the campaign afloat - and to pay those millions that are required to see the debate stage. But the recent news stories had more of a catty feel, with insider info that painted a picture of a disorganized campaign, despite the fact that many of the happenings happen on every campaign, including former President Obama's.
Current candidate Julian Castro spoke out immediately, supporting her efforts while also calling out the bias she - the only black female candidate - experienced. He also pointed out that the next debate happening this month will be solely white candidates.
VIDEO: @JulianCastro commends the campaign @KamalaHarris ran and says the media's coverage of her campaign has been "something else."

Says she was held to a double standard and it was "grossly unfair and unfortunate." pic.twitter.com/jbgyOVXrGf

— Tim Perry (@tperry518) December 3, 2019
With @KamalaHarris out, the debate stage is now all white. @JulianCastro responds:

"What we're staring at is a DNC debate stage with no people of color on it. That does not reflect the diversity of our party or our country. We need to do better than that." pic.twitter.com/W73Nw3WI14

— Sawyer Hackett (@SawyerHackett) December 3, 2019
Even former candidate Beto O'Rourke chimed in thanking her for her kindness:
Grateful to Kamala for her service, her candidacy and for all of the great things she's going to do in the future. Amy and I got to know Kamala and Doug on the campaign trail, impressed by their kindness to us and their great sense of humor in the midst of incredible pressure.

— Beto O'Rourke (@BetoORourke) December 3, 2019
And current candidates Cory Booker & Andrew Yang tweeted out memorable pics of themselves with her on the campaign trail:
My dear friend @KamalaHarris is a trailblazer. I've loved serving with her in the Senate and every moment we've run into one another on the trail. Her campaign broke barriers and did it with joy. Love you, sister. pic.twitter.com/HzLXw88NrM

— Cory Booker (@CoryBooker) December 3, 2019
— Andrew Yang (@AndrewYang) December 3, 2019
Sweet. While tons of folks posted their support of her Kamala today, others asked if she reflected on how she, herself, was at fault.
I actually like Kamala, but I'm surprised there's not a bit of self reflection from her supporters that something abt the campaign was missing. She had 20k ppl show up when she announced. Those r numbers to build a movement on. The media loves a movement. She couldn't capitalize

— ICeeCoo (@ICeeCoo) December 3, 2019
It'll be an interesting next few days, to say the least.
Congrats to Kamala Harris for putting forth a valiant effort, despite the issues many had with her policies. Onward!
Photo: Maverick Pictures/Shutterstock.com
​ ​
​ ​ ​