LaLa Anthony Facetimes Kiyan At The Game So He Can Watch Dad Carmelo Make NBA History!
​
Nov 26 | by _YBF
​ ​ ​ ​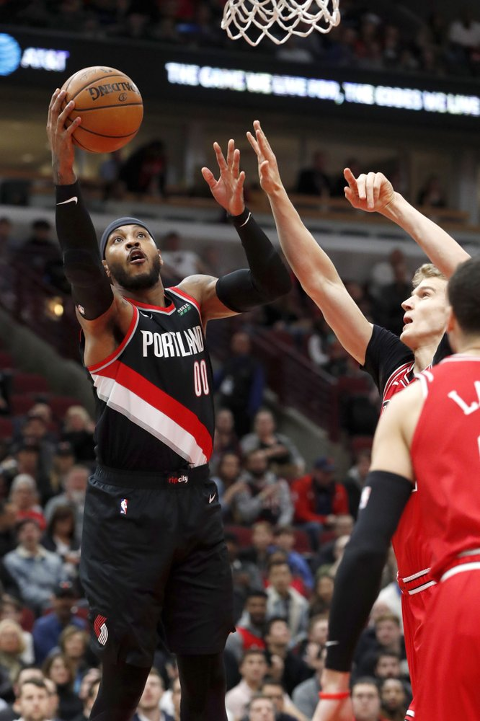 Carmelo Anthony played one hell of a game last night and his wife LaLa Anthony made sure their son Kiyan Anthony was able to witness it. More inside…
Don't call it a comeback…or maybe you should.
Carmelo Anthony hadn't played in an NBA game over the last year. Last night, he made sure to let the world know…HE's BACK!
After joining the Portland Trailblazers on November 19th (on a non-guaranteed contract), the 35-year-old baller got suited for his fourth game of the season and by the end of the night, his name went down in the NBA history books.
Melo balled all the way out, scoring 25 points, which helped him pass Alex English to become the 18th all-time scorer in NBA history. He helped bring his team to victory against the Bulls at the United Center in Chicago with a final score 117-94.
And guess what? Melo's wife LaLa Anthony – who's in Chi-town filming a new season of "The Chi" – was in the stands cheering him on. Not only that, she Facetime'd their son, Kiyan Anthony, so he could see his dad in action. She called him right after he broke the record:
Watching dad make history pic.twitter.com/6e77mnoQNH

— Portland Trail Blazers (@trailblazers) November 26, 2019
In the fourth quarter, the fans began yelling "We want Melo!" Yes, Chi-town fans were even rooting for him. Ha!
It appears LaLa may have been Melo's good luck charm. He showered her with praise for pushing him to always strive for greatness.
"I'm starting to get my feel and my flow back."@carmeloanthony put on a show with 25 points tonight, and talks about it with @brookeolzendam in tonight's @Biofreeze Top Performance Review. pic.twitter.com/TEKlUR5hss

— Portland Trail Blazers (@trailblazers) November 26, 2019
"Mentally, she kept me going," Melo told ESPN. "Emotionally, she kept me going. She was nudging me, 'Don't do it, don't think about it, don't do it, don't you let that thought creep into your head.' So she was a major, major part of why I'm here today."
"My son always wants to feel like he's here," LaLa told ESPN. "He misses his dad a lot. I was filming up the block, so I came here and just wanted my son to feel like he was a part of the moment. I FaceTimed him so he could see his dad, and he just was excited because his dad had such a great game tonight."
Aww! After the game, the "Power" star was reportedly waiting for him inside the media room near the visitors locker room.
TWO TO THE DOME @carmeloanthony | #RipCity pic.twitter.com/PzfMUzKMCV

— Portland Trail Blazers (@trailblazers) November 26, 2019
Melo has history with the city of Chicago:
The Bulls were the last team to waive Anthony on Feb. 1 after briefly acquiring him via trade for 10 days from the Houston Rockets on Jan. 22. He says "they didn't ask" him to suit up after the deal.

"I think at that point in time, it was just like we'll do it just to do it and it was no conversation with that," Anthony said.

In 2014, Anthony was close to signing with Chicago via free agency after being strongly recruited by the team with images and his name being blasted across town during that summer. Having his name still attached to the organization doesn't bother Anthony, as he is regaining his rhythm in Portland with his family's support.
"I think at the end of the day, I'll always be connected to Chicago, someway, somehow," Melo said. "For years and years, my name has always been connected to the Chicago Bulls, and I was a Bull for 10 days. But someway, somehow, I'll always be connected to them."
Congrats, Melo!
Photo: AP/Charles Rex Arbogast
​ ​
​ ​ ​