T.I. Hashes Out Hymen-gate 'Joke' With Jada Pinkett Smith & Fam - But Without Deyjah & Her Mother + Deyjah's Mom RESPONDS
​
Nov 25 | by _YBF
​ ​ ​ ​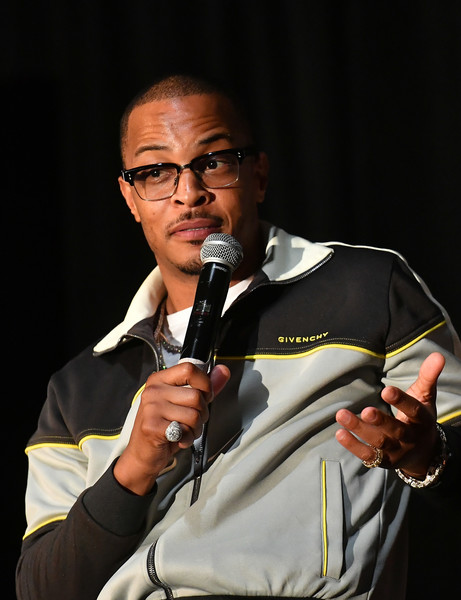 T.I. breaks his silence following all of the controversy hymen-gate caused. Find out why he said what he said, plus more inside...
Earlier this month, T.I. started a sh*tstorm in the media when he revealed that he goes with his 18-year-old daughter, Deyjah Harris, to her gynecologist appointments to have her "hymen checked" to ensure she's still a virgin. He proudly told the world his daughter's hymen is still intact while chatting it up on the "Ladies Like Us" with co-hosts Nazanin Mandi and Nadia Moham.
Now, the self-proclaimed Kang of the South is explaining the comments he made on the podcast. The Paper Trail rapper sat down with Jada Pinkett Smith and her mother Adrienne Banfield-Jones to talk about his controversial comments on the newest episode of her Facebook Watch series, "Red Table Talk."
The 39-year-old rapper was joined at the round table by his wife, Tameka "Tiny" Harris. Noticeably missing was T.I.'s daughter, Deyjah Harris, and her mother Miss Niko. We wish Deyjah and her mom had joined in on the conversation because we would LOVE to hear their point of view. By the way, the controversy caused Deyjah to delete all of her social media.
Tip said he came to clear up "any misconceptions" about his comments and – from what we gather – his comments were seemingly a "joke" that went left. When Tip and Tiny first pulled up to the Smiths household they were greeted by both Jada and her husband Will Smith. Tip thought he would have some male back up, but quickly learned he would be alone at the red table.
"I came to clear up any misconceptions that have been surrounding how we interact and parent and what is appropriate and inappropriate," T.I. started off saying. "I think all of this surrounds a conversation that I was having in a very joking manner, when asked how do I deal with parenting in this day and age. And so I just began to, you know, from a place of truth, I began to embellish and exaggerate."
We're not necessarily buying this "joke" explanation, but ok.
The "Ready For Whatever" rapper said he didn't think people would take what he said seriously.
"And I think that a lot people kind of like took it extremely literal, because if you put any of my reputation about like who I am as a father, who I've been, I honestly thought people knew me better than that," T.I. added.
The ATL rapper said his words were misinterpreted and he explained what he meant when he said he goes to Deyjah's doctor's appointments. Tip said Deyjah's mother was present when he went to their daughter's appointments and they both agreed to him being there.
"However, my intentions I think have been terribly misconstrued and misconceived," T.I. says. "Let me go set this record straight, I never said I was in any exam room, that is an assumption, that is a falsity. I never said that it was being done present day as an 18-year-old...and I never said that her mother wasn't present. Her mom was present every time."
Tip made it clear that he was apologetic to his daughter, but NO one else. He said his daughter knows who he is and what he's about. Maybe that's why she unfollowed him and the whole fam. *shrugs*
He said he's sensitive about the situation because of her, not because of the backlash. Tiny chimed in and said Deyjah is their "quiet" child, she doesn't talk a lot and that they have to "nudge things out of her." We can kind of understand why now. Ya know? At first, Tip wasn't going to address the controversy because Deyjah asked him not to, but she had a change of heart, so he's now speaking out.
"What is the place of a father in this society?," Tip asked Jada, Adrienne and his wife.
In his mind, Tip felt like he was just being a caring father, but he soon learned his actions were controlling and misogynistic. At least we hope that's what he learned. A lot of men confuse love with control, and it's time it's called out.
Jada shared she told Will to love his daughter, but to let her teach her how to be a woman. The "Us or Else rapper" feels like in order to guide/direct, you must "have a level of control" versus making sure they had a level of understanding and maturity before going into certain things. He said awareness is his first line of defense, in which Jada corrected him and said "That's different...that is education."
His response also would have made more sense if he applied this "education" to his sons too. But from what we have seen, he does not.
The Down South rapper then went on to say he told his daughter to keep her "expectations low" when it comes to talking to these young men. He told her not to get her "feelings wrapped up" in this and that it's only a "physical urge, an animalistic urge taking over. It's not an emotional or romantic encounter for this gentleman and don't think it is."
So, he's speaking for all young men? Like, sir. No. This ain't it. Just because you, yourself, don't connect sex wit emotion doesn't mean no other man on earth does. Or that any woman should not.
After the controversy, Tip said he had been schooled on hymens and how they work. He said he learned they can be broken without sex. Jada asked him how would he feel if he found out Deyjah wasn't a virgin when he went to her appointment at age 16. His response: Your childhood ends once your virginity is broken and adulthood begins. Again, we hope this "standard" applies to his sons as well.
Adrienne said she thinks it would've been different had it been his son versus his daughter (which we agree) and his response was that when a female gets pregnant, the entire household changes, whereas if a male gets a female pregnant, his household doesn't change much. Oh? Sounds like this is something one can control themselves, for instance, just how active they are in the pregnancy. Nothing's automatic.
Patriarchal structure is a term Jada brought up and Tip said he heard that term before, but we're still not convinced he understands the meaning. He wanted her to explain it.
He then said he sometimes sees feminists as women who want men to stop silencing them so they can in turn silence men. And we remind TIP, equality feels like opression to an opressor.
Peep Part 1 of TI & Tiny's interview (Part 2 - which will be about their troubled marriage will air next Monday) below:
After the interview aired: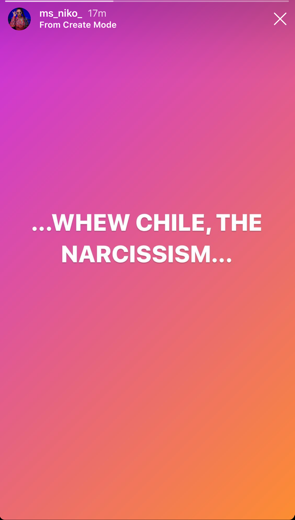 Deyjah's mom, Ms. Niko hopped on IG Stories and posted a subliminal, writing, "Whew, chile...the narcissism."
We need Jada and "Red Table Talk" to reach out to Ms. Niko AND Deyjah because we still have SEVERAL questions. And they deserved to be in attendance.
Photos: Getty
​ ​
​ ​ ​