Rep. Elijah Cummings' Wife Maya Thanks Everyone For Prayers After Successful Double Mastectomy, Preps To Run For Husband's Seat + Republican Woman Who Attacked Cummings Runs For His Seat Too
​
Nov 22 | by _YBF
​ ​ ​ ​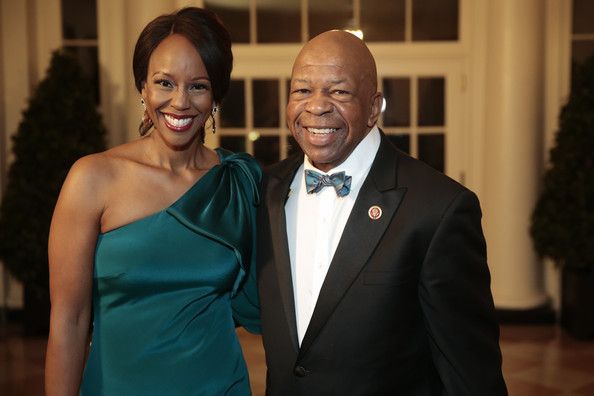 Maya Rockeymoore Cummings – the widow of late congressman Elijah Cummings – thanks everyone for the outpouring of love following a successful double mastectomy. Yes, she still plans on running for her late husband's Congressional seat. And so is Republican/Trump supporter Kimberly Klacik. More inside…
On the same day Maya Rockeymoore Cummings announced to run to fill out the remainder of her late husband/ Maryland Congressman Elijah E. Cummings' term in Congress, she announced she was undergoing a preventative double mastectomy at John Hopkins Hospital. The surgery was a success and she's now recovering before she hops back on the campaign trail for her late husband's 7th Congressional District seat.
During her announcement, the 48-year-old revealed her mother died of stage 4 breast cancer in 2015. Last year, her younger sister was diagnosed with stage 2 breast cancer and she decided to undergo a double mastectomy as a pre-emptive measure. She also said she had a good friend who was under the age of 40 recently die from the disease.
Before Cummings' passing, she said he went with her to her doctor's appointment and they decided she would go through with the preventative surgery and that the surgery date was scheduled long before her husband's death. After the surgery (that went down last Friday), she sent an email out, revealing the surgery was a success. We can't even imagine the strength this takes, especially while grieving.
Dr. Maya Rockeymoore Cummings recovering after a successful surgery on Friday.
She recently announced on the Rachel Maddow Show that she would enter the race for U.S. House of Representatives Maryland's 7th District, a seat held by her late husband Congressman Elijah Cummings. pic.twitter.com/rYxnrqWxjB

— SexMoneyPower (@SexMoneyPower) November 16, 2019
Yesterday, she hopped on Instagram to thank everyone for the outpouring of love, support, and prayers she received:
"My name is Maya Rockeymoore Cummings. I want to thank everyone for their prayers and well wishes during my recent preventative double mastectomy. I am doing well and my heart is full from the overwhelming support I have received," she captioned a picture of herself. She then encouraged others (women and men) to take charge of their health and get screened.
"We must take charge of our health. That's why I urge you to conduct regular self exams, get an annual mammogram, and lead healthy lifestyles and encourage others to do so as well," she said.
Maya plans on getting back to business once she's fully recovered.
"Most importantly, we are so glad that Maya is healthy and recovering, and she's looking forward to getting back on the campaign trail in a few weeks," Tucker Cavanagh, Cummings's campaign manager, said in a statement.
Congressman Cummings passed away on October 17th. He was 68-years-old. Elijah and Maya tied the knot in 2009. She was elected chairwoman of the Maryland Democratic Party in December 2018. She resigned the party chair position to clear the way for her congressional run.
Thank God she's on the road to recovery as there are plenty of folks gunning for Rep. Elijah Cummings' (D-MD) congressional seat, including Republican/Trump supporter Kimberly Klacik.
Did you donate $250 & over to my campaign? I'll be giving you a call tomorrow. I am truly thankful for the support & want to thank you personally.

All donors will receive something in the mail from me soon. Every penny means the to me!https://t.co/sDJbWLtWbr to donate pic.twitter.com/5imbR23x71

— Kimberly Klacik (@kimKBaltimore) November 21, 2019
Rising Republican strategist Kimberly Klacik announced that she will run for the late Rep. Elijah Cummings' congressional seat. The unmitigated gall. She's the Baltimore County Republican official who put up social media posts/videos about trash in West Baltimore that prompted President Trump to verbally attack Rep. Cummings. Trump used her videos during his attacks against the city.
The 37-year-old filed for the special election in the 7th Congressional District, a seat Cummings held for more than two decades. Right after making her announcement, she quickly hopped on Twitter with claims that the "left" is attacking her.
I have not been an announced candidate for more than 2 hours and the far left is already attacking me. I need your help now more than ever. Baltimore deserves better https://t.co/sDJbWLtWbr https://t.co/wvZKmUAgiv

— Kimberly Klacik (@kimKBaltimore) November 9, 2019
Girl...
The list of hopefuls is jammed packed with 32 candidates (24 Democrats & 8 Republicans) all fighting to succeed Cummings. There are eight females running, however, political analyst John Dedie predicts Maya Rockeymoore Cummings has the best shot at winning.
Here's the list of candidates below (via the Baltimore Sun):
Among the other Democrats running are Maya Rockeymoore Cummings, Cummings' widow and former chairwoman of the Maryland Democratic Party; state House Majority Whip Talmadge Branch; longtime Cummings staff member Harry Spikes; Del. Terri L. Hill, a physician; international public health professional T. Dan Baker; pulmonologist Dr. Mark Gosnell; and community activist Saafir Rabb.

Del. Jay Jalisi of Baltimore County was among the last-minute filers, smiling for pictures in the Maryland State Board of Elections office in Annapolis as he signed his paperwork Nov. 20.

The Republican candidates include Kimberly Klacik, who runs a nonprofit and is a member of a county Republican Central Committee; former 2nd Congressional candidate Liz Matory; grassroots activist and businesswoman Reba A. Hawkins; businessman Ray Bly; and William T. Newton, a member of the Baltimore County Republican Central Committee.

The other listed Republicans are Christopher Anderson of Baltimore, James C. Arnold of Baltimore County and Brian L. Brown of Montgomery County.

The other Democrats are Alicia D. Brown of Baltimore County, Anthony Carter Sr. of Baltimore, Matko Lee Chullin III of Baltimore County, Jay Fred Cohen of Howard County, Nathaniel M. Costley Sr. of Carroll County, Jermyn Davidson of Charles County, Darryl Gonzalez of Carroll County, Leslie E. Grant of Baltimore County, Dan L. Hiegel of Baltimore, Paul V. Konka of Baltimore County, Adrian Petrus of Prince George's County, Charles U. Smith of Baltimore and Charles Stokes of Baltimore County.
The candidates will run in a special primary election in the 7th Congressional District. The primary is set for February 4th and the general election will go down April 28th.
Don't let us down, Maryland!
Photo: Getty
​ ​
​ ​ ​