A Handcuffed Dame Dash Claims He WASN'T Arrested Over Unpaid Child Support, He 'Turned Himself In…WITH Money!'
​
Nov 21 | by _YBF
​ ​ ​ ​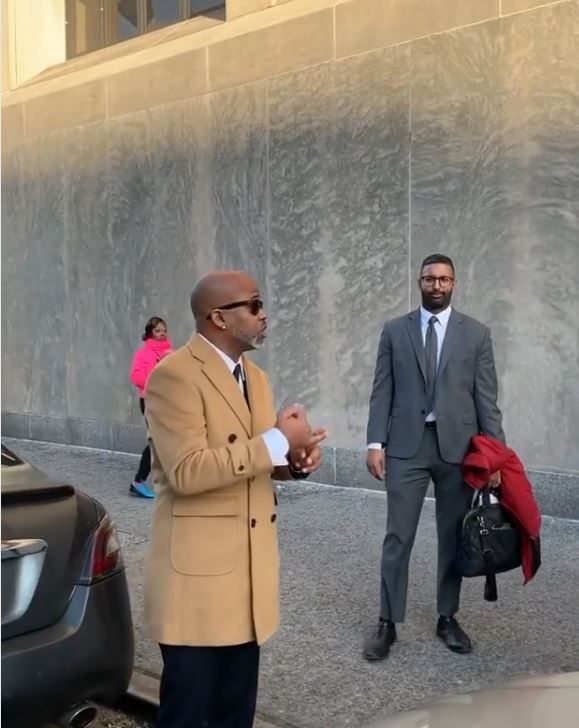 There were reports that said Dame Dash was arrested for unpaid child support, but he claims that's not the entire truth. Find out what he said inside…
So, here's what happened.
Page Six & TMZ reported the Roc-A-Fella co-founder was arrested over unpaid child support payments to two of his children's mothers. The site claims he was arrested in NYC yesterday (11/20) after attempting to clear his name for unpaid child support that he allegedly owes to Rachel Roy (whom he has two daughters with) and Cindy Morales (whom he shares a son with).
Apparently, the money he was going to use for his back child support is that $2M settlement from Lee Daniels, but those payments are reportedly being garnished by Dame's creditors.
Page Six showed him in cuffs and being taken to the courthouse in Manhattan yesterday:
The Hip Hop mogul allegedly owed nearly $400,000 to both women and hadn't paid up. Yikes! TMZ reports:
Fast-forward to Wednesday ... when Dame went to the city to try to take care of both warrants. The guy himself tells us he popped into a Manhattan courthouse, paid off about a million dollars to clear one warrant ... and then tried going to another courthouse to deal with the other one.

Thing is ... Dame says as soon as he stepped out of the courtroom to head to the other place, cops were all over him -- about 7 deputies, we're told. They cuffed him and processed him -- and Dame says the officers then escorted him to the Bronx to take care of the rest of his tab. All in all, we're told Dame ended up cashing out over a mil to clear his name.

Dame tells us the deputies he dealt with were incredibly kind and cooperative with him. While it may suck he got busted for the child support -- at least it's finally taken care of.
In an attempt to control the narrative, Dame posted his own video to his Instagram account that shows him talking to the media outside of an NYC courthouse. He told reporters his "arrest" wasn't anything like it's being reported because he claims he turned himself in and he had money with him…we assume to pay his alleged unpaid child support payments.
Check it:
Dame likely did all of this because he knew TMZ would have a certain take on the story. Last week, he called the publication out for calling him broke in a headline about him owing Lee Daniels money:
Dame also left court hand in hand with his now PREGNANT fiancé, Raquel Horn, and a private film crew. Chile...
The Dame Dash vs. media (and babies' mothers) war continues!
EXTRAS:
1. Former Baltimore mayor Catherine Pugh reached an agreement to plead guilty after she was indicted by a federal grand jury amid the "Healthy Holly" book controversy. STORY
Photo: Screenshot
​ ​
​ ​ ​