They Better Chill! Meghan Markle Files Another Lawsuit Against British Tabloids For 'Untrue' & Negative Stories
​
Nov 20 | by _YBF
​ ​ ​ ​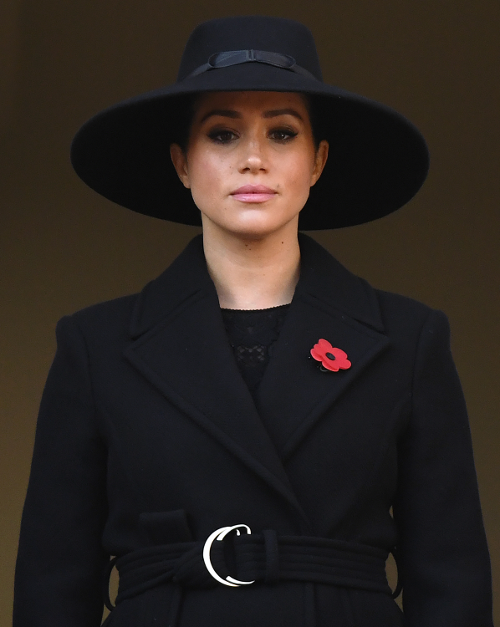 Meghan Markle is NOT playing with the British tabloids, who consistently try to drag her name through the mud. The Duchess of Sussex just filed another lawsuit! More inside…
Listen, Meghan Markle isn't taking ish from y'all! Especially not when another Royal is embroiled in a whole drama around an alleged sex trafficking ring and the tabloids are barely even writing a line about it.
We already told you Meghan Markle and Prince Harry filed a lawsuit last month against Associated Newspapers (the company who owns The Daily Mail and Mail on Sunday) for publishing a private letter she wrote to her estranged father. Now, the Duchess of Sussex is filing another lawsuit against the British tabloid.
The new mom has reportedly taken legal action against the British tabloid for allegedly making up "untrue" stories that continue to portray her "negatively." The lawsuit against the Mail on Sunday and its parent company, Associated Newspapers, was filed on November 11th.
In the paperwork, she details exactly which stories they published that are simply not true. The tabloid posted one story claiming the Duke & Duchess of Sussex spent more than $500,000 of taxpayer dollars to soundproof their family home at Frogmore Cottage at Windsor to block out noise from airplanes flying over.
There's another story they published that she claims is false. The tabloid made claims that the royal couple used taxpayer dollars to buy a copper bathtub. They also said the couple used those funds to build a yoga studio, a tennis court and a guest wing for the former "Suits" actress' mother, Doria Ragland.
Not only that, they published a report that Meghan didn't invite her mother to her baby shower in NYC back in February. The 38-year-old called the reports "untrue and offensive."
PEOPLE reports:
"The claimant's mother was of course invited, and the claimant also offered to buy her airline tickets. However, her mother was unable to attend due to work commitments."

"The baby shower (which actually cost a tiny fraction of the $300k falsely stated in the article) was organized and hosted by one of her best friends from university," says the court papers. "The fifteen guests who attended the shower were close friends and included long-term friendships some of which had existed for over 20 years."

In addition to debunking the Mail's claims about Frogmore, the legal action also centers around the newspaper's decision to print extracts from a private letter written by the Duchess of Sussex to her dad, Thomas Markle, 75.

"The omitted or suppressed parts of the letter amount to almost half of the actual contents," says the court paper submitted by Schillings solicitors. "The omitted parts demonstrate the claimant's care for her father and others, as well as her concern about the UK tabloid media exploiting her father."

The legal draft goes onto refute claims that Meghan didn't inquire about her father's health or attempt to help him medically or financially. Instead, it states that she "has a long history of looking after her father's welfare and trying to find solutions to any health problems."
Yasss! Meghan is taking matters into her own hands and we're loving it. The British tabloids will NOT slander her name without her fighting back.
Buckingham Palace released a statement, revealing Prince Harry & Meghan Markle plan to celebrate baby Archie's first Christmas away from the rest of the royals. "Having spent the last two Christmases at Sandringham, [the couple] will spend the holiday this year, as a new family, with the duchess' mother, Doria," the statement read.
A source told Us Weekly, "As it's Archie's first Christmas, they want it to be super special. It'll be just Doria and the three of them. The drama surrounding the couple has caused a huge amount of stress. They're making their family their No. 1 priority right now."
As expected, the British tabloids are dragging them for spending Baby Archie's first Christmas away from the royal family. Queen Elizabeth is reportedly "disappointed" that Harry and Meghan won't be attending her annual holiday celebration.
While the British tabloids are so concerned with what Meghan Markle is doing, Prince Andrew, Duke of York's quit earlier this month after advising Andrew to NOT to participate in a BBC interview about his friendship with convicted sex offender Jeffrey Epstein. Now Andrew himself is taking a step back from his Royal Duties. Interesting.
EXTRAS:
1. Ja Rule has been dismissed from $100M lawsuit brought by Fyre Festival attendees. STORY
Photo: MEGA
​ ​
​ ​ ​