GIVE US GLAMOUR (Women Of The Year): Ava DuVernay Urges Women To Keep Building Bomb Empires + More #BlackExcellence Hits The Carpet
​
Nov 13 | by _YBF
​ ​ ​ ​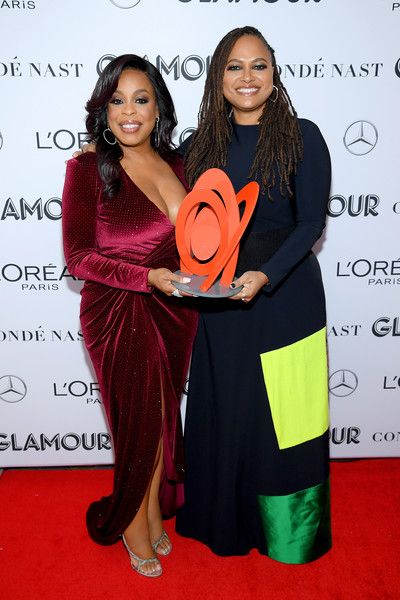 Glamour magazine hosted their annual Women of the Year Awards and Ava DuVernay delivered a word like only she can. Catch up on the gems she dropped, plus red carpet flicks from your faves like Niecy Nash, Yara Shahidi, Danai Gurira and more inside…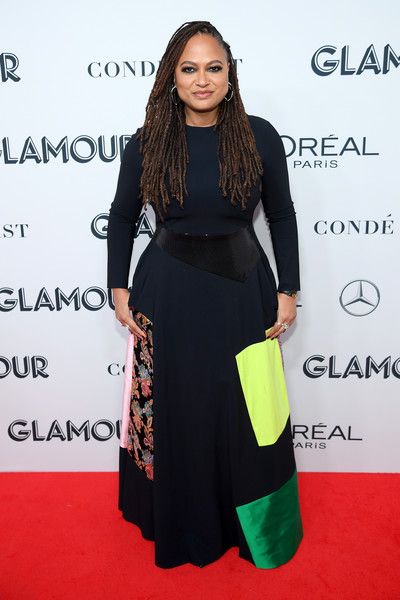 Leave it to director Ava DuVernay to drop gems we all can use.
Glamour magazine hosted its annual Women of the Year Awards to honor all of the female game changers in Hollywood. And, of course, fab directress Ava DuVernay was inducted in this year's class of women who are trailblazing and pushing boundaries in Hollywood.
The gorgeous (and newly single) Niecy Nash, who starred in Ava's Netflix series "When They See Us," presented Ava with the award and praised her for what she brings to the industry and how fabulous she is overall.
"Ava DuVernay affirms you and assures you; she validates your choices as an artist. She makes each actor feel like you're her favorite—'Wait, she likes them that much, too?' She is indeed that gorgeous dreadlocked woman we know, in the gowns, on the red carpet, but her sweet spot is on the couch, eating Pinkberry—absolutely with toppings."
Aww!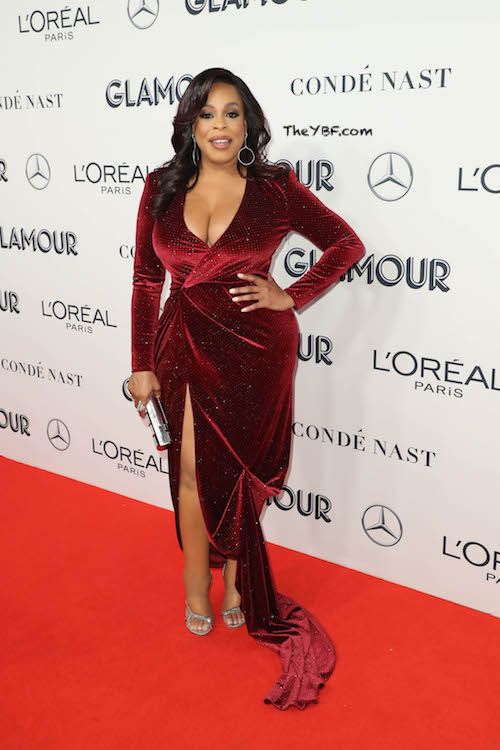 "At the core, we are two girls straight out of Compton, trying to use our talents to be of service to the world," the "Claws" actress continued. "Through her production company, Array, Ava creates opportunities for underrepresented storytellers, like a 50% female production crew on her latest series, Cherish the Day. Her goal for When They See Us wasn't, 'Let me tell a story that will be critically acclaimed, so I can be the industry darling.' It was, 'Let me tell a story about the pain that people have suffered. Let me shine a light of truth.' Now that light is shining. And because she's smart, she made sure the series was critically acclaimed too. Because the size of that light means more people will see."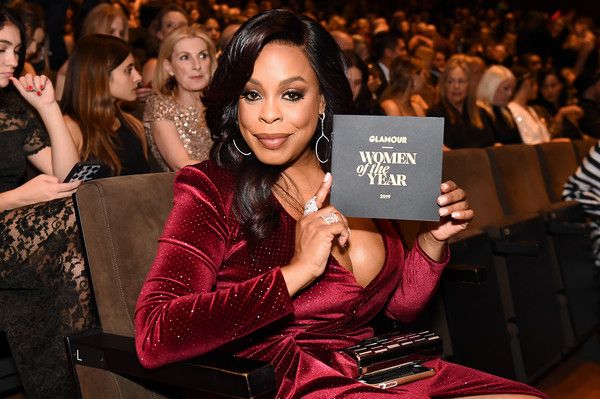 "I am blessed to know Ava as an artist and a friend. I'm double dipping. Normally I don't advocate jealousy but I'm saying, if you are jealous of me, rightfully so. Because what the rest of the world sees in her art, I see in her heart," she concluded.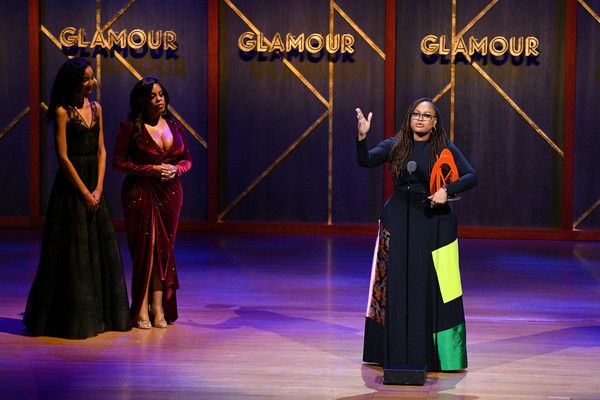 During Ava's acceptance speech, she talked about the importance of inclusion and encouraged women to keep building BOMB empires to show the world just how fabulous and bad a** women can be.
"Inclusion is about creating a seat at the table for all of us," the SELMA directress told the audience. "Pulling up a chair for those left out. It denotes an absence being remedied."

I also believe in making our own doors, disrupting all systems built in such a way that inclusion is even needed in the first place. My truth is I don't want a chair at the table. Or even three or even half anymore. I want the table to be rebuilt. In my likeness. And in the likeness of others long forced out of the room.
She shared examples to prove that institution building Institution building can look however we want.
"And their excellence. My excellence. Your excellence. The excellence of those who will come after us is within oneself, only experienced when the rhythm is in perfect working order. When we aren't striving for seats. When we build new tables, new paradigms. New institutions. Or none at all.

"I urge us all to assert a presence of excellence, to build our own monuments. In our own likeness. For ourselves. And to bring the truth with us. Every time."
A whole word.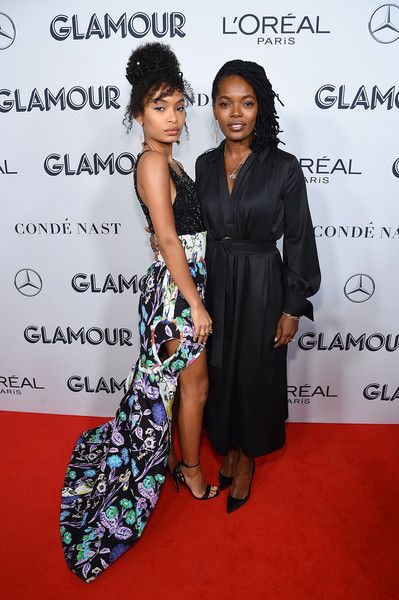 "Grown-ish" actress Yara Shahidi (above styling in a Schiaparelli dress alongside her mom Keri Shahidi) was also honored during the awards ceremony, and she too, shared some words of wisdom.
Peep 19-year-old's moving speech below:
So young, yet so full of wisdom.
By the way....
Yara's entire family was in the mix to celebrate! Nice.
Black Panther starlet Danai Gurira made her way on the carpet in A Tory Burch dress from the SS20 Ready-To-Wear collection before presenting the designer with her Glamour Woman of the Year Award.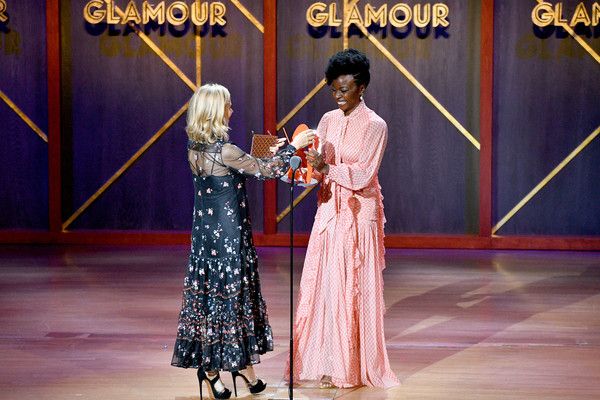 "Tory is unapologetic with her brand. The bold way she adorns women with class, flair, and fun all at once, and with the way she is working to leave no woman or girl behind," Danai said. "To popularize feminine ambition. From the millions of dollars she invests in female entrepreneurs to her awareness campaigns, arming people with education on the grotesque gender gap that still exists in so many ways. Tory is a champion for change, using the fruits of her ambition to nurture and empower the ambition of others."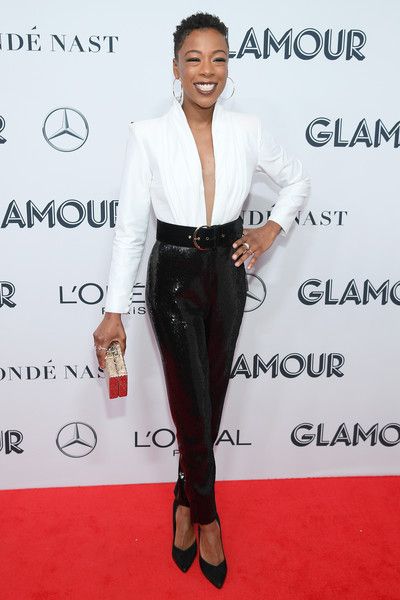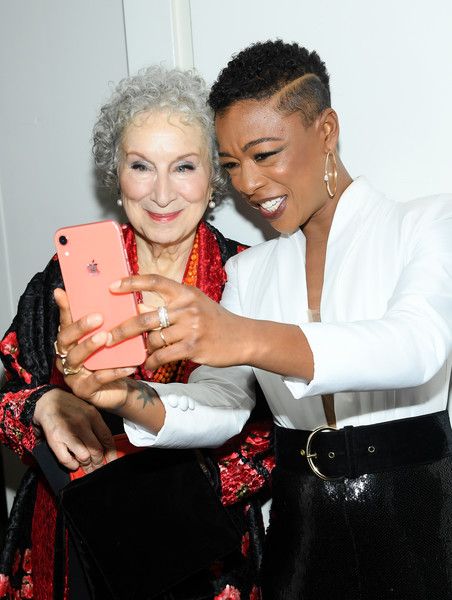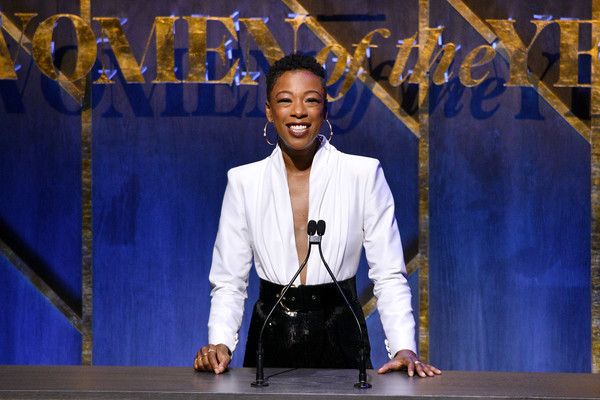 "The Handmaid's Tale" star Samira Wiley made her rounds during the ceremony, snapping selfies and presenting. And she looked BOMB!
"How To Get Away With Murder" actress Aja Naomi King was queening during a Cinderella moment on the carpet in a yellow Marc Jacobs couture gown. Goge.
Aja linked up with novelist Tomi Adeyemi (also shining in yellow) before hitting the stage to present.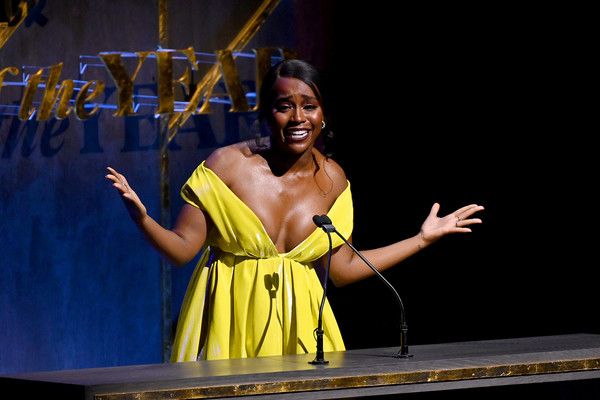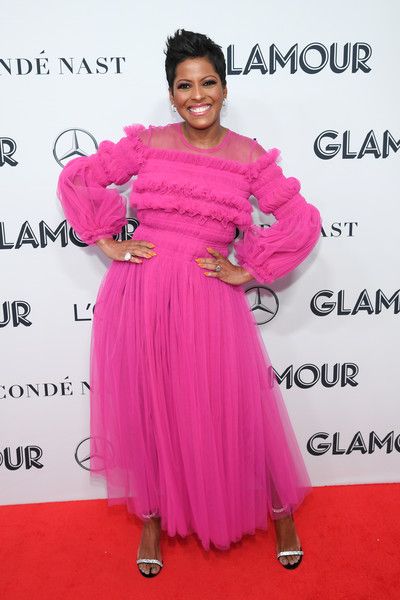 Daytime TV host and new mom Tamron Hall made her way to the event, posing it up on the carpet and catching photo-ops with Yara and Charlize Theron: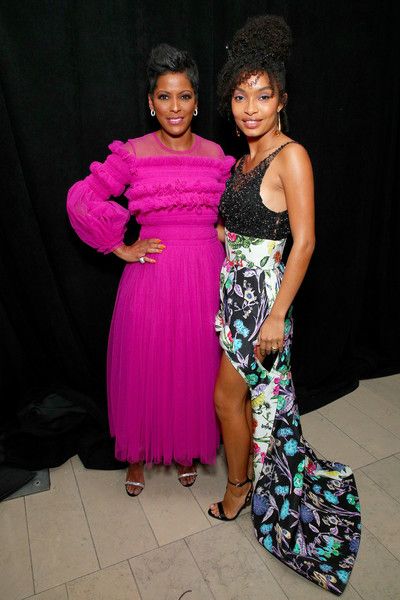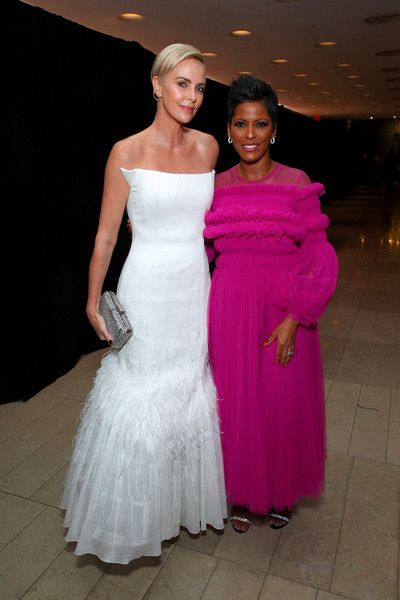 Professional soccer player Megan Rapinoe snapped it up with Muslim model Halima Aden after accepting her Woman of the Year Award. During her speech, she thanked former 49ers quarterback/activist Colin Kapernick.
She said Colin demonstrated "courage and bravery" and was "filled with conviction, unafraid of the consequences. Because he knew, it really wasn't about playing it safe. It was about doing what is necessary and backing down to exactly nobody."
"While I'm enjoying all of this unprecedented — and, frankly, a little bit uncomfortable — attention and personal success, in large part due to my activism off the field, Colin Kaepernick is still effectively banned from the NFL for kneeling during the national anthem in protest of known and systematic police brutality against people of color, known and systematic racial injustice, and known and systematic white supremacy," she said.
Facts!
Check it:
Megan Rapinoe and Colin Kaepernick are national treasures. We must protect them at all costs. pic.twitter.com/z0ItMrHy51

— Simran Jeet Singh (@SikhProf) November 14, 2019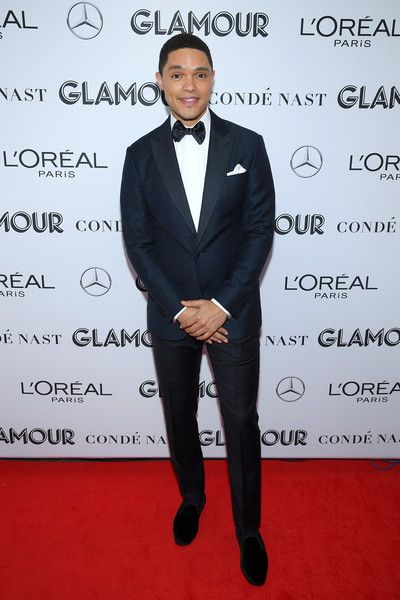 "The Daily Show" host Trevor Noah was in the mix as he was tapped to present.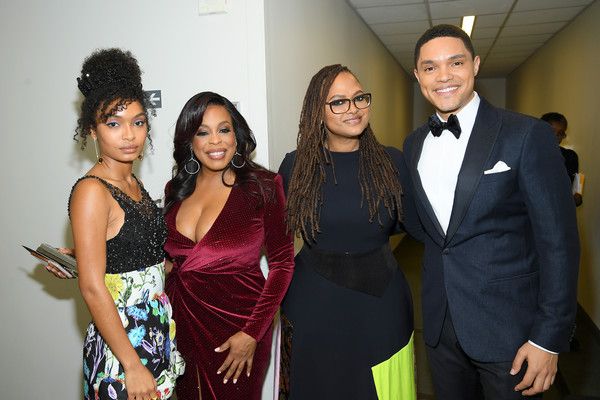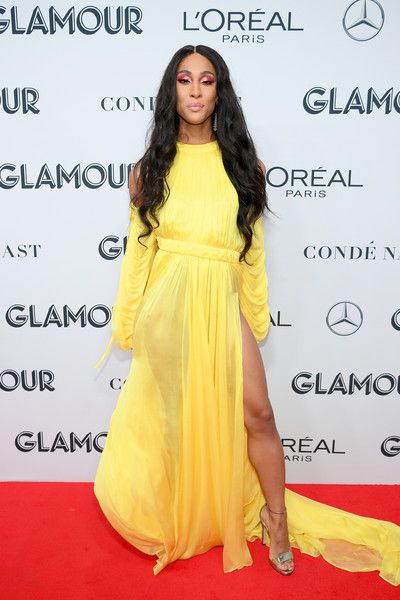 POSE MJ Rodriguez slayed on the carpet.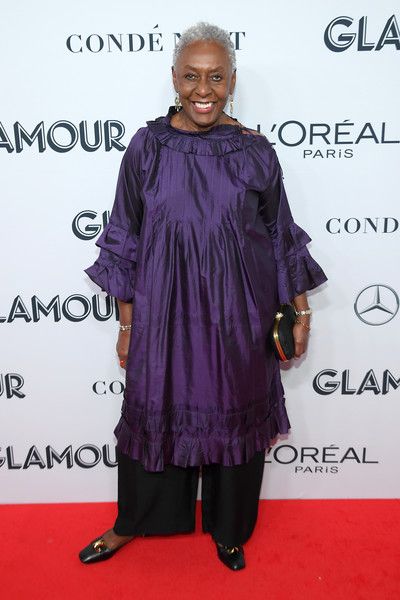 Model/activist Bethann Hardison came out for the women empowerment event.
Fab times!
Photos: Getty/Backgrid/Instar
​ ​
​ ​ ​